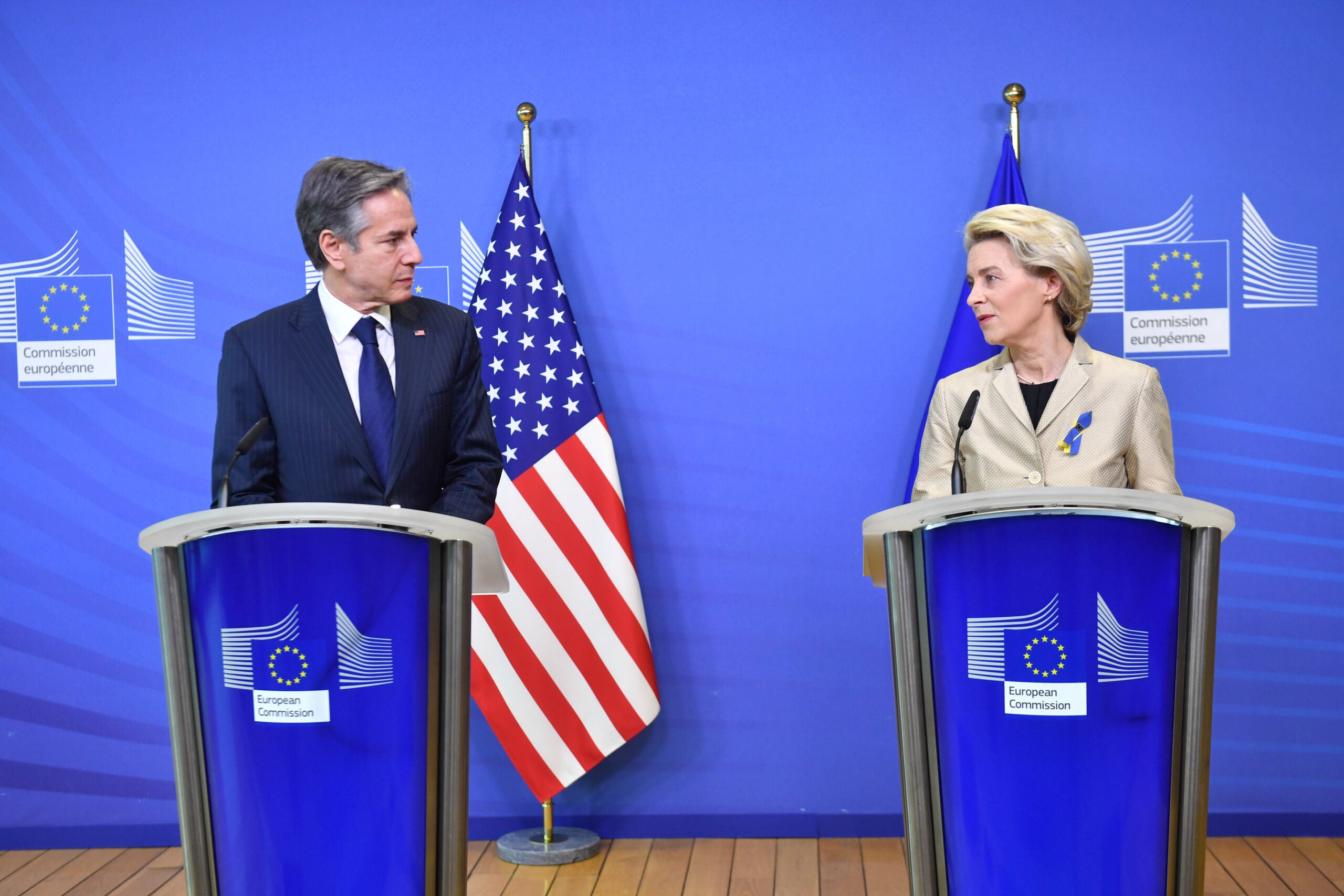 Russia's invasion of Ukraine has rapidly fuelled a will across Europe to cut Russia out of energy systems. In politics and among the public, Europeans have moved to support energy independence from Russia. In the past few days, this turning point has produced its first changes to energy policy.
A leaked draft of an EU communication on energy prices warns that: "With EU gas storages at historically low levels and security of supply concerns linked to low debit in the gas pipelines from the East, we witness a growing gas crisis. The EU remains highly dependent on energy imports for power generation and heating."
The original communication, due on 2 March and seen by Euractiv, warned of "high and volatile" energy prices until "at least 2023". The EU Commission delayed this document following the invasion of Ukraine. On Monday, European Commission president Ursula von der Leyen met with US secretary of state Antony Blinken to discuss possible bans on imports of Russian gas. The bloc has already moved to stop SWIFT payments to Russia, obstructing easy oil trade.
It now includes suggested actions to negate Russia's influence within the bloc, such as diversifying gas supplies and a new energy bill to increase renewable development. Any gas diversification undertaken this year would rely on sources in the US and West Asia countries. However, Europe currently lacks sufficient LNG terminals to easily scale up its overseas imports.
Preparing domestic politics for a break with Russian energy
Construction of Germany's first LNG terminal will begin in Brunsbüttel, on the country's north-west coast, later this year. On Friday, state-owned bank KfW, German energy company RWE, and Dutch utility Gasunie signed a memorandum of understanding for the project. Gasunie will operate the terminal, jointly owned by the German state.
The terminal would regasify up to eight billion cubic metres of LNG per year from 2024. This compares to 140 billion cubic metres of gas imported by Germany every year. Construction will also require significant investment in pipelines, since the terminal lies 80km from Germany's main gas network.
German Vice Chancellor and Federal Minister for Economic Affairs and Climate Action Robert Habeck said: "With the LNG terminal in Brunsbüttel, we are responding to the latest geopolitical developments. We must reduce dependence on Russian gas. LNG terminals help to increase security of supply in Germany and Europe.
"At the same time, we are preparing for the future by designing the terminal in such a way that green hydrogen or hydrogen derivatives, such as ammonia, can be imported at a later date."
Habeck has also spoken of upcoming legislation to ensure that utilities fill their gas storage before the start of winter. He said that Germany buys half of its consumed coal from Russia, and that the government may soon also require power stations to stockpile coal before winter price increases.
Rethinking energy mixes
In Belgium, ministers have started discussions over delaying the country's exit from nuclear generation. In 2003, the country passed a law to end nuclear generation by 2025. Now, the government has said that the invasion of Ukraine has changed the situation.
Minister of Energy Tinne Van der Straeten has said that the planned nuclear exit remains "ready and feasible". However, the will to minimise Russian energy imports has caused the government to consider extending the life of its nuclear reactors. The Belgian Government has said it will make its decision after grid operator Elia submits a report on the potential impacts of the nuclear switch off later in the month.
If the nuclear shutdown goes ahead, decommissioning of Belgium's first reactor will begin in October.
At the same time, French energy company Engie has warned that cutting out Russian gas would cause prices to rise next winter. Before Russia invaded Ukraine, French president Emmanuel Macron announced construction of six new nuclear plants to ensure energy independence. Construction of the plants would begin in 2028.