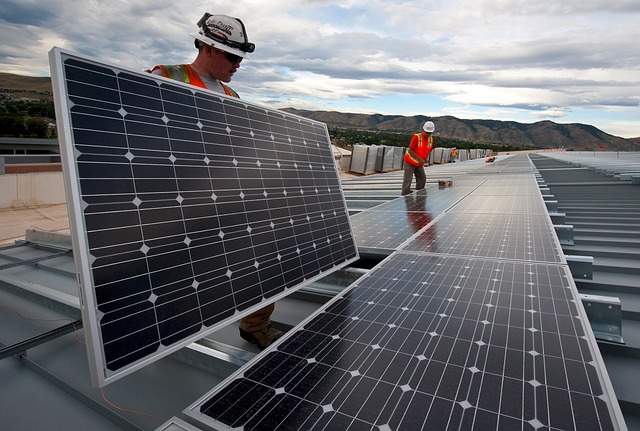 US President Donald Trump's tariff on imported solar panels has come into effect, causing several US renewable energy companies to halt investments in installation projects worth more than $2.5bn, also stalling thousands of jobs.
The sum lost in the project cancellations is double the amount of planned spending by companies due to build or expand US solar panel factories in response to the import tax.
The 30% tariff will last four years, decreasing by 5% each year. Solar developers have said the levy will bump up the cost of major installation projects by 10%.
Trump first proposed the tariff in January, and was met with criticism from most of the solar industry, which said the move would only hamper a sector many saw as on the cusp of taking off.
Tax incentives and the declining cost of imported panels drove a series of utility-scale solar installations over the past year, allowing solar power to become a true competitor to natural gas and coal in the US. Additionally, job creation was anticipated to grow, with US Energy Information Administration estimates showing the US solar industry to already employ three times more people than the coal industry – providing jobs for more than 250,000 people.
Many have voiced fears that the new solar tariff will undermine progress, citing its potentially damaging impact on domestic job creation, as well as overseas manufacturing operations.
Conversely, some industry experts argue that the tariff's impact on jobs is unimportant due to technological advancements already diminishing the need for human workers. For instance, Martin Pochtaruk, president of Canadian energy company Heliene, said companies "don't employ too many humans. There are lots of robots".
Among the cancelled projects are those by utility-scale developer Cypress Creek Renewables. The firm halted 150 projects – a fifth of its pipeline – which equates to the loss of $1.5bn and 3,000 jobs. The company referenced the tariff as the motivating factor, as it raised costs beyond a viable level.
The company is one of a group of solar developers to request that trade officials exclude panels used in utility-scale projects from the tariffs, a plea still under review by the US Trade Representative.
Other cuts have been enacted by McCarthy Building Companies and Pine Gate. The former slashed its planned 1,200 solar project employees by half due to the levy, while Pine Gate halved its number of solar installations and dropped plans to hire 30 permanent staff members. The firm also retracted an 80MW project that would have cost up to $150m late last year, following news of the planned tariff.
However, some developers are continuing with their plans in attempts to take advantage of the remaining years of the 30% solar installation federal tax credit. This measure is due to be phased out starting 2020.
For instance, panel manufacturers First Solar and JinkSolar have announced their plans to amp up solar installation in the US in a series of construction projects worth around $800m. These are also expected to create around 700 new jobs in Ohio and Florida.
Similarly, developer Intersect Power has said it is pushing ahead with a 150MW project as part of its 2017 deal with Austin Energy to provide low-cost power to the Texan capital. The project is expected to start producing power in 2020, though the tariff is slowing progress due to delays in solar panel purchasing.
Other firms, such as 174 Power Global, anticipated the levy and stockpiled panels prior to Trump's announcement.