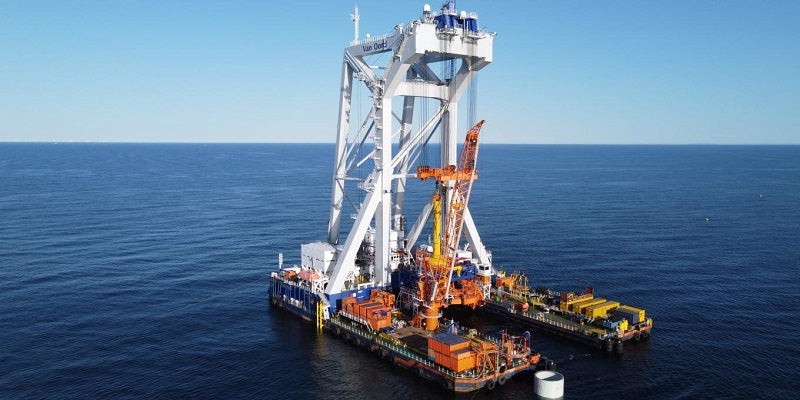 Dutch maritime contracting company Van Oord has signed a contract with Iberdrola for transporting and installing monopile foundations for the Baltic Eagle offshore wind farm in Germany.
Van Oord will use Svanen, its 8,000t heavy-lift installation vessel, to install 50 foundations at the offshore wind facility.
The company has also agreed to supply, transport and install the inter-array cables using its Nexus cable laying vessel and Dig-It trencher.
Van Oord will customise the Dig-It to allow it to handle the Baltic Sea's soft soil conditions.
The offshore works for the Baltic Eagle project are due to begin in 2023.
Van Oord Offshore Wind managing director Arnoud Kuis said: "We are very pleased to be working with Iberdrola again, this time on the Baltic Eagle project in the German Baltic Sea.
"Combining the installation of foundations [with] the supply and laying of cables will ensure the project is executed efficiently."
With 476MW of power generation capacity, the Baltic Eagle wind farm will have the potential to supply renewable energy to 475,000 households while offsetting around one million tonnes of carbon dioxide a year.
The offshore wind farm is scheduled to be fully operational by the end of 2024.
Iberdrola Germany country manager Iris Stempfle said: "Iberdrola is one of the leading developers contributing to the energy transition by investing in offshore wind projects around the globe.
"Our Baltic Hub in Germany will have an installed capacity of 826MW by the end of 2024.
"Tapping into the expertise of Van Oord yet again makes us confident that the Baltic Eagle offshore wind farm will be delivered as planned."
In 2019, Denmark-based renewable energy company MHI Vestas was contracted to supply turbines for the Baltic Eagle project.
Earlier this month, Iberdrola acquired renewable energy firm Sowitec Vietnam, which has a 550MW renewable pipeline currently being developed.