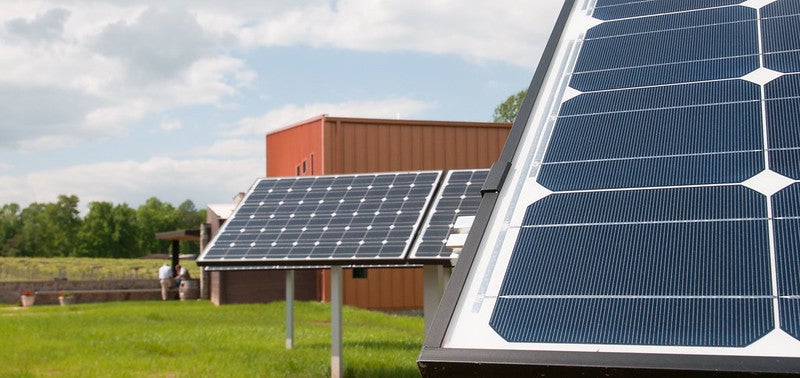 The US state of Virginia has passed a new bill pledging to transition to 100% clean energy by 2050.
The Virginia Clean Economy Act (VCEA) will aim to eliminate CO2 emissions by investing in clean energy technology and energy efficiency programmes for everyone, including low-income communities.
Virginia's delegate Rip Sullivan tweeted on Friday that the bill was a "landmark victory in energy and environmental policy in the Commonwealth."
The Virginia League of Conservation Voters (LVC), which represents the conservation community, defined the passing of the bill as a "turning point".
Virginia LVC executive director Michael Town said: "This is what a 'Conservation Majority' looks like. Today, the Virginia Senate finalised what would have been impossible just a year ago: comprehensive legislation that gets us to 100% clean electricity and zero carbon emissions.
"This is a true turning point in the climate fight here in Virginia, as we take our place among the top states in the nation working to cut emissions and move away from dirty fossil fuels."
Under the term of the bill, utilities Dominion Energy and American Electric Power will retire all-electric units that release carbon emissions while acquiring or constructing renewable energy generation systems.
Dominion will need to complete its 100% renewable energy transition by 2045 and American Electric by 2050. By 2035, the companies will be forced to acquire 2,700MW and 400MW of energy storage capacity respectively.
Dominion is also required to develop a set of offshore wind project with a total capacity of no less than 5,200MW by 1 January 2034.
Environmental organisations have applauded the decision.
The National Resources Defence Council (NRDC) Virginia policy director Walton Shepherd said: "The Virginia Clean Economy Act marks a historic advance in zeroing out power plant carbon pollution by 2050, protecting Virginians' health and livelihood from climate change.
"But the work's not done because Dominion Energy succeeded in watering down crucial energy efficiency provisions that would have lowered electric bills and created thousands of local jobs."
Greenpeace USA senior campaigner Elizabeth Jardim said: "For too long, Dominion Energy has had too much control over the Commonwealth's politics and its electricity generation–keeping the public and businesses hooked on fossil fuels.
"Dominion's new $8 billion Atlantic Coast fracked gas pipeline makes no sense while Virginia is pursuing 100% renewables by 2045."
Environmental and Energy Study Institute (EESI) executive director Daniel Bresette told Power Technology: "The act not only requires 100% renewable energy by 2045-2050, but it also includes a strong commitment to energy efficiency. Energy efficiency is the most cost-effective way to reduce carbon emissions in the near-term-and then, of course, there are the monthly utility bill savings."
The bill will have a positive impact on the economy of the state and consumers. Campaigners say that the law will create 13,000 jobs per year in the advanced energy sector and will result in $69.7bn of net benefits.
The VCEA will also prevent spikes in the electricity bills and will enforce standards that will help consumers reduce waste and save money.
ACORE president and CEO Gregory Wetstone said: "The Virginia Clean Economy Act is important legislation that will attract significant new investment, create thousands of good-paying jobs, give Virginians access to more affordable, pollution-free power, and of course move us forward in addressing climate change."
Power Technology has approached Dominion Energy and American Electric Power for comment.