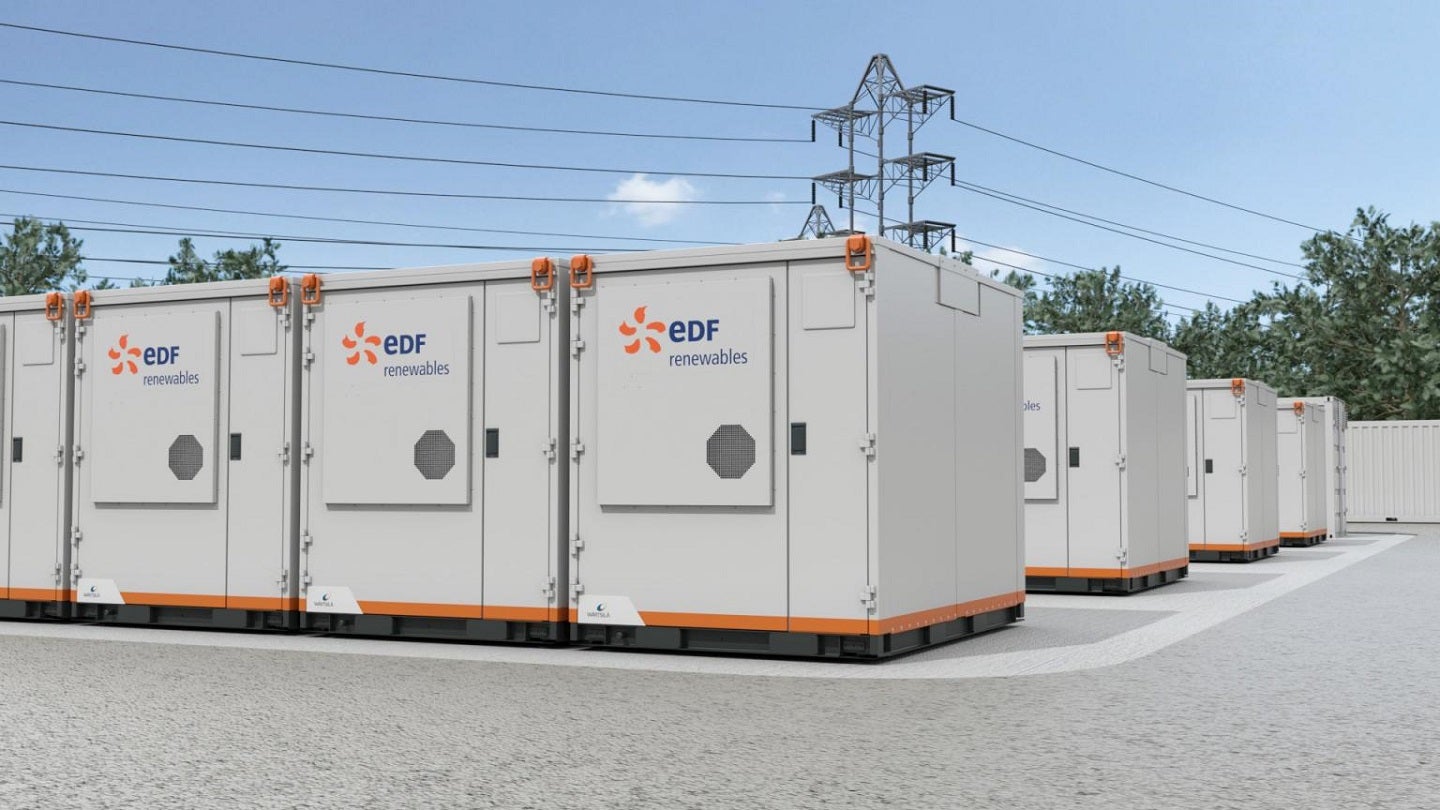 EDF Renewables UK and Ireland, a subsidiary of French utility EDF, has selected Finnish company Wärtsilä to supply a 57MW/114 megawatt-hour (MWh) grid-scale battery energy storage system in the UK.
To be located in Bramford, Suffolk, the new system will support the country's transition towards a decarbonised electricity network and the attainment of its net-zero goals.
It will be the sixth project for Wärtsilä and EDF Renewables and is based on the long-term partnership between the two companies.
Booked in the first quarter of 2023, the order is expected for delivery in the first quarter of 2024 and will bring Wärtsilä's energy storage portfolio in the UK to more than 1GW.
Wärtsilä will deliver its GridSolv Quantum system and GEMS Digital Energy Management platform.
GridSolv Quantum is a modular energy storage system, compact in design with a small footprint and low life cycle costs along with minimal scope and complexity for engineering, procurement and construction activities.
The GEMS platform will be the main controller of the GridSolv Quantum system, including installation and grid interfacing along with external traders.
The battery energy storage system at Bramford will be built near a solar farm being developed by EDF. A planning decision is pending from the Mid-Suffolk district council.
EDF Renewables UK storage and private wire director Matthew Boulton stated: "A massive energy transition is under way, and renewables are at the heart of this turning point for the energy industry. Our aim is to help create an energy system that is clean, affordable and secure by providing valuable flexibility to support the integration of a greater amount of renewable energy.
"Our Bramford battery storage facility is an important part of this, and we are excited to start construction next month, where we will be making the most of Wärtsilä's expertise in delivering smart and flexible energy storage technology."
Wärtsilä energy storage and optimisation senior business development manager Gabriele Buccini stated: "Whilst greater integration of renewables into the UK's electricity grid is critical to supporting the transition to net zero, smart power infrastructure is needed to manage its intermittency and improve the resilience of the UK's electricity system.
"That is exactly what the Bramford project is helping to do, [delivering] cleaner, more reliable power to the country."