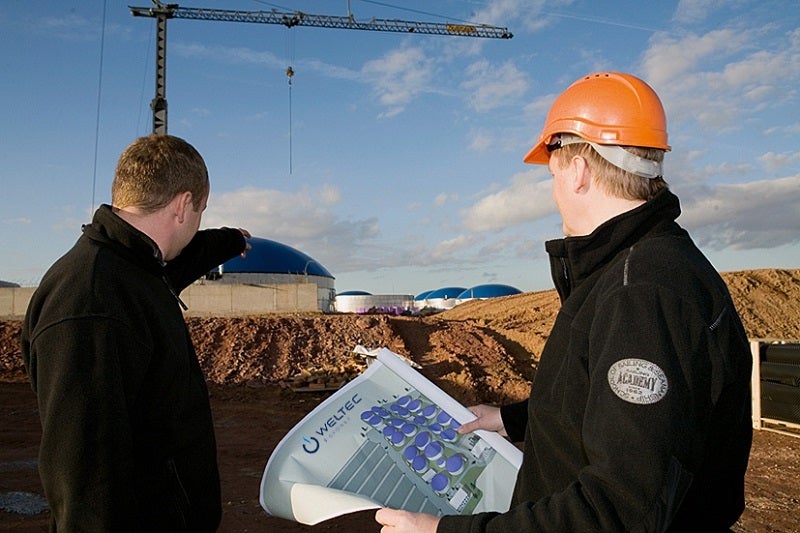 German biogas plant manufacturer WELTEC Biopower has begun building a biomethane plant near Pontefract, West Yorkshire. The client for the plant is Lanes Farm Energy, a gas-to-grid project developed by Aqua Consultants.
The plant will go live in late 2019 and provide 7.3 million m3 of biomethane to the UK network, which is enough energy to supply 9,600 households with sustainable energy.
The biomethane is produced from locally-sourced feedstock, consisting of food leftovers, cattle and chicken manure, grass silage and hybrid rye. This is fed through two walking-floor feed hoppers and MULTIMix units to remove impurities and produce an easily-digested liquid. The gas production will take place in four stainless-steel digesters with a capacity of 6,848m3 each.
Biomethane is a sustainable product, enabling carbon savings of about 90% compared with coal or oil.  The by-product of biomethane is digestate, which can be used as fertiliser.
WELTEC UK sales manager Dr Kevin Monson said: "With the UK needed to boost energy security post-Brexit, and to re-balance its energy mix to reduce carbon emissions in accordance with the Paris Agreement, recovering clean, reliable biomethane from organic wastes and injecting it into the gas grid is a crucial piece of the energy jigsaw.
"The provision of sustainable renewable heat and transport fuel from wastes means that biomethane will surely be further promoted by forward-thinking governments. Biomethane plants are the epitome of the sustainable circular economy. The technology is proven and the gas grid is a ready-made distribution network."