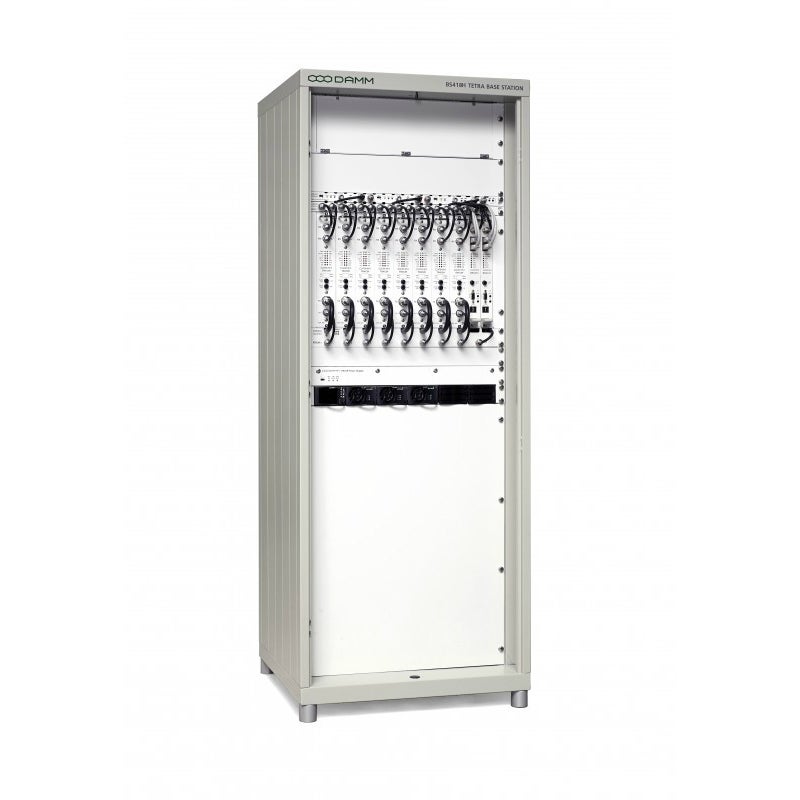 DAMM systems can manage increased demand and can be used on sites of various sizes, including one-site solutions with local coverage and large-scale multi-sites, using a combination of DAMM outdoor and indoor base stations.
Due to the intelligent, DAMM TetraFlex software, simple site expansion is possible, even while in operation.
Key features
1-8 carriers in one rack, extendable to 16 carriers
300MHz-400MHz-800MHz frequency bands
0.5W-25W output power at antenna socket
Dual diversity
-118 dBm dynamic RX sensitivity
Mast-mounted amplifier
Hot standby
Low power consumption – 200W / carrier at 25W
The 100% IP-based technology provides full architectural network flexibility with all network components connected in a single state-of-the-art infrastructure without a central switch.
The DAMM Indoor System is part of the DAMM single-technology portfolio and can be fully integrated into any of our multi-technology products.
DAMM Indoor Systems can be configured with up to 16 TETRA carriers in two racks, providing 64 time slots with easy access to all field-replaceable units and terminals from the front.
Excellent receiver sensitivity is ensured by the Tower Mounted Amplifier / Duplexer (TMA / TMD) by eliminating receiver cable loss. TMD enables dual-diversity operation using only two antennas.
DAMM Indoor Systems have extremely low power consumption and can be delivered as a high output power version.
Featuring full support for battery backup and redundant controllers, power supplies and carriers, DAMM Indoor Systems are extremely reliable. The intelligent decentralised architecture replicates information to all sites in the network, avoiding any single point of failure.
DAMM TetraFlex® is supplied with Application Gateways for easy access to the Application Programming Interface (API), Packet Data Gateways and Voice Gateways, which enables straightforward integration to the existing control room equipment and telephone systems or development of customer-designed applications.
As an independent TETRA infrastructure provider, DAMM base stations are IOP-certified for full compatibility with all TETRA terminals, providing the user with an option to freely choose their favourite terminal brand.
The DAMM TetraFlex system is available with a wide range of application software such as Voice and Data Log System, Dispatcher, Enhanced Bridge and a comprehensive Network Management tool, including subscriber management and network performance statistics.