Electromagnetic Flow Meters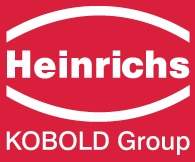 Heinrichs' electromagnetic flow meters are produced in nominal sizes from 2mm-1,200m / 48in.
Heinrichs' electromagnetic flow meters are produced in nominal sizes from 2mm-1,200m / 48in.
They come in several different lining materials, including hard rubber, soft rubber, EPDM, PTFE, and ceramic.
Heinrichs' provides several models of magnetic inductive flow meters and sensors, which provide high-accuracy metering.
Heinrichs' standard (EP) and ATEX-approved (EPX) magnetic inductive flow meter measures electrically conductive liquids in hazardous areas without pressure loss. It requires no maintenance and is produced in a wide spectrum of electrode materials, with many liners available.
The flow meter can be supplied with inexpensive grounding electrodes instead of grounding rings, and special materials such as tantalum are also available. It also comes with a large selection of process connections.
Heinrichs also produces the PIT magnetic inductive flow meter and the PITe insertion flow sensor. The PIT model provides volume flow measurement without loss of pressure and is mountable or dismountable under operating conditions. It can be used for the monitoring of electrically conductive liquids, slurries, and pastes, while it is suitable for fluids that tend to form films or crusts.
Heinrichs' PIT is designed for hazardous areas and is suitable for pipe diameters of up to DN 2000.
The insertion flow sensor is an ECONOMIC sensor for larger pipe sizes up to DN 400 / 16in. The sensor has a welded adapter and is a low-cost alternative for classic in-line meters.
Heinrichs has also designed the compact MIK magnetic inductive flow meter for the measurement of liquids, acids and caustic liquids, including drinking, cooling and wastewater. The product is suitable for the chemical industry and for laboratory use.
Heinrichs Messtechnik can look back to a company tradition of 100 years. The history of the company began with the construction of variable area flowmeters.