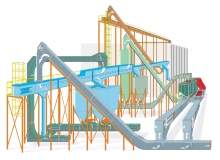 En-Masse Drag Chain conveying technology is the most efficient technology in the industry, capable of utilising 90% of the physical size for actual conveying.
This means a smaller conveyor moves a greater amount of material when compared to other technologies such as belts, screws and paddle / drag conveyors.
The En-Masse Drag Chain offers a flexible layout and the En-Masse drag chain housing and flight design provides flexibility to move material horizontally or vertically without back-flow or carry over.
The conveyor can be designed in a Z path, L path, straight incline and vertical. This conveyor technology is ideal for moving coal, ash, minerals, biomass and other feedstock used in power generation.