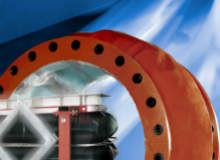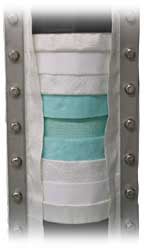 The engineering staff who are responsible for plant engineering and equipment must take into consideration numerous factors. These include extreme temperatures, pressure levels, large movements, vibrations and corrosive media.
Customised solutions are essential in industrial engineering because of individual design criteria. High-quality expansion joints supplied by Frenzelit are as practical as they are cost-effective.
Therefore customer interaction is a top priority at Frenzelit. Together with your team our engineers will discuss your proposal and its requirements. As result, a detailed quotation with precise technical specifications will be prepared and provided to you.
Individual material composition and design
Dimensions, layout and operating conditions found in industrial applications as well as turn-key systems are very unique in their very own criteria to be met by standard expansion joints. Frenzelit focuses on engineering custom design fabric expansion joint to meet the specific requirements of each client.
The single, most important preliminary condition for optimal expansion joint design are the precise operating conditions submitted by client. Frenzelit has developed a unique, above industry standard, questionnaire to capture those important design requirements.