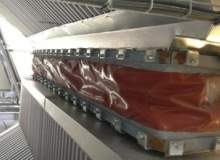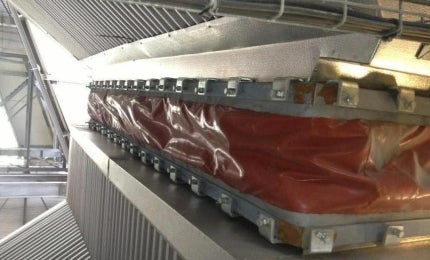 Fabric expansion joint represent some of the most important element in the resilience and longevity of your industrial installation. Fabric expansion joints are applied in ducts transporting air, fumes and gases, even if they are containing solid parts.
Fabric is particularly flexible and the expansion joint will be made out of more or less layers, depending on the application. Each layer has its own role to play. They are always 'tailor-made' items and therefore can be adapted to almost any situation. Fabric expansion joints are able to resist to temperatures up to 1,200°C (2,190°F) and particularly aggressive fluids.
If you are looking for fabric expansion joints, we are specialized in the manufacture of customized fabrics gaskets. Benefit from our expertise in manufacturing custom gaskets to companies around the world. Send us your project with specifications and we will gladly advise you and design the most appropriate product for you project.
We guarantee a reliable and fast service, our production center based in the North of France is a strategic location that allows us a fast delivery of our products in France and abroad.
Accessories :
High-temperature stuffing mats: flexible insulation fitting for ducts, removable equipment, energy saving, made on measure
PTFE joint
Rope/ HT braided glass – 800°C
For any quote request or question concerning our products, you can send us an email or call us at +33 320 659 674.