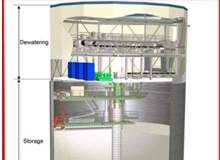 Thanks to the incredible flexibility of the Eurosilo gypsum storage system, 35 gypsum silos have been built all around the world, many of which are retrofits. The Eurosilo Gypsum silo is the answer to all of your storage space problems.
The FGD-Gypsum Silo incorporates three vital functions at the smallest possible footprint. Dewatering, storage and load-out are all located in one fully automated silo system for the most cost effective solution.
The complete dewatering station can be placed on top of the silo, saving even more space. Rail and/or truck loading can be situated beneath the silo, to simplify your logistics processes.