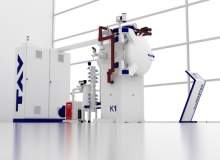 The vacuum furnaces of the TAV K and X series offer an advanced solution for the very-high temperature processing of advanced ceramics and graphite.
A large pumping group allows rapid evacuation of the chamber and high operating vacuum levels.
The high power installed and the large surface area of the heating system provide uniform and precisely controlled heating rates, as well as shorter cycles.
A closed loop gas circulation system provides the cooling of the thermic chamber and of the load. A variable frequency inverter allows fine regulation of the cooling speed.
A SCADA system provides comprehensive monitoring and control of the furnace and includes OEE and performance measurement functions.
Useful dimensions: from laboratory sizes to large production batches
Maximum temperature: 2500 °C;
Ultimate vacuum: 1E-3 mbar range / 1E-6 mbar range
Maximum cooling pressure: 150bar abs
Applications: high temperature processing of advanced ceramics (SiC, Si3N4, B4C, AlN) and graphite