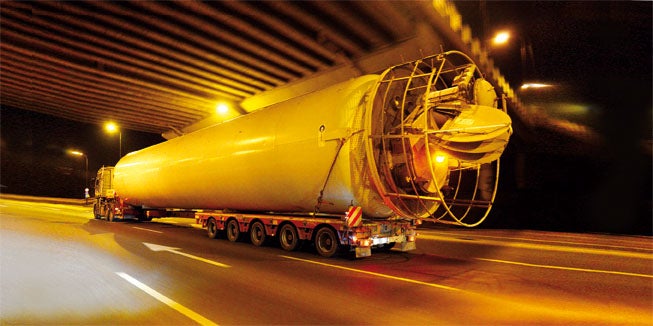 Flat and low bed semitrailers, designed for the transport of long indivisible self-supporting loads, are the only solution for the transport of today's longer wind turbine blades.
Flat bed semi-trailers can be supplied with double or triple extendible platform. Based on required loading capacity, the customer can choose between three, four and five axle semitrailers with hydraulic or pneumatic suspension.
Different models are available from the classic 29m, 36m, 45m up to the new 50m and 53m. All the axles are hydro-mechanically forced steered from the tractor (mandatory to drive such long semitrailers).
Extendable semi-low loaders are designed for heavy load transport where road regulations impose a limited load per axle. The main features are; hydro-mechanical steering axles from four to ten axle lines; fixed, or single, double or triple extension; a platform width of either 2550mm, 2750mm or 3000mm; payload up to 140 tonnes; pneumatic or hydraulic suspensions with equal load distribution on the axles.