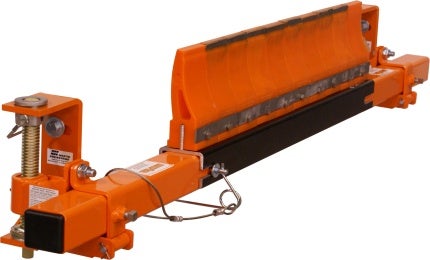 The Martin® SQC2S secondary conveyor belt cleaner uses individually-cushioned tungsten carbide blades, which pose no risk to the belt, splice or blade.
Features and benefits:
The belt cleaner construction withstands punishing applications, such as high-speed belts and high-tonnage loads
Patented rubber buffers allow splices to pass without a reduction in the cleaning pressure
To replace the blade all you have to do is remove the pin, slide out the cartridge, service and return
The compact design means it can be installed in close quarters, and its narrow profile prevents material buildup
Rubber buffers mean that a reversal of the belt direction causes no damage to the belt
Applications:
It is suited for medium to heavy-duty applications, on belt widths from 18in to 96in (400mm to 2400mm) at speeds up to 1000fpm (5.1 m/sec)
Options:
Martin Engineering's colour-coded high performance urethanes can be used, and the SQC2S is also available with acid-resistant blades for belts with clips. It is also acid-resistant for reversing belts, tungsten carbide or urethanes. A farside tension adjuster is available
A worldwide leader in bulk material handling technology has announced the formation of a new...