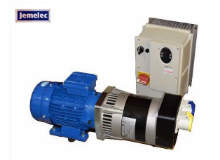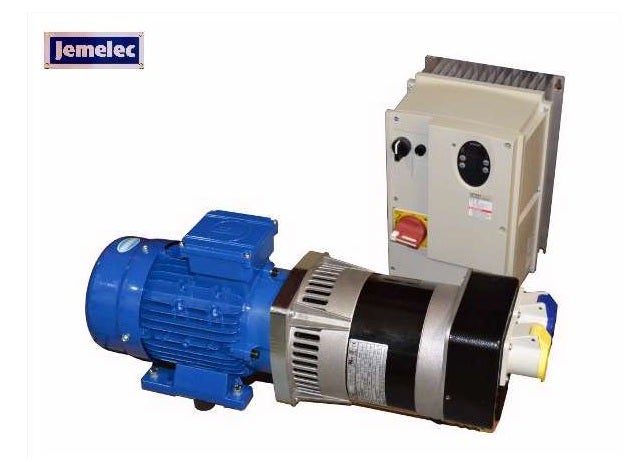 Motor generators are used to isolate electrical loads from power supply lines.
It consists of an electrical generator driven by an electric motor. This is used to convert the electrical power frequency, voltage, and phase.
It is turned by a stream turbine or internal combustion engine, unlike a conventional electrical generator.
They are also used to:
Isolate electrical loads from the electrical power supply line
Eliminate spikes and variations in large power supplies
Provide phase matching between different electrical systems
Large motor-generators have been widely used to convert industrial amounts of power, while smaller motor-generators have been used to convert battery power to higher DC voltages.
Products include:
2kVA Jempac Direct Coupled Variable Frequency Converter with integrated controls. Fixed Frequency 50Hz or 60Hz, 115V / 230V single phase
6kVA Jempac Direct Coupled AVR Controlled Variable Frequency Converter with integrated controls
23kVA Jempac Direct Coupled AVR Controlled Variable Frequency Converter with integrated controls
75kVA Direct Coupled Frequency Converter Motor Generator Set for 50Hz to 60Hz conversion
158kVA Direct Coupled Variable Frequency Converter Motor Generator Set, with multiple three-phase and single phase outputs and control panel for a test bay
190kVA Direct Coupled Frequency Converter Motor Generator Set for 50Hz to 60Hz conversion, three-phase output with 55kW motor and oversize alternator for special application
425kVA Direct Coupled Frequency Converter Motor Generator Set for for 50Hz to 60Hz, or 60Hz to 50Hz conversion, three-phase output
695 kVA Direct Coupled Frequency Converter Motor Generator Set for for 50Hz to 60Hz, or 60Hz to 50Hz conversion, three-phase output