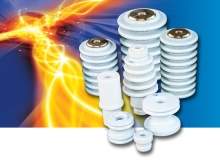 Eger Products has a complete line of durable and reliable porcelain bushings for transformer, switchgear, capacitor and special power apparatus applications.
The company's porcelain insulators provide years of reliable and consistent performance in the most rugged environments.
Built to withstand corrosive saltwater environments or petrochemical facilities, punishing heat and cold temperatures and seismically active locations, porcelain insulators are the insulator of choice throughout the global electric power industry.
More information on Eger's porcelain insulators can be found here.