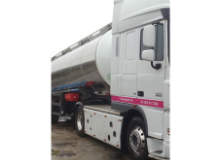 Utility Oils can supply road tankers for carrying insulating oil. The company can supply single and multi compartment tankers which feature dedicated pumps and lines, fire extinguishers and desiccant breathers.
Also available are insulating oil bowsers, an environmentally secure alternative to drums. Utility Oils can offer two compartments to carry reconditioned and used oil and single compartment bowsers with either a reversible or non-reversible pump. Insluting oil bowsers allow the customer to have up to 2000l of oil on-site in a safe fully bunded format.
Bowsers remove the risk and cost that comes with using empty drums to drain and store oil.
Specialised tankers are also available from Utility Oils including single and twin axle 'Urban Arctic' tanks, these can reach difficult sites and carry larger delivieries.
Utility Oils' tankers are suitable for long and short term storage, oil change maintenance and the storage of oil before reprocessing.