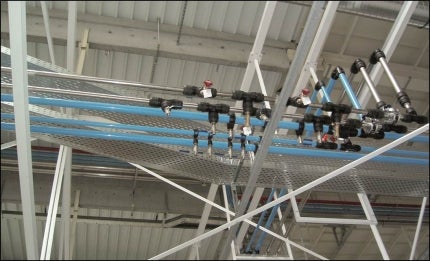 Transair® is a fast, flexible and easy-to-modify piping system for compressed air and industrial water applications.
Quick, instant connections eliminate the need to thread or solder pipe. The lightweight, corrosion-resistant aluminium or stainless steel pipe is easy to handle and safe to work with on elevated platforms.
Modular, reusable and energy efficient, Transair significantly reduces labour time, making it the most cost-effective piping system today. Transair addresses the needs in critical applications where air purity is essential.
Safety and quality certifications:
ISO 9001
TUV
ASME B31.1 / B31.3
CEE 97/23 (PED)
UL94HB (connectors & valves)
UL94V-2 (fixing clips)
ISO8030 / EN12115 (flexible hoses)
Features and benefits:
1/2in (16.5mm) to 6in (168mm) pipe sizes
No corrosion
Full-bore design
Optimum flow rates with less pressure drop
Immediate pressurisation
Leak-free guarantee
Ten-year warranty
Applications:
Instrument and plant compressed air lines (lubricated or oil-free)
Inert gas piping systems (argon, nitrogen, CO2, and helium)
Vacuum piping systems
Industrial water piping systems (glycol and water lines)
Wastewater aeration and cooling water systems
Pneumatic conveying and bag houses
Potable water
Compressor rooms