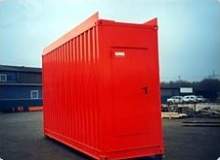 Metallbau Emmeln's transformer containers are individual in size, have multiple applications and can be used for various room separations.
These containers have room for three transformers and can be used on a conveyor system.
Special transformer and control containers can also be installed to a gantry crane with high impact loads, and mobile transformers and inverter substation with separate false floor.