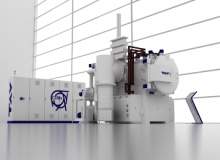 The vacuum furnaces of the TAV UHV series offer an advanced solution for high temperature, high vacuum heat treatments in absolutely clean, hydrocarbon free atmospheres.
A large, completely dry pumping group allows rapid evacuation of the chamber and high operating vacuum levels.
The high power installed and the large surface area of the heating elements allow fast and uniform heating ramps and shorter cycles.
A SCADA system provides comprehensive monitoring and control of the furnace and includes OEE and performance measurement functions.
Useful dimensions: from laboratory sizes to large production batches
Maximum temperature: 1300 °C
Ultimate vacuum: 10mbar to 7mbar range
Applications: advanced heat treatments and brazing processes for nuclear research