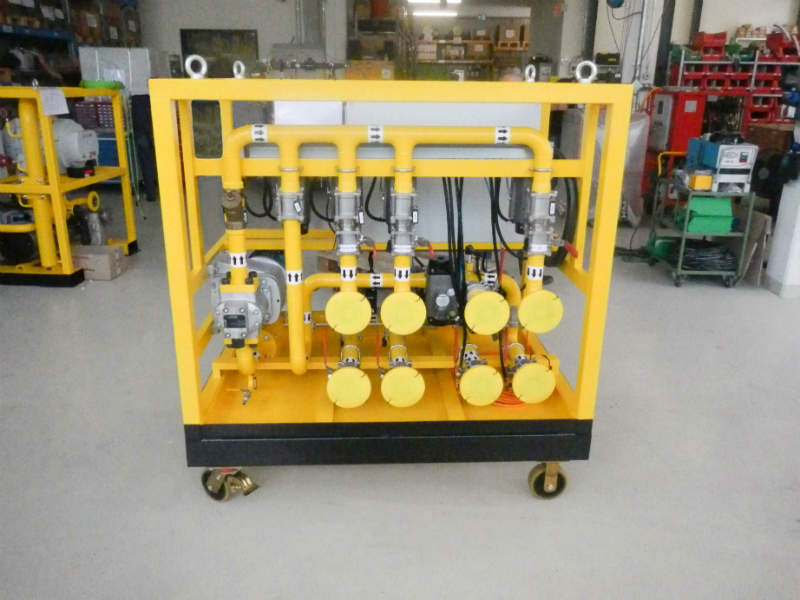 Micafluid's vacuum pump system type "VPU", with an automatically controlled suction capacity of roots pump, is designed for economical and independent on-site degassing and dehydration of transformers under vacuum.
VPU's are also used for transformer evacuation during first filling with isolating transformer oil.
Features:
The plant is delivered ready for operation according to IEC Standard
The start-up speed of the pump will be automatically controlled by the frequency converter. Internal overpressure release valve allows the start of root pumps from atmospheric pressure.
The plant is equipped with built-in control and safety devices, which guarantee a maximum operating security.
Minimised power consumption through optimised degassing (excellent efficiency factor)
All electric drive motors are air-cooled. No external cooling water connection is required
Pumping systems
Micafluid's pumping solutions includes the vacuum drainage pump.
Filtration systems
The oil flows through a special self-contained sealed feeding pump into the particle filter over the dewatering filter and back to the apparatuses.
The special particle filters cartridge results in the most effective maximum particle filtration, whereby the characteristic of the oil is not changed.
The second filter system with the patented Aquamicron filter element removes free and dissolvent water.
Features:
Removal of dirt, sludge, carbon and metallic particles
Removes free and emulsified water to less than 5ppm
Differential pressure increases alerts operator to change cartridges
Effectively filters slit and other particulates
No effect on oil additives
Easy and safe operation
Flexibility in application (various oil types and oil quantities)
The filter system is built of stainless steel installed on a frame with rollers. The control of the system is made by PLC and the actual process is shown on the touchscreen.