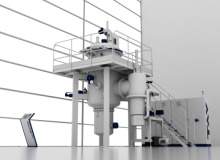 The TAV Y series vacuum furnances offer an advanced solution for heat treatment of long pieces with small sections, which need to be processed hanging for reduced deformation.
| | | |
| --- | --- | --- |
| Model | Ø (mm) | H (mm) |
| Y4 | 400 | 1000 |
| Y6 | 600 | 2000 |
Maximum temperature: 1450 °C
Ultimate vacuum: 10mbar to 6mbar range
Maximum cooling pressure: 15bar abs
Applications: vacuum heat treatment for long pieces with small section, which require to be processed hanging (shafts, broaches, etc)
The high power installed and the large surface area of the heating elements provides fast and uniform heating rates and shorter cycles.
Axial / radial directions of the quenching inert gas guarantee fast and uniform cooling of the load.
A Variable Frequency Inverter allows fine regulation of the cooling speed.
A SCADA system provides comprehensive monitoring and control of the furnace and it includes OEE and Performance Measurement Functions.