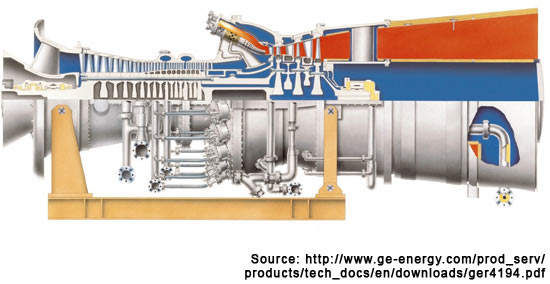 GE's new turbine has been developed from its MS7001FB.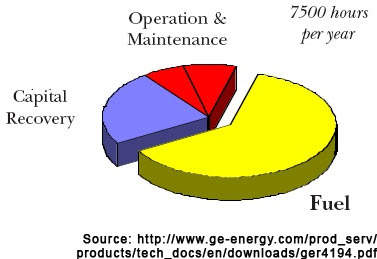 Major elements of life-cycle cost of ownership (present value) for a typical combined-cycle power plant.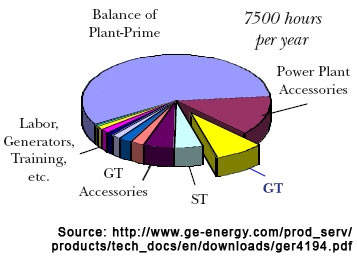 Elements of capital cost for typical combined- cycle plant.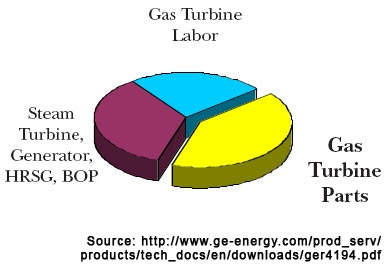 Elements of maintenance costs for a typical combined-cycle power plant.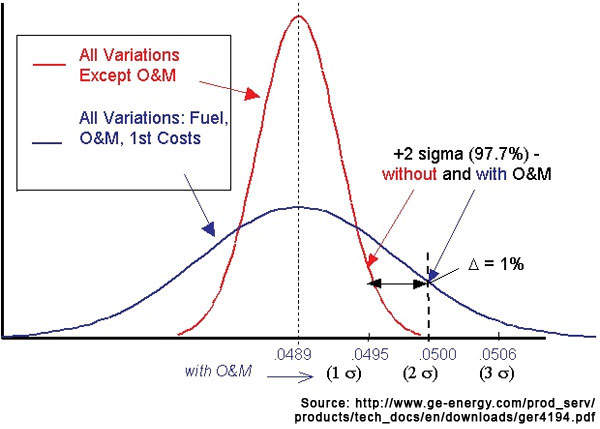 Levelised Cost of Electricity (COE) – US$/kW-hr.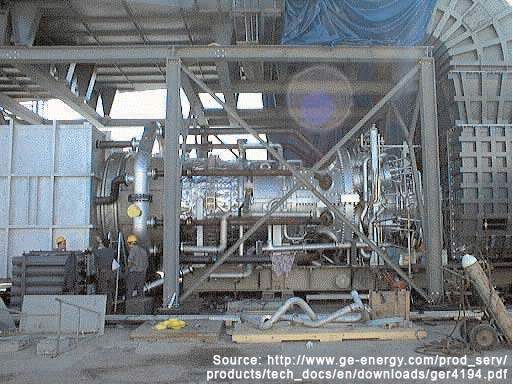 A FA compressor test vehicle (CTV) determined aerodynamic and structural behaviour.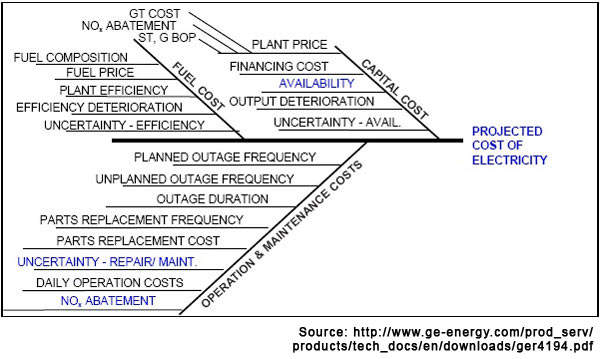 Factors that influence the components of power plant cost of electricity production.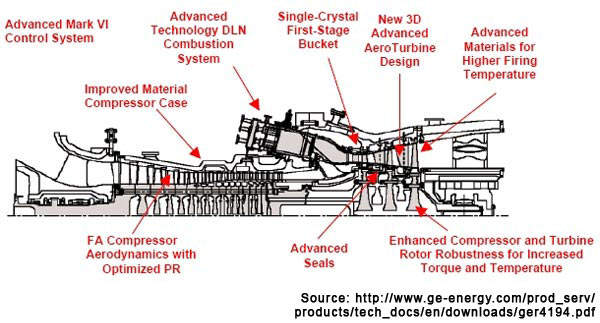 The FB series incorporates advanced design features
The first of GE's 9FB turbines has reached full-load operation at Group III of the Arcos de la Frontera combined-cycle power plant in Cadiz province, Spain. The 209FB combined-cycle system has two Frame 9FB gas turbines, one GE D11 steam turbine, three 330H generators and two heat recovery steam generators. The 800MW plant is owned by Spanish energy producer Iberdrola Generacion S.A.
Arcos I and II went into commercial service in 2004. At an estimated €800m, Arcos is the largest and most expensive power plant in Iberdrola's 100-year history. The plant is located between Sevilla and the Campo de Gibraltar, two areas with high electricity demands. In addition to the Arcos project, Iberdrola also has selected GE's 9FB machines for the 800MW Escombreras combined-cycle plant in Murcia, Spain.
9FB GAS TURBINES RAISE FIRING TEMPERATURE BY 40°C
In the 1950s, when gas turbines were first used for power generation in large numbers, they were used almost exclusively for peaking duty. Designs featured low specific cost and good starting reliability. Through the 1960s and early 1970s, continuing advances in efficiency, reliability and availability widened the applications.
"At an estimated €800m, Arcos is the largest and most expensive power plant in Iberdrola's 100-year history."
Today, with low emissions, low overall lifecycle cost and fast installation time, gas turbine plants have become the most widely used method for power production. Many applications today require the turbine to run nearly continuously.
With this increase in operating hours, the cost of fuel is more significant to optimise machine design. That means improving efficiency, primarily through increasing firing temperature.
The largest component of life-cycle cost, or cost of electricity (COE), is fuel cost, which is a function of fuel price and a power plant's overall thermal efficiency. Economies of scale have reduced capital costs over time, and improved efficiency has reduced fuel cost. Factors like operation and maintenance (O&M) costs, which have exhibited little change over the same time, have become a larger and more significant fraction of total lifecycle cost.
Turbine designers may select more expensive materials to achieve higher efficiencies, and their cost must be offset by the power plant's increased performance. The gas turbine flange-to-flange (GT) cost is a relatively small portion of the overall power plant capital cost. However, the gas turbine consumable components make up the largest contribution to maintenance costs.
58% COMBINED-CYCLE EFFICIENCY
The FB is the latest in GE's F series, improving output and efficiency by raising the firing temperature by nearly 40°C over the company's FA turbines. That improved the combined cycle efficiency by above 1% while raising output by more than 5%. Using natural gas, the GE 209FB is rated at 58% combined-cycle efficiency.
The turbines use GE's advanced, Dry Low NOx2+ combustion systems and will limit NOx emissions to 25 parts per million. The plant will produce one-third of the CO2 emitted by a (conventional) coal plant, one tenth the NOx emissions and negligible SO2. Initial testing by GE exceeded performance and emissions expectations, and verified component dynamics and aeromechanics across the operating range.
"The plant will produce one-third of the CO2 emitted by a (conventional) coal plant, one tenth the NOx emissions and negligible SO2."
Advanced materials like single crystal first-stage buckets ensure that components can withstand the higher firing temperatures without reducing maintenance intervals. The 18-stage compressor has an 18.5:1 pressure ratio.
The design is based on the 9FA, replicating the variable inlet guide vane geometry needed to increase part-load efficiency and start up surge control. The 9FB machines also feature GE's advanced SPEEDTRONIC™ Mark VI control system.
1.22M LAST STAGE BUCKETS
GE call this arrangement a STAG (Steam And Gas) system. The 295MW GE D11 steam turbines feature 1.22m (48in) last-stage buckets. These are the largest steel, full-speed (3,000rpm) last-stage buckets in terms of annulus area. Developed by GE and Toshiba, they are designed for improved plant efficiency and lower electricity production costs.
The GE 330H generators are rated at 330/360MVA. GE also will supply two NEM heat recovery steam generators, a distributed control system, training and technical assistance. The whole plant is designed for baseload operation (at full load for 85,000 hours/year). The output passes through a 400kV substation at the plant to Red Electrica, Spain's national grid operator.
The gas turbines will be manufactured at GE's Greenville, SC facility and the steam turbine and generators will be built at GE's Schenectady, NY plant. Iberdrola serves more than nine million customers, and also operates plants in Brazil and Mexico.