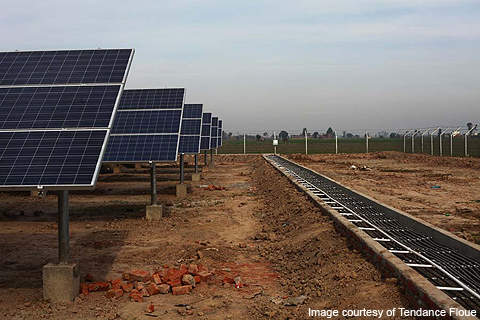 The Awan photovoltaic solar power plant.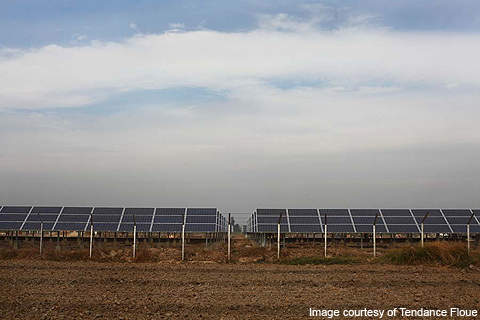 The 270W polycrystalline solar modules.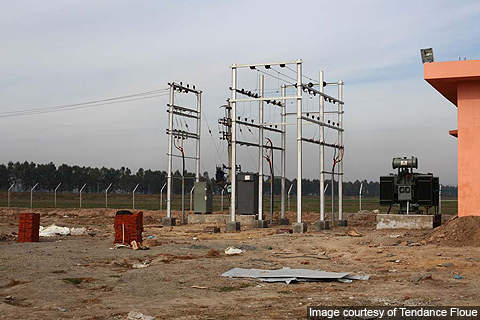 The 11kV transmission line, which connects the Awan photovoltaic plant to the local grid.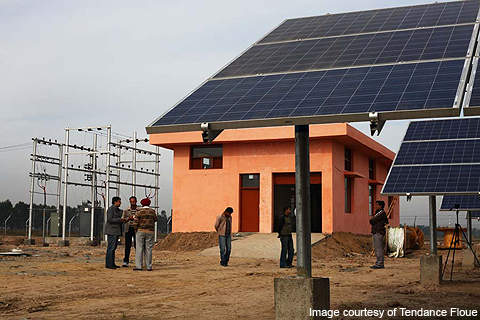 A substation, transmission lines and the solar array.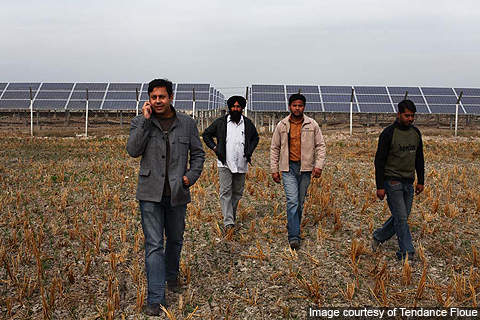 The execution team at the Awan solar power plant site in Punjab.
US-based Azure Power has built India's first privately owned utility-scale solar power plant in Awan, 40km from Amritsar, in Punjab. Construction on the 2MW grid-connected solar power plant began in July 2009 and was completed within six months. It was inaugurated on 15 December 2009. The plant was built, and is owned and operated, by Azure Power, an independent power producer.
The project was supported by the Punjab Energy Development Agency (PEDA) and the Ministry of New and Renewable Energy (MNRE). This project is the first step taken by PEDA in its endeavour to promote utility-scale solar photovoltaic power projects in Punjab. Initially, 1MW has been commissioned at an estimated cost of Rs190m ($4m). The total cost of the project (2MW) is estimated to be Rs400m ($8.5m). The project has been financed by a loan from the US Overseas Private Investment Corporation (OPIC).
Azure Power plans to build 100MW of solar power plants in different Indian states by 2015. The fully operational plant will supply power to 20,000 people in 32 villages and eliminate carbon emissions of up to 10,000t.
"US-based Azure Power has built India's first privately owned utility-scale solar power plant in Awan."
Awan faces a severe shortage of electricity and peak gaps at 11% hampering industrial growth and competitiveness. This project is an initiative by Azure Power to help create renewable energy to meet the rising demands.
In order to encourage private participation, the Punjab State Electricity Board has signed a 30-year power purchase agreement with Azure Power. This will yield revenue of Rs15 a unit for the first ten years and Rs8.93 a unit for the next 20 years.
India's first private utility-scale solar power plant
The photovoltaic (PV) solar power plant spreads over 13 acres of land and has 3,780 photovoltaic modules.
270W polycrystalline modules were imported from the US and China. Each module measures 156mm×156mm, weighs 25kg and has a cable measuring 1,100mm.
The 2MW Awan plant has an anticipated working life of over 40 years.
Grid network
The Awan plant is directly connected to the local grid through an 11kV transmission line. This avoids loss of power during the course of transmission and distribution.
Technology
The PV modules are manufactured from polycrystalline-cast silicon blocks coated with an anti-reflective substance which increases the conversion efficiency even at low radiance levels.
The modules are designed to withstand high wind pressure, large snow loads and extreme temperatures (-40°C to +85°C).
"Azure Power plans to build 100MW of solar power plants in different Indian states by 2015."
They have a unique design with drainage holes that prevent the module breaking in harsh weather. These modules are for on-grid utility and commercial systems, and off-grid ground-mounted systems.
Photovoltaic technology, made of silicon alloy, converts sunlight directly into electricity. Photons present in the sunlight strike against the photovoltaic cell between two semiconductors. The photovoltaic cell absorbs the photons and releases electrons, which are captured in the form of electric current.
Indian power market
India is over dependent on coal-based thermal power. Around 52% of the installed electricity is generated through coal. The rest is generated through hydro (25%), gas (10%), renewable (9%), nuclear (3%) and oil (1%).
The country faces a shortage of electricity, as 450 million (70%) Indians are involved in agriculture and live in 80,000 villages that are not connected to the grid. It needs 500MW of power a week for the next 25 years to maintain 8% GDP growth. It is, therefore, capitalising on solar energy to reduce its dependence on coal.
By 2009, India had grid connected solar plants with a capacity of 3MW. It plans to increase this to 1,000MW by 2013 and 4,000MW by 2017 through its National Solar Mission.