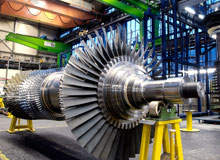 The Bibiyana South project is a proposed 400MW natural gas fired combined-cycle power plant (CCPP) in Bibiyana, Habiganj district, Bangladesh.
State-owned power generator and distributor Bangladesh Power Development Board (BPDB) started the project as part of the country's major capacity expansion programme proposed in its Power System Master Plan (PSMP) 2010.
The PSMP aims at providing a reliable power supply to all citizens of the country by 2020. Just 53% of the total population in Bangladesh currently has access to electricity. The country's government has prioritised the development of the power sector considering its key role in the overall development of the country.
The Bibiyana South project proposal was approved by the Bangladesh Government in July 2014. The estimated cost of the project is BDT25.08bn ($319m), which will be funded through the Energy Development and Maintenance Fund of BPDB that will be reimbursed by a loan from the Japan Bank for International Cooperation (JBIC).
The plant is scheduled for commissioning in May 2018.
Bibiyana South plant location and details
The plant will be developed in a ten-acre site located at Bibiyana in Parkul village, Nabiganj, a sub-district of Habiganj District. The Bibiyana site is located on the south bank of the Kushiyara river.
The main components of the CCPP include a gas turbine generating unit, a heat recovery steam generator, a steam turbine generating unit and other auxiliary units.
The gas turbine power plant will be arranged in a simple cycle with a continuous total net generating capacity of 65% of combined-cycle net output.
Electrical installations at the plant will include a generator switchgear, emergency diesel generating set, switchgear equipment, natural gas compressor, step-up and station transformer, as well as associated equipment.
Other significant components will include cooling water intake and outfall, draft cooling tower, water treatment plant, inlet and outlet air system, fire-fighting facilities, deep tube well, demineralisation plant and a jetty for unloading heavy equipment.
Civil structure and certain urban facilities being constructed as part of the project include steam turbine building, gas turbine building, water treatment building, air compressor building, cooling tower electrical building, administration office, medical centre building and dormitory building.
Make-up of combined-cycle power facility in Habiganj district
The plant will be fitted with Siemens turbines and generators, including an SGT5-4000F gas turbine, an SST-3000 steam turbine and a SGen-2000H generator.
SGT5-4000F is a four-stage gas turbine with a net power output of 445MW. The SST-3000 steam turbine, designed with the latest gas turbine technology, is a compact machine with two cylinders and an axial exhaust suitable for use in CCPPs. It features a high-pressure cylinder and a combined intermediate-pressure/low-pressure cylinder and provides a power output ranging between 90MW and 250MW.
SGen-2000H is a hydrogen-cooled generator, mostly used in simple cycle, combined-cycle and steam power plants. It offers better heat transfer and increased performance. Its sealed design enables it to work efficiently in impurity-prone environments.
Natural gas supply for the combined-cycle power plant
"SGT5-4000F is a four-stage gas turbine with a net power output of 445MW."
Natural gas for the plant will be supplied from the Bibiyana gas field, which is located nearby. The gas field is also connected to the gas grid network.
Contractors involved
Siemens secured an order to supply the key components, including turbines and generators, to the plant in December 2015.
In December 2014, the turnkey construction contract for the project was awarded to a consortium of Spanish Isolux Ingenieria and Samsung C&T Corporation, based in Korea, for approximately $285m. The contractual scope includes engineering, material purchase and construction of the plant.