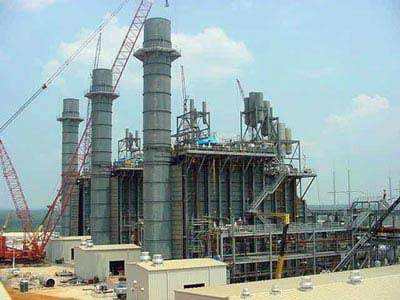 Construction continued on the HRSGs into July 2001.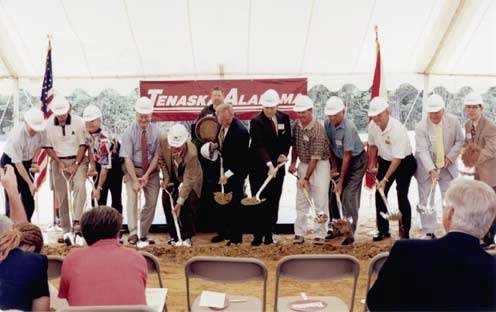 Ground-breaking ceremonies were held on 26 July 2001.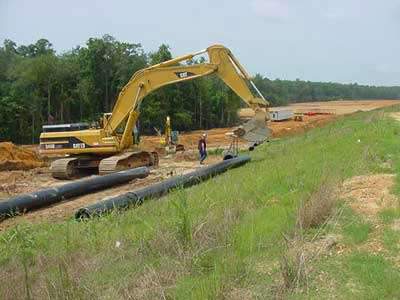 The water line to the plant site was installed in August 2001.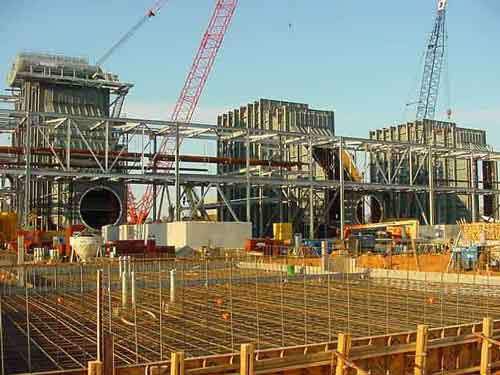 The second CCGT plant follows the completion of another CCGT plant on the same site in 2001 (the photo shows the construction of the HRSGs).
Billingsley is an 885MW CCGT power station, incorporating catalytic emission controls to reduce greenhouse gas emissions. The Autauga County plant is a combined-cycle gas turbine (CCGT) power station in the US's southern state of Alabama. Autauga County is 35 miles north-west of Montgomery, the state capital of Alabama, and the facility is close to the town of Billingsley.
The Tenaska Energy power plant uses three General Electric Frame 7FA gas turbines, three heat steam generators and one General Electric steam turbine.
Billingsley power plants
The plant is fuelled by natural gas with catalytic emission controls to reduce the number of greenhouse gases emitted, which makes it one of the most environmentally sensitive power stations. The plant is Tenaska's second in Alabama.
"The ground-breaking ceremony for the second plant was held on 26 July 2001."
The first plant was the 846MW Lindsay Hill natural gas generating station, which started commercial operation in May 2002. This was the largest combined-cycle type ever-built in Alabama by a non-utility company, and links to a nearby power grid of Southern Co. Lindsay Hill employs 27 people. There is a long-term fuel-conversion service agreement with Williams Energy Marketing and Trading. Williams also operates a 178-acre refinery at Mallory in Memphis through its Williams Energy Services unit. This produces diesel fuel, gasoline and jet fuel.
The ground-breaking ceremony for the second plant was held on 26 July 2001. Commercial operations began in 2003. The two facilities are Tenaska's second and third largest capacity projects to date. The company has also completed non-recourse project financing for the Tenaska Central Alabama CCGT Generating Station.
Coral power energy conversion agreement
The Tenaska project has an energy conversion agreement with Coral Power LLC (Coral) for the electrical production of the 885MW generating station. According to the long-term agreement, the Tenaska facility will convert fuel owned and supplied by Coral into electricity. Coral will market this throughout the south-east region's wholesale power market. The financial close was completed on 10 May 2001.
The Billingsley financing structure, while complex, resembled previous Tenaska financings. The station is in the heart of the southern US, covered by utilities like Southern and Entergy. It operates without a utility partner, instead of underpinning credit with the energy conversion, or tolling, agreement with Coral Energy. This 20-year agreement is largely based on capacity agreements and is largely insulated from dispatch risk, a key consideration in the region.
Coral is the strongest power marketer left in the US. It is owned by Shell, and carries an AA rating on its own as well as benefiting from AAA ownership. Alabama II is one of the few tolls that Coral has signed that carries a Shell guarantee, although this is subject to a maximum amount of $950 million reducing on an annual basis in accordance with an amortization table.
The toll's capacity payments, where the operator is compensated according to availability, account for 80% of the project's revenues and 100% of debt service, under the base case. The plant is rewarded or penalized according to availability levels. Additional enhancements come from a six-month debt service reserve, backed by a $20 million debt service reserve letter of credit, and interconnection letters of credit of $7.1 million for gas and $175,000 for electric interconnection, and a $5 million working capital facility. Credit Lyonnais, DZ Bank, HVB and Bank of Tokyo-Mitsubishi provided these facilities.
Tenaska Alabama II Partners, LP, comprised of affiliates of Tenaska, was formed to build, own and operate the facility. Tenaska Operations Inc, a Tenaska subsidiary, operates the facility. Tenaska has about 6,100MW of generating capacity in operation or construction, and another 6,000MW or so in pre-financing development.
First Billingsley power plant contractors
GBV-Alabama, AJV, was selected as the Engineering, Procurement and Construction (EPC) contractor for the first power plant. The company is a joint venture owned by Gilbert Industrial Corp, an affiliate of Peter Kiewit Sons Inc of Omaha, and Overland Contracting Inc, a subsidiary of Black and Veatch Holding Company.
Tenaska Alabama Partners LP will own and operate the second plant. It is a joint venture between Tenaska and Mitsubishi Corp subsidiary Diamond Generating Corp of Los Angeles. Construction by GBV-Alabama began in mid-2000.
The EPC contract is being undertaken by ZUE Central Alabama. This is a joint venture between Zachry Construction Corporation of San Antonio, Texas and Utility Engineering Corporation of Minneapolis, Minnesota.