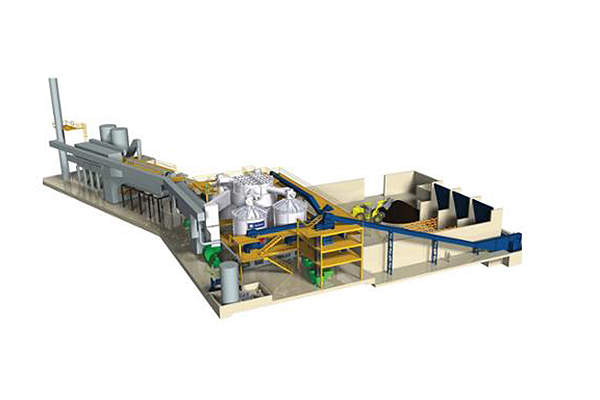 The Birmingham biomass power plant will be completed in early 2016. Image courtesy of MWH Global, Inc.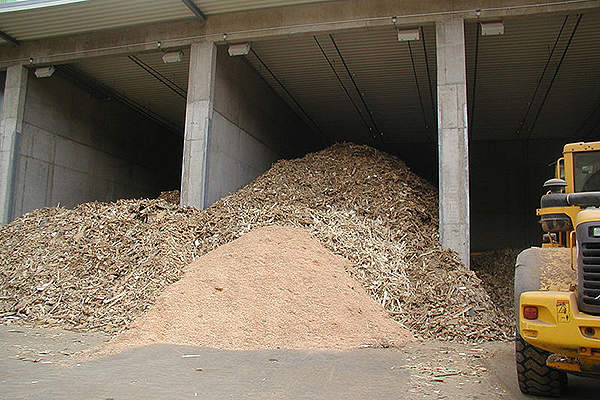 The Birmingham Bio Power Plant will generate electricity through gasification of recovered wood. Image courtesy of Tetris L.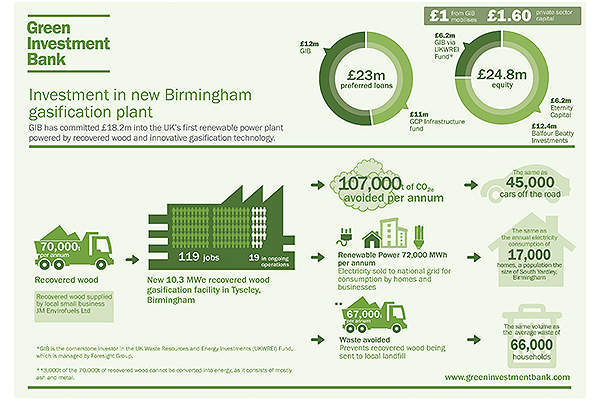 A graphical representation of the Birmingham bio power facility. Image courtesy of Foresight Group.
The upcoming Birmingham Bio Power Plant at Tyseley, Birmingham, will be UK's first power plant using innovative gasification technology to generate electricity from recovered wood waste. The 10.3MW biomass power project is being developed by Carbonarius, a joint venture of O-Gen UK and Una Group formed in 2010 to develop waste timber gasification facilities.
Birmingham bio power plant is MTH's first energy-from-waste gasification project in the UK after delivering seven such commercially successful gasification systems in Canada and the US.
"The new renewable power plant is scheduled for commissioning in 2016 and estimated to cost £47.8m ($79.28m)."
The new renewable power plant is scheduled for commissioning in 2016 and estimated to cost £47.8m ($79.28m). The project is being delivered by MWH Treatment under the engineering, procurement and construction (EPC) contract awarded in December 2013. MTH will also run the facility through its subsidiary Birmingham Bio Power (BBPL).
The clean electricity to be generated by the plant will be fed to the national grid and will be enough for more than 17,000 UK households a year. The project is expected to create 100 jobs during construction and 19 permanent jobs during operation.
Project finance for Birmingham Bio Power Plant
The wood gasification-based power project is financed by an investment consortium comprised of Green Investment Bank (GIB), Balfour Beatty, Eternity Capital Management, Foresight's UK Waste Resources and Energy Investments (UKWREI) fund, and Carbonarius' GCP Infrastructure Fund (GCP).
GIB and GCP will provide debt financing of £12m ($19.9m) and £11m ($18.24m) respectively by way of preferred loans. The remaining cost will be met through £24.8m ($41.13m) of equity investment comprising of £6.2m ($10.28m) investment from GIB through Foresight's UKWREI fund, Eternity Capital Management's £6.2m ($10.28m) investment, and Balfour Beatty's £12.4m ($20.5m) investment.
Tyseley Bio Power Plant details
"The innovative biomass power plant will be built on the 16-acre Webster and Horsfall site at Hay Mills, Tyseley, Birmingham."
The innovative biomass power plant will be built on the 16-acre Webster and Horsfall site at Hay Mills, Tyseley, Birmingham. Unlike conventional wood-fuelled plants, it will generate electricity by combusting the syngas converted from recovered wood mass that would otherwise go to landfill.
The gasification technology to be used at the plant will convert carbon-based material in the wood waste into combustible gas, which will create high-pressure steam to drive the turbine.
The power plant will be supplied with 67,000 tonnes of recovered wood waste a year by JM Envirofuels, a Birmingham landscaping and recycling company, under a long-term fuel supply contract.
The Birmingham bio power facility, over its expected life span of 20 years, will annually reduce approximately 2.1million tonnes (mt) of CO2 emissions and save 1.3mt of wood waste diverted from landfills. The promoters of the project claim that the facility meets the stringent emissions standards set by Waste Incineration Directive (WID) and is likely to receive the highest level of renewables obligation certificates (ROCs).
Gasification technology at Birmingham bio power plant
The gasification system to be used by the power plant is certified as an advanced conversion technology (ACT) under British legislation.
The sourced wood fuel of less than three inches size is loaded into the fuel bin of the plant and then distributed across the fuel pipe inside the gasification chambers where it undergoes multiple stages such as drying, pyrolysis and gasification. The four refractory lined gasifiers convert the waste wood biomass to combustible syngas, which is then burned in the oxidiser at 500°F to 700°F.
The generated hot flue gas passes through a boiler to produce high-pressure steam that drives the turbine for producing electricity. The remaining particulate matter released into air from the flue gas is captured using electrostatic precipitators.
Contractors involved with Birmingham bio power plant
MWH Treatment, the EPC contractor of the bio power project, was also awarded the five-year operations and maintenance (O&M) contract in December 2013.
MTH contracted Nexterra in the same month to supply the gasification system for the wood waste-based bio power plant. Nexterra will design and supply four gasifiers, a high-pressure boiler and the flue gas treatment system under this contract.