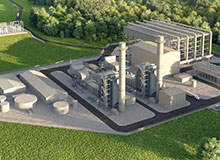 The Carroll County energy generation facility is a 700MW natural gas-fired, electric-generating facility being developed near Carrollton, Ohio, US. The combined-cycle power plant will use advanced emissions-control technology and, upon completion, is poised to become one of the cleanest and most efficient plants in the US.
Carroll County's biggest natural gas downstream project, the plant is estimated to require a capital investment of $899m. It will generate enough electricity to provide for approximately 740,000 homes and will create 700 jobs at peak construction as well as up to 30 full-time jobs.
The project is being developed by Carroll County Energy, a consortium formed by Advanced Power, TIAA-CREF, Chubu Electric Power, Ullico and Prudential. Advanced Power is the construction and asset manager for the project, while EthosEnergy is responsible for the plant operation.
"It will generate enough electricity to provide for approximately 740,000 homes and will create 700 jobs at peak construction as well as up to 30 full-time jobs."
The Ohio Power Siting Board authorised the project in April 2014. Construction began in July 2015, and commercial operations are expected to start in December 2017.
Carroll County power plant location
The natural gas-fired power plant will be situated in Washington Township of Carroll County, approximately 2.5 miles (4km) north of Carrollton village. The facility will be spread over 17 acres of a 77-acre agricultural area located adjacent to Carroll County Community Improvement Corporation land, which is intended for industrial and commercial development.
The project is being developed as part of the measures being taken to compensate for the decline in energy production, following the anticipated retirement of a 6,300MW conventional coal-fired generation plant in Ohio in 2015.
Technology and plant make-up of the combined-cycle power plant
The combined-cycle power plant will be equipped with two General Electric (GE) 7F-5-S series natural gas turbines, which contain a heat recovery steam generator (HRSG), and a D650 steam turbine with GE's patented Rapid Response combined cycle system.
The gas turbine is expected to have a net efficiency of 59.9% and will be equipped with OpFlex Advanced model-based control technology, which generates a fast ramp rate of 40MW a minute and minimises operational costs.
---
---
Competitive Power Ventures (CPV) St Charles Energy Center is a natural gas-fired combined-cycle power plant being developed in Waldorf, Maryland.
---
The facility will use an air-cooled condenser, which will minimise water needs and wastewater discharge volumes.
The plant is expected to operate in accordance with the National Ambient Air Quality Standards. It is expected to produce half the carbon dioxide and 90% less sulphur dioxide and nitrogen dioxide compared with a conventional coal-fired power plant.
Natural gas supply and power transmission
Natural gas for the facility will be sourced from the existing Kinder Morgan's Tennessee Gas Pipeline system, located close to the plant site.
The generated electricity is proposed to be transmitted to PJM Interconnection, a regional transmission organisation that operates high-voltage electric power systems in the region, through a 345kV American Electric Power transmission line.
Carroll County energy generating facility construction
The project construction is expected to take approximately 32 months to complete. Major works will include the earthworks and underground utilities, including gas and water pipelines, offsite utility interconnections and installation of major equipment, including turbines, air-cooled condensers, heat recovery steam generators and switchyard.
Financing of Carroll County combined-cycle power plant
BNP Paribas, Crédit Agricole Corporate and Investment Bank, as well as a syndicate of eight other commercial banks are providing $488m in senior secured credit facilities for the project. Whitehall Capital acted as the sponsor's financial adviser, while Morgan Lewis & Bockius is the project counsel.
Equity finance of $411m is provided by Chubu Electric, TIAA-CREF, Ullico and Prudential Capital. The project achieved financial closure in April 2015.
Contractors involved with the Carroll County power plant development
GE will supply natural gas and steam turbines for the project in addition to providing services for the project for 20 years. Bechtel was awarded the start-up and engineering, procurement and construction (EPC) contract for the project.
Milbank, Tweed, Hadley & McCloy advised Japan's Chubu Electric Power in its acquisition of an interest in the power plant.