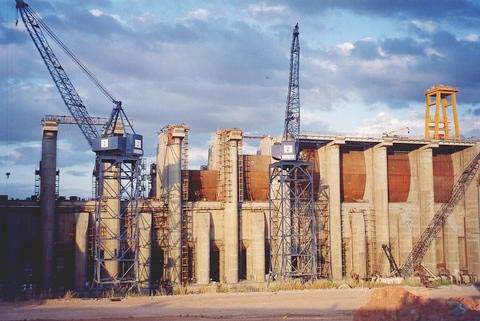 VA Tech Hydro gates at Caruachi.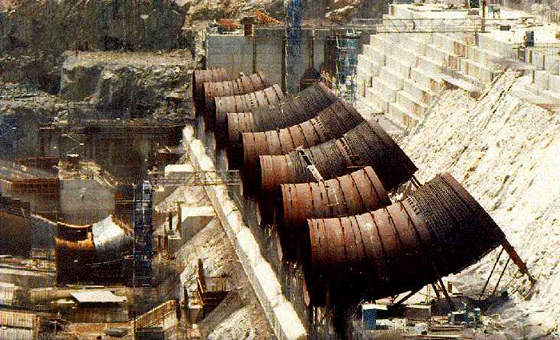 Caruachi dam under construction.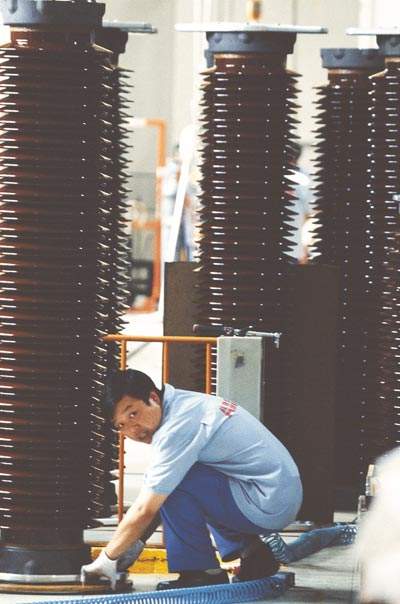 High-voltage power equipment from ABB.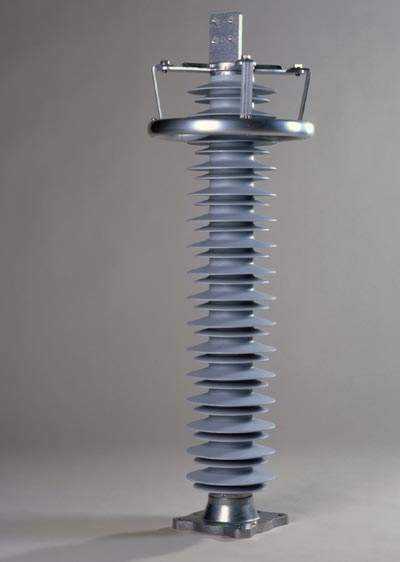 ABB surge arrester.
All twelve turbine-generators have entered commercial service at the Caruachi hydroelectric plant, Venezuela. Units one and two came on line by July 2003. The twelfth unit opened in March 2006. The power plant is producing about 12,000GWh annually, boosting Venezuela's total generating capacity by around 11%.
The plant site is 500km from Caracas on the lower reaches of the Caroní river in Bolivar state, where Electrificación del Caroní CA (EDELCA) has concentrated its investments. The plant has 12 180MW Kaplan turbines. Some final contract approvals were delayed until 1997, although full-scale works had been expected to start earlier. The first units came on line in 2003, with the others following in stages up to completion in 2010. Overall investment is estimated at US$2.1bn.
Edelca is project sponsor
The project sponsor is EDELCA, part of state metals group Corporación Venezolana de Guayana (CVG). The investment is an important addition to the significant capacity that EDELCA runs along the Caroní river in southeastern Venezuela.
The Caruachi project was the third hydroelectric complex undertaken by EDELCA. The project is located about 35km from where the Caroní and Orinoco rivers meet at Ciudad Guayana, Venezuela. The river is already the country's main power source: plants along it, including the massive 10,000MW Guri plant completed in the 1980s, cover almost three quarters of demand.
EDELCA believes harnessing the Caroní is saving Venezuela the equivalent of 750,000 barrels of oil per day. This will allow the oil industry to raise valuable export sales.
360m gravity dam
A main concrete 360m gravity dam has a maximum height of 55m from its foundations, with an integrated intake structure and powerhouse.
A 900m right-abutment rockfill closure dam has a concrete slab face and a maximum height of 50m, and a 4,200m left-abutment earth and rockfill closure dam has a maximum height of 45m.
A spillway with nine spans and radial surface gates has an aggregate 30,000m³/second flow capacity.
A 470m powerhouse is integrated with the main dam with space for 12 generating units (360m) and an assembly bay (110m).
A 470m powerhouse for the main dam holds the 12 generating units (360m) and an assembly bay (110m). Two transition dams have a 50m intermediate buttress between the powerhouse and spillway. The 238km² reservoir has a 91m normal operating head.
Sales to the grid for consumption in the more densely populated coastal areas make up around two thirds of EDELCA sales. In addition, EDELCA supplies power to two key industries in the Caroní region, aluminum and iron. CVG's role in these industries and the sectors' broad future requirements underpinned the development of the project.
GE supplies turbine generators
The US$500m contract for design, supply and installation of the main electro-mechanical plant went to a consortium of Kvaerner of Norway, GE Canada and Elin Transormatoren GmbH of Austria.
Major work began in 1998. Following GE's acquisition of Kvaerner's hydro business in 1999, over 90% of the Caruachi contract was carried out by GE Hydro, including all aspects of the design, supply and installation of the turbines, generators, governors, exciters and cranes. The 180MW Kaplan turbine-generators are among 12 GE Hydro units for the Caruachi project. Consortium partners supplied power transformers and ancillary equipment.
Subsation and transmission lines
ABB won three contracts worth US$41m to provide the power transmission system for the project.
A 400kV substation and four related 400kV transmission lines connect the plant with the country's transmission network. The project also included all high-voltage equipment, associated switchyard equipment and computerized protection and control equipment. ABB was also responsible for all electrical and mechanical design for the substation and civil work, erection and commissioning for both contracts.