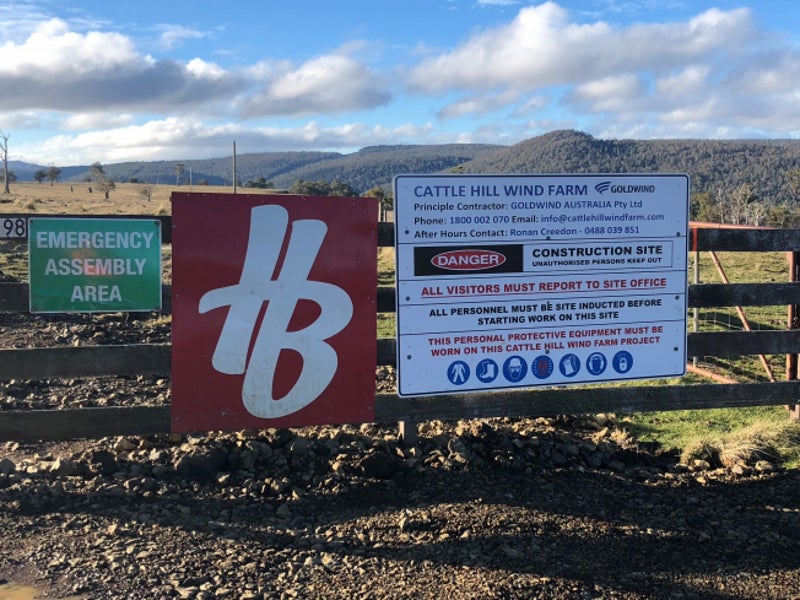 Cattle Hill is a 150MW wind farm being developed in Tasmania, Australia. Credit: Hazellbros.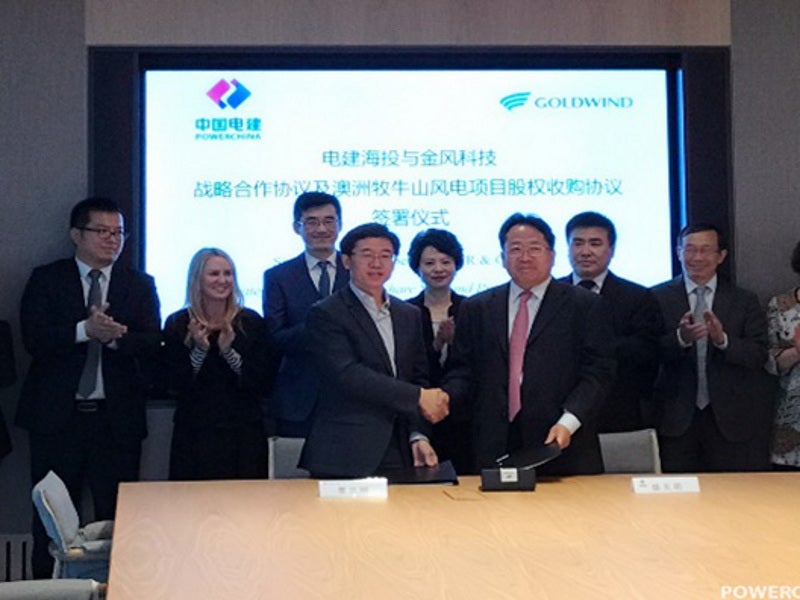 Cattle Hill wind farm will provide electricity to power 63,500 Tasmanian homes. Credit: PowerChina.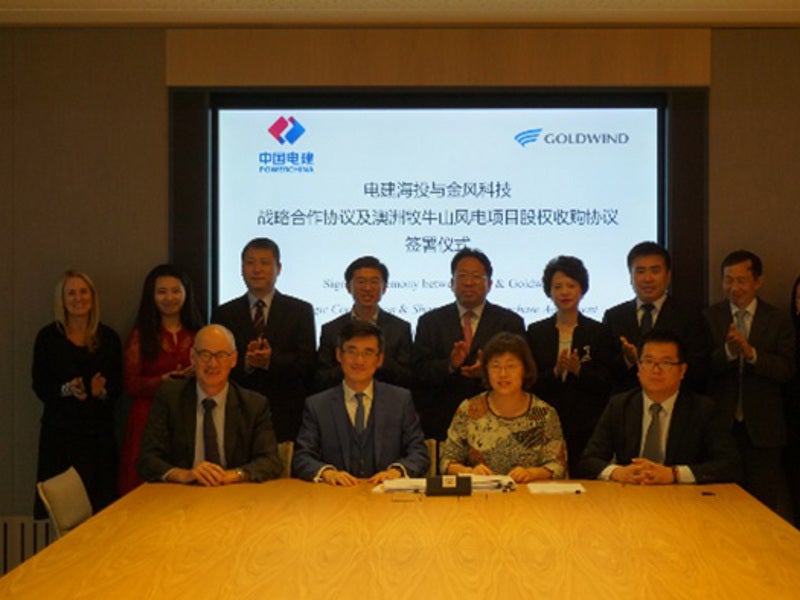 Goldwind and Power China are jointly developing the Cattle Hill wind farm. Credit: PowerChina.
Cattle Hill onshore windfarm is a 148MW windfarm under construction in Tasmania, Australia.
The project is being developed with an investment of A$300m ($214.8m) and will generate enough electricity to power 63,500 homes.
Set to become the biggest wind power plant in the Tasmanian region, the windfarm is expected to create 150 construction jobs and ten permanent jobs.
Site access construction works began in 2018 and the first wind turbine foundation was poured in November 2018. The project is estimated to generate 440 million kilowatt hours of electricity a year upon completion by the end of 2019.
NP Power initially developed the project, which was acquired by Goldwind in September 2017. Goldwind is currently developing the windfarm in a joint venture with Power China Resource (PCR), which acquired an 80% stake in the project in April 2018.
Cattle Hill onshore windfarm location
Cattle Hill wind farm lies approximately 5km away from Lake Echo in the southern side of the Central Plateau of Tasmania, Australia.
The site extends across 3,500ha of a ridge averaging approximately 900m in elevation and is accessed through Bashan Road and Monpeelyata Road.
Cattle Hill windfarm make-up
The Cattle Hill onshore windfarm will be installed with 48 Goldwind 3.0MW turbines, which have a hub height of 100m.
"Aurora Energy signed a long-term agreement in 2017 for the offtake of renewable energy certificates produced by the windfarm."
Each turbine will have a blade length of 68.7m and blade weight of 25.3t with a 4.5m-wide and 5.2m-high nacelle. The turbine will have cut-in and cut-out wind speeds of 2.5m/s and more than 20m/s respectively. The rotor of the turbine measures 140m and has a swept area of 14,712m².
Wind turbine tower components, generators, and hubs will be transported from Port of Bell Bay to the windfarm site.
The project will employ 16 units of the aerial monitoring and detection technology system of IdentiFlight to safeguard the Tasmanian Wedge-tailed eagles at the site.
Cattle Hill onshore windfarm construction
Major construction works include the installation of electrical equipment as part of the BOP works, reticulation works, and the construction of the windfarm substation.
Access roads 27km-long and 7m-wide will be constructed for the project. Each turbine foundation construction will use 500m³ of concrete, 58t of steel, and a 16t bolt cage.
Other works include the construction of site offices, operation and maintenance buildings, and storage facilities for equipment and parking place.
Generation and transmission of electricity from Cattle Hill
Each turbine will be linked using underground, low-voltage transmission lines, which will be connected to overhead high-voltage transmission lines.
Electricity generated at the Cattle Hill windfarm will be transmitted by a 3km-long 220kV power transmission line to the nearby Waddamana substation, which is owned and operated by TasNetworks.
The Waddamana substation has a peak load capacity of approximately 1.2MVA and a single 5MVA 110/22kV transformer.
Aurora Energy signed a long-term agreement in 2017 for the offtake of renewable energy certificates produced by the windfarm.
Contractors involved
Hazell Brothers was engaged as the main contractor for the civil and electrical works at Cattle Hill, while Hazell has sub-contracted RJE for the balance of plant (BOP) electrical works.
Entura was involved as the owner's engineer for the project and was also engaged by TasNetworks for developing technical specifications to connect the windfarm connection to the grid network at Waddamana.
TasNetworks has appointed Zinfra as its principal contractor for the project.
Gradco will carry out road upgrades at the site, while Boom was awarded the contract for the installation of the wind turbine generators.
Goldwind is the supplier of wind turbines, while Crisp Bros & Haywards is supplying tower components under an A$8m ($6.04m) contract.
Herbert Smith Freehills is providing consultancy services for the Cattle Hill windfarm.