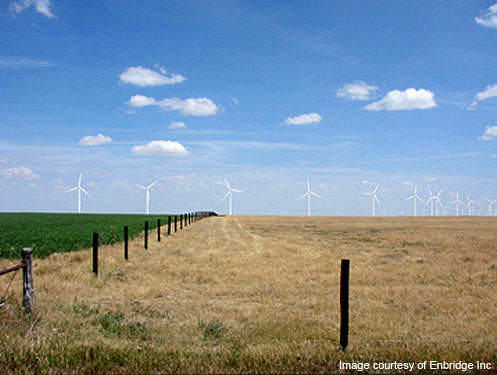 Rendering of wind turbines of Cedar Point wind farm in the Elbert County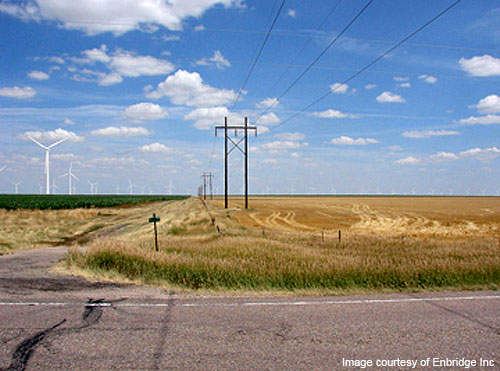 Rendering of wind turbines of Cedar Point wind farm in Lincoln County.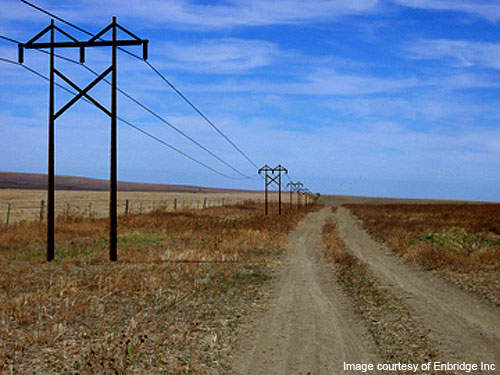 A 42-mile long transmission line passing through Arapahoe County transmits the power from Cedar Point wind farm.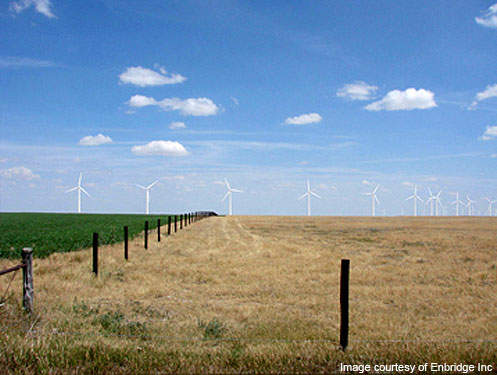 The Cedar Point wind farm features Vestas V90-1.8MW wind turbines.
The Cedar Point Wind Farm is located 80 miles east of Denver in Colorado. It is the second largest wind farm in the state, the first being Cedar Creek I Wind Farm. The wind farm is owned by a US affiliate of Enbridge. The $535m wind farm has an installed capacity of 250MW.
The project began in August 2010 and was completed in September 2011. It was built by Broomfield-based Renewable Energy Systems Americas (RES) under an engineering, procurement and construction (EPC) contract. RES has signed a 20-year fixed price power purchase agreement with the Public Service Company of Colorado (PSCo) in March 2010.
The project provides dual benefits of generating renewable energy and creating jobs to the state of Colorado. It will produce clean energy sufficient to power 80,000 homes each year. More than 365 jobs were created by the project during construction.
In addition, it created 12 permanent jobs for on-going maintenance of the farm. It also adds to Enbridge's green generating power of about 860MW, sufficient to power 270.000 households.
Project details
""Cedar Point features 139 Vestas V90 1.8MW wind turbines."
The wind farm was constructed on 20,000 acres of leased private land spread across Lincoln, Elbert and Arapahoe counties. The project principally consists of two major elements – installation of wind turbines to harness wind and installation of electrical transmission lines. It will also include construction of two substations and an operations and maintenance building.
It features 139 Vestas V90 1.8MW wind turbines. The turbines were installed in the eastern part of Elbert County and the western part of Lincoln County. The generated power is transmitted via a 42 mile transmission line passing through Arapahoe County and connecting to PSCo's Missile Site Substation.
Technology
The Vestas V90 1.8MW wind turbine was launched in 2009. The blades are made from carbon fibre and other lightweight materials. It has 27% more area as the blades are refined to deliver the maximum output while minimising the turbine load. The blades are less sensitive to dirt and sites affected by salt, insects and other particles in the air.
The V90 1.8MW is equipped with the Vestas Converter System (VCS) which ensures a constant and consistent output. It optimises production of energy, ensures low-noise operations and reduces load on the gearbox and other key components. It also features state-of-the-art control and operation software VMP Global and a cooling technology CoolerTop.
VMP Global software ensures reliable automatic management, control and troubleshooting of the wind turbines on site as well as from a remote area. The advance grid compliance system allows for a fast and powerful, active and reactive regulation of energy.
"The V90 1.8MW is equipped with the Vestas Converter System."
The technology enables operators to maintain grid stability in normal as well as disturbed grid connections.
CoolerTop technology cools the water in the turbine cooling system by channelling wind into the heat exchanger. It also reduces the turbine's energy consumption and keeps sound levels low. This makes the V90 1.8MW an ideal turbine in sites where sound levels are a concern.
Colorado wind power market
Electricity generation in Colorado is dominated by coal and natural gas fired power plants. Around 70% of the power is produced by coal-fired plants and 25% by natural gas-fired plants. The remaining is produced by hydroelectric and wind power facilities.
As of July 2010, the state produced approximately 5m MWh accounting for just 1.2% of the US share. Colorado has substantial renewable energy potential that is yet to be developed. In March 2007, the state adopted a new renewable portfolio standard that required large utilities to produce 20% of their energy from renewable sources by 2020.