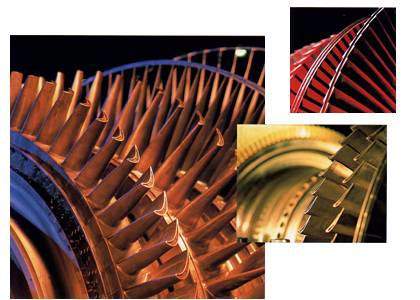 The 740MW GTCC power plant at Cilegon, Indonesia, has two gas turbines, one steam turbine and two heat recovery steam generators.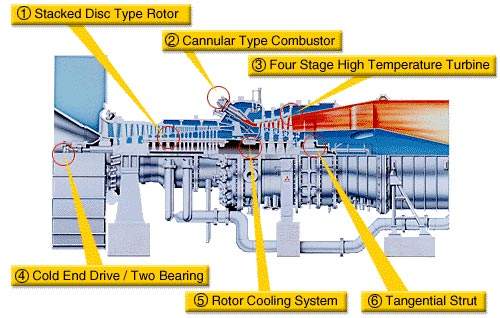 MHI gas turbines have stacked disk type rotors.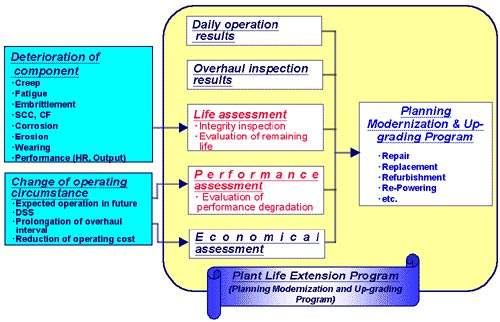 Mitsubishi's Plant Life Extension Program.
The 740MW gas turbine combined-cycle (GTCC) power plant at Cilegon in Indonesia finally ran up to full power in August 2007. The plant was completed in 2006, but maintenance on the gas pipeline had interrupted supplies. PT PLN (Persero), Indonesia's state-owned electricity company, built the plant in Banten Province, which is located 90km west of Jakarta, Indonesia.
The full-turnkey contract involved a local company taking charge of civil engineering works, equipment installation and associated transmission line. Operation will be phased in between 2005 and the first half of 2006. Operation was initially planned to be phased in between 2005 and the first half of 2006, but this was delayed.
GROWING ELECTRICITY DEMAND IN INDONESIA
With the revival of Indonesia's economy, electricity demand is increasing rapidly (approx. 6% p.a. or more). To alleviate the electricity shortage that was expected in 2005, the Indonesian government and PT PLN (which was listed as a public company in 1972) ordered the plant. It gave the contract to Mitsubishi Heavy Industries, Ltd. (MHI) and Mitsubishi Electric Corporation.
"The shortfall in gas supply meant that the power plant was only able to produce 50MW."
The Cilegon area is the centre of Indonesia's heavy and chemical industry with many steel plants and petrochemical plants operating in the area. In West Java, which includes Cilegon, demand for electricity is high and is growing continuously.
The power plant was built on PT PLN's own land and uses available natural gas.
Funding for the project was negotiated between Indonesian Government and Japan Bank for International Cooperation (JBIC), as well as Nippon Export and Investment Insurance (NEXI) under the export credit basis.
740MW GAS TURBINE COMBINED-CYCLE PLANT
The 740MW GTCC power plant has two M701F gas turbines, a steam turbine, two heat recovery steam generators (HRSGs) and other peripheral equipment such as electric generators. The GTCC plant uses gas and steam turbines for two-stage electricity generation. Using high exhaust temperature from the first gas turbine stage, the HRSGs produce steam for the second steam turbine stage.
MHI supplies a wide range of gas turbines, from 6MW class to 300MW class. The M701F has a power output of 270MW and a heat rate of 2,250kcal/kWh. The turbine features two-bearing, single shaft construction, cold-end power drive and axial exhaust.
M701F GAS TURBINES
MHI gas turbines feature stacked disk type rotor, cannular type combustor, cold end drive, two-bearing supported rotor, four stage reaction turbine and tangential strut design. The "F" series gas turbine was developed in the late 1980s, starting with research on advanced technologies at MHI Takasago R&D centre. Total accumulated operating hours already exceed 1.2 million.
MHI's compressor shaft has radial pins at the disc contact surface to ensure proper torque transfer, which prevents disc slippage. The rotating blade can be removed without disassembling the rotor, and the compressor later stages and the turbine have inner casings for ideal tip clearances. The rotor cooling air is extracted from compressor discharge and cooled in an external cooler. Dissipated heat at the cooler is effectively recovered as fuel heating to obtain better thermal efficiency.
"Operation was initially planned to be phased in between 2005 and the first half of 2006, but this was delayed."
Mitsubishi Heavy Industries, Ltd. (MHI), headquartered in Tokyo, Japan, is involved with shipbuilding, steel structures, power plants, chemical plants, steel plants, environmental equipment, industrial and general machinery, aircraft, space rocketry and air-conditioning systems. The company had previously received orders for Gresik GTCC power plant in 1990 and Grati GTCC power plant in 1994 from PT PLN (Persero) using the same financing scheme, JBIC's export credit.
GAS SUPPLIES INTERRUPTED BY ROUTINE MAINTENANCE
The gas supply from Pabelokan gas field in Banten was disturbed while CNOOC, the supplier of Cilegon gas, conducted a routine maintenance. The initial contract specified that the Cilegon power plant should receive a gas supply of 85 to 125mmcfd (million cubic feet/day), but actually received only 40mmcfd.
The erratic supply meant that the power plant was unable to operate at its maximum output. The initial schedule was for Cilegon to supply 240MW from November 2006, rising to 420MW in February 2007 and 740MW in April 2007. The shortfall in gas supply meant that the power plant was only able to produce 50MW.
PLN reported that Cilegon's eventual operation had helped it to significantly reduce its losses, which had doubled in 2005. These losses were mainly caused by high global crude oil prices, which reached a peak of $74 a barrel.