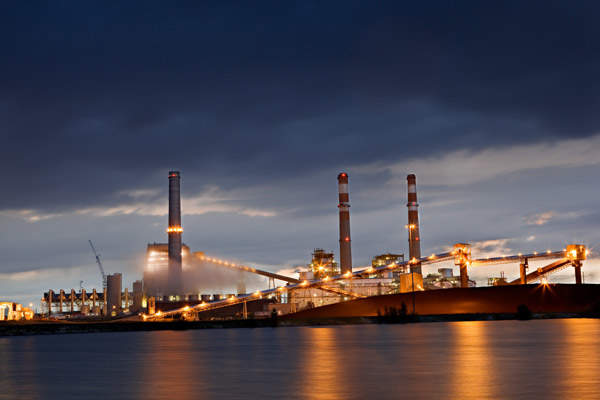 Comanche Station at dusk.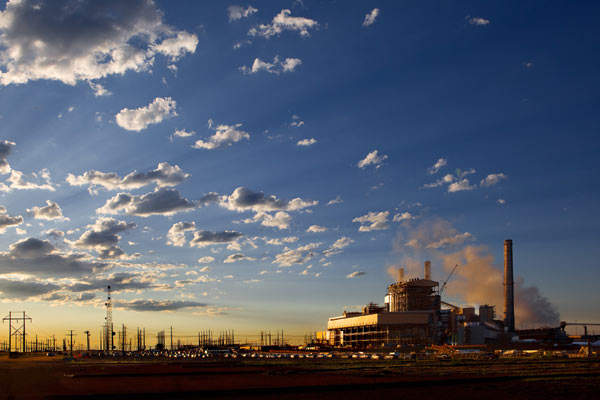 Comanche Station site.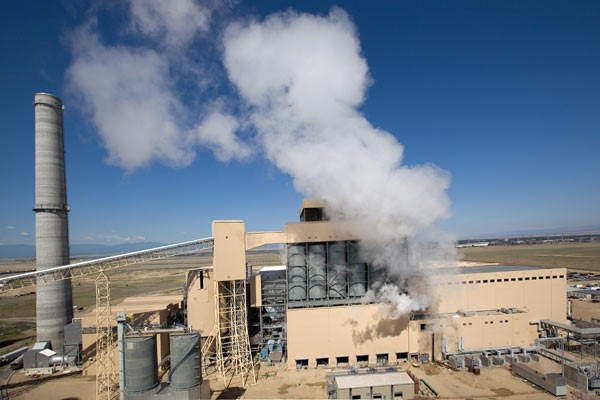 Comanche steam blow.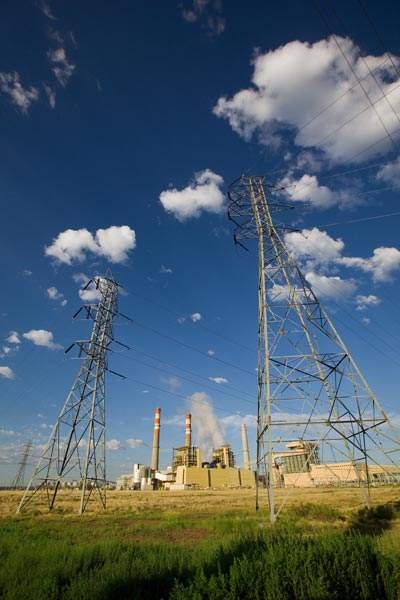 Comanche transmission towers.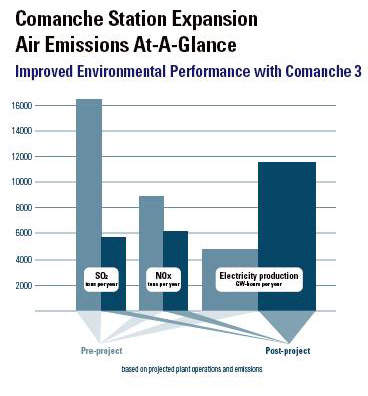 Comanche Unit 3 features advanced emission controls reducing sulphur dioxide (SO<span class="sub">2</span>, by 65&#37;) and nitrogen oxide (NO<span class="sub">x</span>, by 30&#37;) emissions, even despite the doubling in overall electric generation.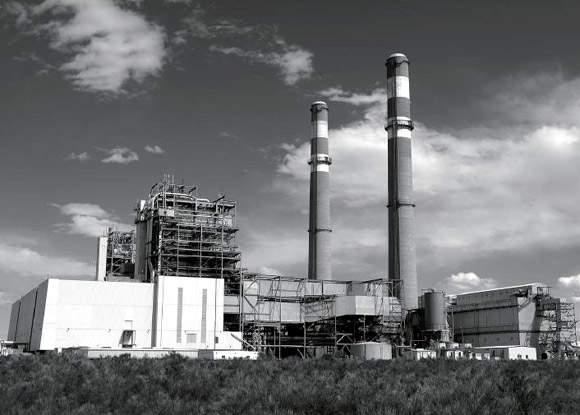 The whole site provides electricity for a third of Colorado's communities.
Xcel Energy has begun constructing its first new coal-fired electric generating unit in nearly 30 years. The Comanche Station near Pueblo, Colorado, is the site for a new 750MW supercritical pulverised coal-generating unit. This adds to two existing units that generate about 660MW. The Comanche 3 unit was completed in February 2010 and the site provides nearly 1,400MW of electricity, sufficient for about one third of Colorado's communities. The cost of the project was estimated to be $1.3bn.
Alstom won the contract from Public Service Co. of Colorado, doing business as Xcel Energy. Alstom designed, supplied, erected and commissioned a high-efficiency, supercritical boiler for the unit. Mitsubishi Heavy Industries (MHI) supplied the supercritical steam turbine for the plant, MHI's first such order was from the US. MHI's Nagasaki Shipyard and Machinery Works designed and manufactured the turbine. Construction and installation works were completed locally.
The plant's commercial operations started in early 2010, providing Xcel Energy customers with reliable electricity from the large US domestic coal resources.
Comanche Unit 3 features advanced emission controls, with extra controls fitted on the two existing units at the plant. These will help reduce overall emissions of sulphur dioxide (SO2, by 65%) and nitrogen oxide (NOx, by 30%), even despite the doubling in overall electric generation. The Colorado Public Utilities Commission has approved construction.
Construction progress
Due to labour shortages, the construction went slightly behind the original schedule.
"Construction of all the road works proposed under the project have cost $7.5m."
The cooling tower has been constructed and the scrubbers and emission controls have been installed at Unit 1 and Unit 2 to reduce emissions of sulphur dioxide and nitrogen oxide by 65% and 30% respectively.
Scrubbers have been installed to control sulphur dioxide and new burners have been installed for nitrogen oxide control.
Comanche Unit 2 started its operations in 2008. Power is transported between the Comanche Station and the Unit 3, via a new transmission line. The line has two separate circuits that are strung on one tower, besides a path that runs parallel to the existing facilities. The line has the capacity to transport 345KV power.
Construction of all the road works proposed under the project cost $7.5m.
The installation of baffle systems is being carried out at Comanche 3 to control the whining sound coming out of the plant. The estimated cost of the system is $1.5m and it will be installed inside a chimney of 500ft.
Low-sulphur coal
Alstom's boiler is the core of one of the most advanced steam plants to have been built in the US. It will burn low-sulphur Powder River Basin coal and has Alstom's TFS 2000 firing system.
"The high pressure, high temperature advanced steam cycle also significantly increases plant efficiency, minimising emissions and fuel costs."
This system, coupled with a selective catalytic reduction system, will have some of the lowest nitrogen oxide emissions in the USA.
Supercritical units operate at higher temperatures and pressures than sub-critical units (Comanche 1 and 2 are sub-critical). The higher pressures increase turbine efficiency and power output, so less coal is used to produce the same amount of electricity.
While initial capital costs of a supercritical unit are slightly higher than sub-critical units, the total cost is much less over a unit's life.
The high pressure, high temperature advanced steam cycle also significantly increases plant efficiency, minimising emissions and fuel costs. Similar ALSTOM boilers already operate in Europe and Asia.
Residential, business and wholesale customers
Xcel Energy is a major US electricity and natural gas energy company based in Minneapolis, Minnesota. The company proposes to own 500MW of the 750MW unit. Holy Cross Energy will own 60MW.
Xcel Energy serves residential and business customers as well as wholesale customers. These include Aquila in Pueblo, Holy Cross Energy in Glenwood Springs, Grand Valley Power in Grand Junction, Yampa Valley Electric in Steamboat Springs, Intermountain REA in Sedalia, and the cities of Julesburg, Burlington and Center.
Comanche Station is located a quarter mile from Rocky Mountain Steel Mills in Pueblo. The steel mill is the single largest commercial account for Xcel Energy in Colorado, and the only direct electric customer in the immediate area. All other electricity that Comanche generates is transported to the power grid or sold to the Pueblo-area electric distribution company, Aquila. Aquila is one of Xcel Energy's largest wholesale customers, purchasing two-thirds of its power from Xcel Energy.
Union-only construction
Over 1,000 workers were employed during construction. Only union labour was utilised to complete the Comanche 3 project according to an agreement reached between Xcel Energy and the Colorado Building Trades Council. The council represents 23 unions across the state including carpenters, labourers and others. Preference was given to local workers, even if contractors were based out of state.
A low water-use system for Comanche Unit 3 uses both water and air for cooling, reducing water use by about half. The Pueblo Water Board has determined that water supplies are adequate. Road improvements made it easier for equipment, materials and workers to travel to Comanche Station. The road project has cost approximately $4m.
Fuel is delivered using the existing rail spur. Additional transmission is needed to link the Comanche Station to the Daniels Park substation, south of Denver.
As part of a Least-Cost Plan Settlement agreement, Xcel Energy will make donations to the local Pueblo community.