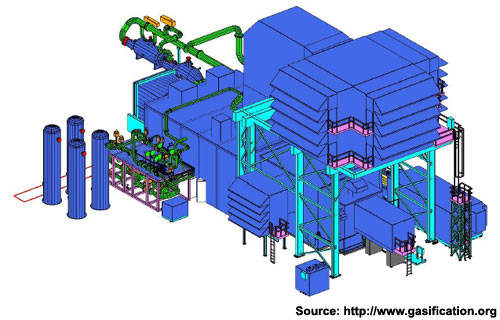 Siemens Power Generation is supplying a simple cycle 200MW power plant for Elk River, Minnesota.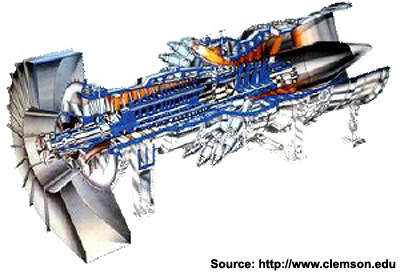 Siemens' turbine has a unique fast-start capability, delivering around 150MW within ten minutes.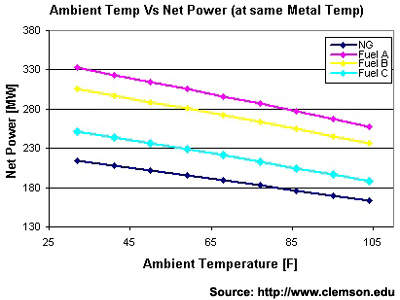 Ambient temperature versus net power at same metal temperature.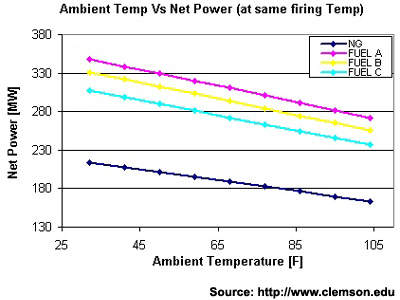 Ambient temperature versus net power at same firing temperature.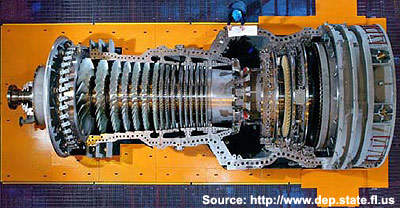 Siemens' compressor and rotor (overhead view).
Great River Energy's, Elk River power plant began operating in July 2009, after two years of planning, construction and testing. The $41m power plant has a unique turbine with fast-start capability, which allows the plant to deliver approximately 150MW to the grid within ten minutes.
The project will operate during extreme temperatures, especially when the demand for electricity is high. The operating time of the power station is an average of 500 to 1,100 hours per year, mostly during summers because of increased usage of air conditioners. The plant aims to meet the growing power demand of the greater Midwest Independent Transmission System Operator (MISO) region.
Equipment was supplied by Siemens Power Generation, following the contract awards for Pleasant Valley I & II in 2000 and Cambridge I in 2005, Elk River was the fourth order placed by GRE with Siemens.
Ten-minute fast start
Siemens supplied the SGT6-PAC-5000F gas turbine package, which consists of a SGT6-5000F gas turbine (previously called Siemens W501F), an air-cooled generator, exhaust stack and SPPA-T3000 plant control system.
The SGT6-5000F has 16 can-type combustors in a circular array, and a 16-stage axial-flow compressor. It uses a four-stage turbine with cooled, filtered rotor cooling air. The order includes a dual fuel Ultra Low NOx (ULN) combustion system and the ten-minute static fast-start system. This will allow GRE to deliver power to the grid more quickly, and also lead to overall per-start reductions in NOx, CO and VOC emissions.
"The project will operate during extreme temperatures, especially when the demand for electricity is high."
The SPPA-T3000 was introduced in June 2005. It incorporates an advanced distributed control system (DCS) for power plant, including boiler and turbine control, on a common platform. It is easy to use by plant operators, and provides real-time information to business applications. An Embedded Component Services technology simplifies operation, engineering and maintenance tasks. A consistent three-tier (data, processing and presentation) system architecture is linked to the Embedded Component Services, providing a plant-wide software system, which allows access to data from anywhere and from any computer.
Existing power plants at Elk River
Elk River has an existing power station supplying 33MW, built in the 1940s as a coal and oil burning power plant. During the 1960s, this was converted to a nuclear energy plant, before being decommissioned in 1968. The plant was then converted to a 'waste-to-energy' facility in 1989. It now burns refuse-derived fuel (RDF), a renewable fuel. RDF consumption is 1,000t per day. It also avoids 150,000t per year of CO2 emissions. Electrical production is 180,000MWh per year.
As a waste-to-energy power plant, the Elk River Station diverts about 300,000t of municipal solid waste annually from landfills to its electric generating station in Elk River. Anoka, Benton, Hennepin, Stearns and Sherburne counties supply the waste material, which is used to power three steam generators, producing enough electricity for approximately 30,000 homes.
Elk River also has a 150MW wind power project, which was constructed by PPM Energy and opened in May 2006.
Local environmental impact
Great River Energy has been recording and reporting greenhouse gas emissions since 1995. It has now gone a step further and established a strategic imperative to reduce greenhouse gas (GHG) emissions to below 2,000 levels by 2020, for a 20% reduction from historical levels.
However, there have been environmental issues in the Elk river region. Selenium concentrations more than 12 times greater than the provincial freshwater quality guideline (2 µg/L) were detected in the Elk River downstream from the five open-pit coal mines in Elk River Valley.
"As a waste-to-energy power plant, the Elk River Station diverts about 300,000t of municipal solid waste annually from landfills to its electric generating station."
In one of the company's emission reduction programmes fly ash from the two-unit Coal Creek Station in Underwood, ND is used as a substitute in Portland cement to increase desirable physical properties and to decrease CO2 emissions from the production process. Every ton of fly ash used as a replacement for concrete in the cement production process reduces CO2 emissions by about 1t. In 2006, GRE sold 439,000t of fly ash.
GRE has also developed a coal-drying technology that has been used in a prototype dryer to remove moisture content from 14% of the coal fed to its 546MW unit at Coal Creek Station. Moisture removal allows the coal to burn more efficiently and promotes complete combustion. It increases boiler efficiency and reduces greenhouse gas emissions. This process differs from previous coal-drying methods because it does not require burning additional fuel to generate heat. Instead, the system captures and re-uses excess heat from the existing generation process.
Elk River Station receives ASME award
Elk River Station received the 2005 American Society of Mechanical Engineers (ASME) Facility Recognition Award. The award was given to one large waste-to-energy facility burning more than 250t of refuse derived fuel (RDF) per day and one small waste-to-energy facility each year. Elk River Station was selected based on its innovation and technical contribution to the industry, and its environmental and safety compliance records.
Great River Energy the fourth largest generation and transmission cooperative providing electric energy and related services to 28 distribution cooperatives in Minnesota and Wisconsin.