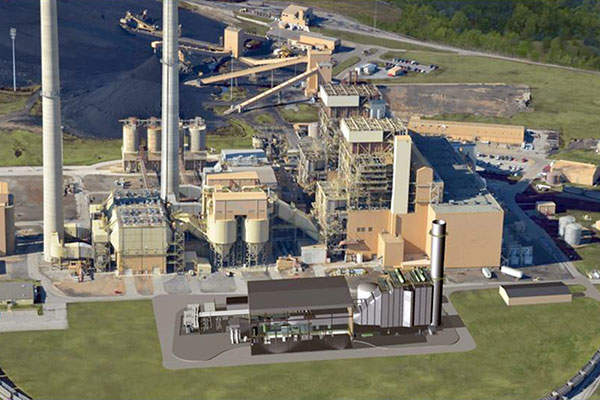 Grand River Dam Authority (GRDA) is building a new gas-fired generation unit at its Grand River Energy Center in Oklahoma, US. Credit: GRDA.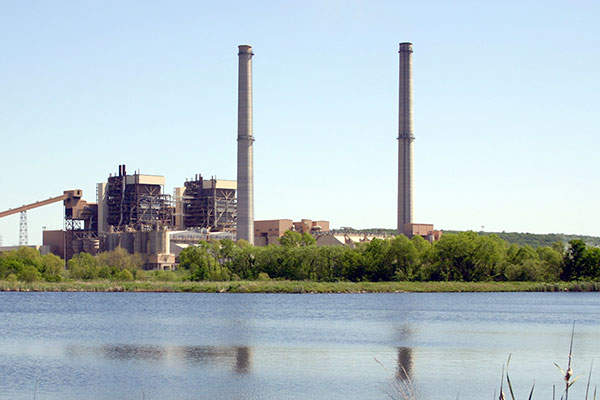 The new unit is being built adjacent to GREC's existing units and will come online in 2017. Credit: GRDA.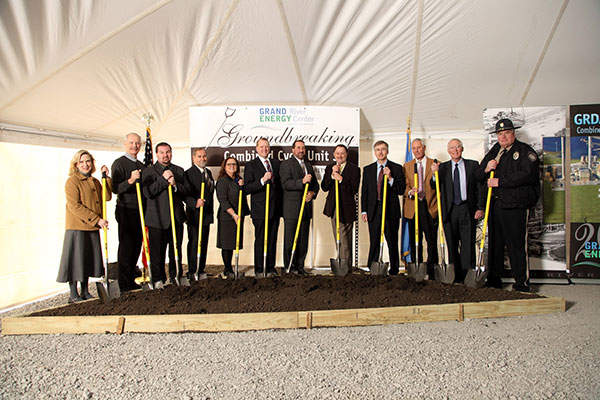 GRDA started construction for the 495MW gas-fired unit three in January 2015. Credit: GRDA.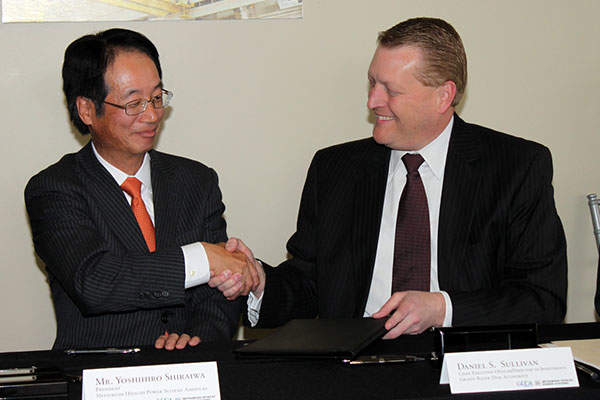 Mitsubishi Hitachi Power Systems Americas will supply the combined cycle natural gas generation unit. Credit: GRDA.
The Grand River Energy Center (GREC), owned by Oklahoma's state-owned electric utility Grand River Dam Authority (GRDA) and KAMO Power, is located in Chouteau, Oklahoma, US. It consists of two coal-fired units; the 490MW unit one and 520MW unit two.
GRDA started construction of a new 495MW combined cycle gas turbine (CCGT) unit in January 2015 at an estimated cost of $296m. The new natural gas-fired unit will be located adjacent to the existing units and is expected to start operations in March 2017.
Unit two will be retrofitted to control emissions in accordance with Environmental Protection Agency (EPA) standards by 2016.
History of GREC
"The new natural gas-fired unit will be located adjacent to the existing units."
The first unit at the GREC was built in 1978 and is designed to burn sub-bituminous (Wyoming) coal. It uses an electrostatic precipitator for air quality control.
The second, operating since 1985, is equipped with a flue-gas desulphurisation unit (scrubber) to eliminate sulphur emissions produced by the coal combustion. GRDA has a 62% ownership of the unit, with KAMO Power owning the remaining 38%.
GREC design and features
---
---
Iberdrola Ingeniería officially opened a combined cycle type power plant in October 2012.
---
GREC will consist of a Mitsubishi 501J 495MW combustion turbine generator, a duct-fired heat recovery steam generator (HRSG), and a SRT-50 steam turbine generator (STG). Natural gas for the plant will be supplied through a pipeline by Enable Oklahoma Intrastate Transmission, a subsidiary of Enable Midstream Partners.
The combined cycle unit will produce electricity by using natural gas to fuel a combustion turbine-generator. The heat generated from the process will be recaptured to produce steam for driving the steam turbine generator.
A turbine generator will operate only in combined cycle mode and will be supported by a linear mechanical draft cooling tower, an inlet air chiller, fuel gas heater, diesel emergency generator and an auxiliary boiler.
Grand Neosho River will provide water for the cooling tower. The tower will comprise approximately seven cells to dissipate waste heat from the boiler's steam cycle. It will be equipped with drift eliminators that provide multiple directional changes of airflow and help prevent the escape of water droplets generated during the cooling process.
GREC unit two retrofit details
The retrofit of unit two will include the conversion of the existing electrostatic precipitator to a fabric filter and the addition of an activated carbon injection system and fuel gas heaters, as well as associated balance of plant modifications.
Turbine details
The J-series M501J gas turbine has a frequency of 60Hz and operates efficiently at turbine inlet temperatures of 1,600°C. It will operate at a thermal efficiency of more than 60%, producing an output of 470MW in combined cycle operations.
The HRSG will consist of three triple pressure reheat units and is expected to have a design life of 30 years. A selective catalytic reduction system has been chosen for NOx control.
The SRT-50 steam turbine features 50in blades at the last stage of the rotor and is constructed using high-strength material. It offers higher performance and generation capacity at lower cost compared to similar units with smaller blades.
Contractors
"The J-series M501J gas turbine has a frequency of 60Hz."
Mitsubishi Hitachi Power Systems Americas (MHPSA) was awarded the contract to supply the gas turbine, steam turbine and associated electric generators. MHPSA will also provide maintenance services under a separate long-term service agreement.
The contract for providing engineering services for the installation of the CCGT unit was awarded to Black & Veatch in June 2014.
Hitachi HVB, a subsidiary of Hitachi, will supply five transformers for the project. The transformers will be manufactured by Hitachi Fortune Transformer, a joint venture of Hitachi and Fortune Electric Co. Nooter/Eriksen was awarded the contract for supplying the HRSG.
The engineering, procurement, and construction contract for the power plant was won by the TIC/Kiewit joint-venture.