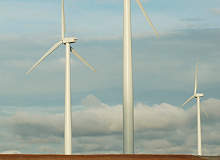 Grant Plains wind farm is a 147MW wind power project in Grant County, Oklahoma, US.
A subsidiary of Southern Company, Southern Power, purchased the wind farm from Apex Clean Energy in August 2016. The project is the third Oklahoma facility acquired by Southern Power from Apex, after the 151MW Grant Wind facility and 299MW Kay Wind facility.
The Grant Plains wind farm will cater to the growing demand for electricity in Oklahoma by generating clean, home-grown renewable energy sufficient to power more than 50,000 households.
Construction of the plant was initiated in the first quarter of 2016, with completion scheduled for the end of 2016. Commercial operations will commence in December of the same year.
Grant Plains wind farm location
The wind farm is being constructed on private land located adjacent to the existing transmission lines in rural Grant County.
Apex Clean Energy finalised the project site after examining a number of potential sites within Oklahoma. Abundant wind resources, the presence of high-voltage power lines, expansive private land and being near to state highways were the reasons behind choosing the site.
Grant Plains wind farm make-up
The onshore wind farm will be installed with 64 Siemens SWT-2.3-108 wind turbines, which feature a three-blade rotor with a diameter of 108m each. The turbines will be mounted on 80m-tall towers and spin at an average rate of 15 rotations per minute (RPM).
The rotors will be connected to a generator, which will generate AC power converted at 60HZ by a converter. All the wind turbines will be connected to the main power transformer in a parallel connection. The transformer will convert the power from 34.5kV to 345kV for interconnection.
The rotor diameters of the turbines, which are part of Siemens' onshore geared platform, are optimised for all wind conditions. They are fitted with highly engineered components to provide good reliability and economic operations.
Siemens will assemble components such as nacelles and hubs at its Siemens facility in Hutchinson, Kansas, while the blades will be produced at its blade facility in Fort Madison, Iowa. The ordered products will be distributed from Siemens 64,000ft² wind service distribution centre in Woodward, Oklahoma.
Power purchase agreements
In February 2016, furniture supplier Steelcase made a 12-year power purchase agreement (PPA) with Apex for 25MW from the Grant Plains wind project. As per the long-term agreement, Steelcase will utilise approximately 100mKWh of wind energy produced by the plant a year, which is equivalent to 70% of its electricity usage in the US.
The Oklahoma Municipal Power Authority (OMPA) also signed a PPA with Apex in December 2015. Other entities that have agreed to purchase power and associated renewable energy credits (RECs) from the plant include Western Farmers Electric Cooperative, East Texas Electric Cooperative and Northeast Texas Electric Cooperative, who can exercise an option to either retain or sell the received RECs.
Contractors involved
"The Grant Plains wind farm will cater to the growing demand for electricity in Oklahoma by generating clean, home-grown renewable energy sufficient to power more than 50,000 households."
Apex Clean Energy still remains active in the project by serving as construction manager and will also be responsible for the operations and maintenance of the project once it becomes operational.
Siemens has been appointed to supply, install and commission the 64 wind turbines. It is also responsible for the maintenance and servicing of the turbines once the plant becomes operational.
The engineering, procurement and construction (EPC) contract was awarded to IEA Renewable Energy, a subsidiary of Infrastructure and Energy Alternatives (IEA).
Financing
Apex Clean Energy received a construction loan of $216m for the project in September 2015. Bayerische Landesbank acted as co-ordinating mandated lead arranger and bookrunner for the transaction, as well as a joint lead arranger with KeyBank National Association and Siemens Financial Services.
Grant Plains wind project benefits
The project is expected to create 56 temporary jobs during construction and 10 full-time jobs during operations and maintenance.
It is further expected to generate approximately $25m in landowner payments and $14m in tax payments over its lifetime, in addition to generating $182m in economic activity in the region.