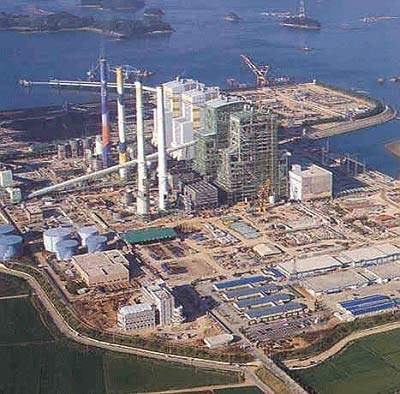 A final 500MW unit has been added to the Hadong power plant, taking output to 3,000MW.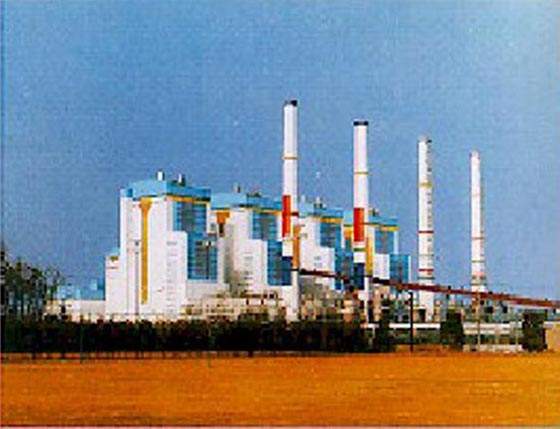 Hadong coal-fired power plant.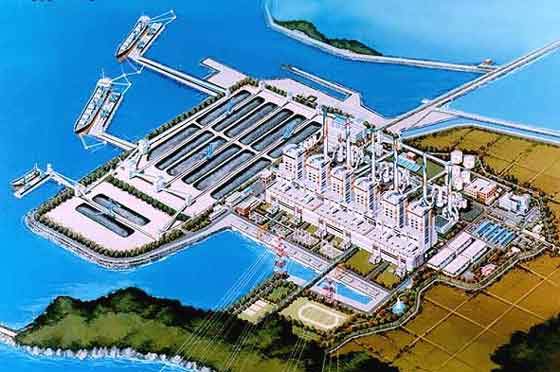 Aerial view of Hadong coal power plant.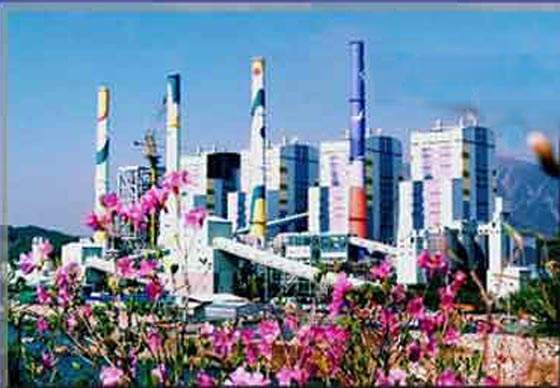 Hadong units one and two under construction.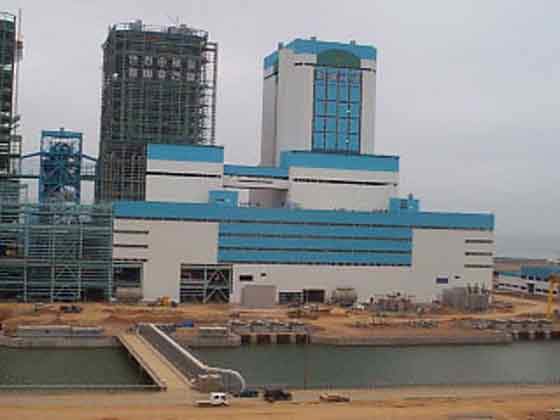 Hadong units five and six under construction.
A final 500MW unit has been added to the Hadong power plant, near Pusan on the southern coast of Korea. The Hadong plant's six 500MW units make it Korea Electric Power Co's (KEPCO) largest coal project to date. The plant is powered from imported bituminous coal. Desulphurisation units have been included in the plant design to meet new environmental regulations that came into force in 1999. Between 1993-2001 units one to six were ordered, designed and built. On 12 November 2001, the last unit of the 3,000MW plant was completed. This corresponds to 8% of Korean power capacity.
On-site construction began in September 1993. Units one and two started commercial operation in July and November 1997 respectively. These two units alone generate 5.3 billion kWh electricity annually. Units three and four were completed in June 1998 and March 1999 respectively. In April 1998 KEPCO decided to delay the start-up of units five and six from September 1999 to 2001 because of declining domestic demand for electricity resulting from the prolonged business slump.
Some units at the plant provide the base load, while others have a middle load operation with daily start / stop to meet daylight hours industrial demand. Total investment at the Hadong plant was at least $4 billion.
HADONG PLANT MAKE-UP
KEPCO engineering subsidiary KOPEC was the prime architect-engineer. They provided services ranging from preliminary plant design to start-up and tests. The units are constructed to the Korea Standard Coal Power Plant design, a once-through supercritical boiler plant design with variable pressure operation capability. The project uses an advanced load-following operation controller.
Hanjung was the key equipment supplier for Hadong, building on its partnerships with GE and KEPCO in the design of the standard coal plant series. The turbines are tandem compound four-flow type with regenerating, reheat condensing. KHIC supplied the steam generators, and sub-contracted the engineering, design and selected critical mechanical components for the first four supercritical pressure spiral wall steam generators to ABB Combustion Engineering Systems. The value of the two ABB contracts was $46 million. The contracts also included provisions for training and supervision for the construction and commissioning of the plant. Doosan designed and produced various materials and equipment at the plant, including turbines, boilers and generators.
The Hadong plant has been equipped with facilities for desulphurisation and wastewater disposal. KEPCO invited tenders for 14 Flue Gas Desulphurisation (FGD) systems for a number of its coal-fired stations, including Hadong. 15 partnerships competed in bidding for the systems. Each partnership included a FGD technology holder and one or more Korean companies. The companies were from Germany, Austria, Japan and the USA. The partnership of Hyundai Heavy Industries and Babcock & Wilcox won orders for ten of the 14 systems. Hyundai is a Babcock licensee for fossil-fuelled steam generating as well as for flue gas desulphurisation equipment.
FLUE GAS SULPHURISATION
The Hadong flue gas desulphurisation equipment was the first FGD system in Korea. The 1996 contract was worth $100 million to Babcock. It included the supply of main FGD process equipment, controls and overall system design. As the prime contractor to KEPCO, HHI was responsible for the balance of plant design, procurement of locally manufactured equipment and construction. The systems use wet limestone, gypsum-producing scrubbing systems. These are designed to remove more than 90% of the sulphur dioxide from the power stations' stack emissions.