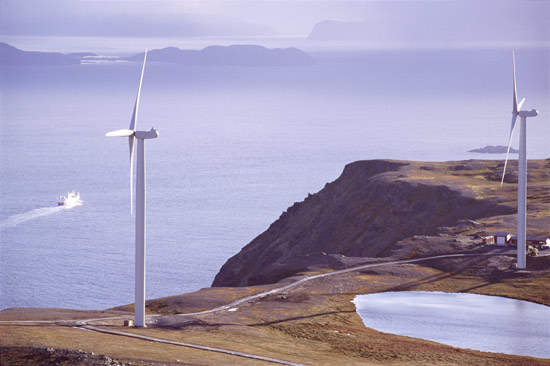 Havøygavlen, the world's most northerly windmill park, has an annual output of around 120GWh. This is enough to service between 5,000 and 6,000 households in Norway, and about 10% of the generating capacity of a modern gas power plant. The 'fuel', however, comes free.
The Havøygavlen windmill park officially opened on 4 June 2003 in northern Norway in the Måsøy municipality in Finnmark. The park is 180km northeast of Hammerfest, and cost a total of NOK336 million ($44 million).
HAVØYGAVLEN WIND POWER PLANT
The 16 windmills each have 2.5MW capacity and generate 40MW in total. The N80 windmills were supplied and installed by Nordex, also responsible for the park's operation. The windmills are 120m high. They feature rotor blades which, when combined, cover an area of 5,000m² and are able to produce energy at wind speeds of up to 25m/s. Average wind speeds on Havøygavlen are around 9m/s. The 38.8m-long blades are made of glass fibre-reinforced polyester and weigh about 8,700kg each.
Havøygavlen was chosen for its stable wind conditions and existing infrastructure. Equipment was shipped to an existing harbour and the windmills easily connected to Norway's national grid.
SHIPMENT FROM FLOATING DOCK
Shipment of the windmills to Havøygavlen harbour, 70km south of the North Cape, began in July 2002. They came from the floating dock at Århus Harbour, Denmark, using an SAL ship equipped with three cranes. The turbines were then loaded on trucks for the 5km journey to the park site.
Produced by Welcon, the towers were delivered in four tower sections of between 18m to 23m. The completed towers measure 80m with a total weight of 172t. The nacelles mounted on the towers weigh about 125t each and are made of glass fibre-reinforced plastic (GRP).
The distance between the windmills on Havøygavlen and the nearest buildings is 1km. Norwegian law requires windmills to be located at least 500m from buildings. The installation of all turbines took place between April and October 2002 and required about 40 on-site staff.
The Havøygavlen windmill park is owned by Arctic Wind AS, owned by Nuon (53.5%), Hydro (41.5%) and Norsk Miljøkraft (5%). The total project cost amounted to around NOK336 million ($44 million), NOK65 million of which was awarded by the Norwegian Water Resources and Energy Directorate (NVE). Without this support the project would not have generated sufficient return on investment.
NORDEX N80 WINDMILLS
The N80 2,500kW speed-variable wind turbines used at the Havøygavlen Park are of a three-bladed design with an 80m rotor diameter. Operable in wind speeds of 4m/s to 25m/s, their asynchronous, double-fed, liquid cooled generators can provide up to 2,500kW at 660V.
Pitch control (via a wind vane-monitored yaw system) is achieved through two geared motors operating on the geared yaw ring. The blades, which turn at up to 19.1rpm, drive a three-stage planetary-spur-gear gearbox with a 1:68.1 gear ratio, in which the bearings and tooth engagements are constantly splash lubricated.
Access to the towers is via a basement door and ladders with safety cable in the interior with each tower segment providing a platform and safety lighting. The switch cabinets are located in the foot of the tower for easier accessibility. A live rail transmits output to the foot of the tower while fibreglass cables connect the operating computer with the head of the tower. The tower exterior is protected against corrosion by several layers of paint, and inspected for defects with ultrasound or X-ray radiation.