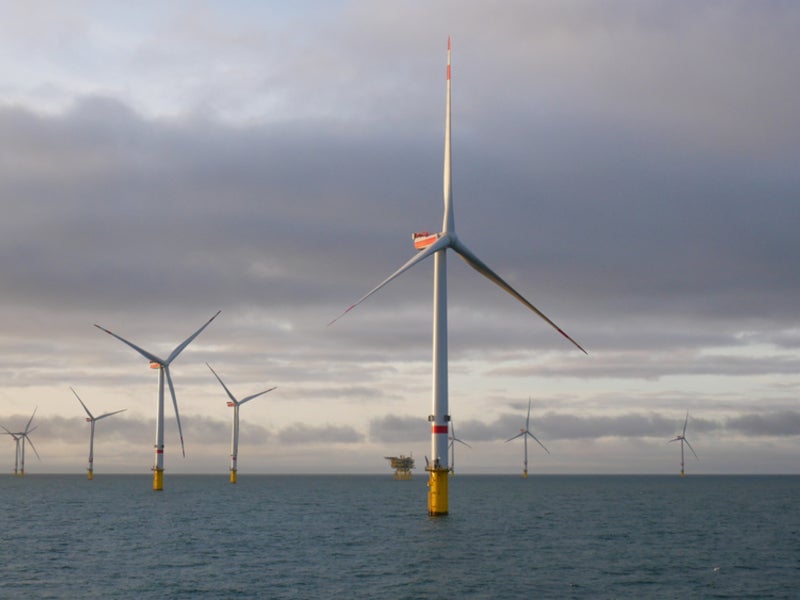 The 900MW He Dreiht offshore wind farm will be developed in the German waters of the North Sea. Credit: Kaisn / Shutterstock.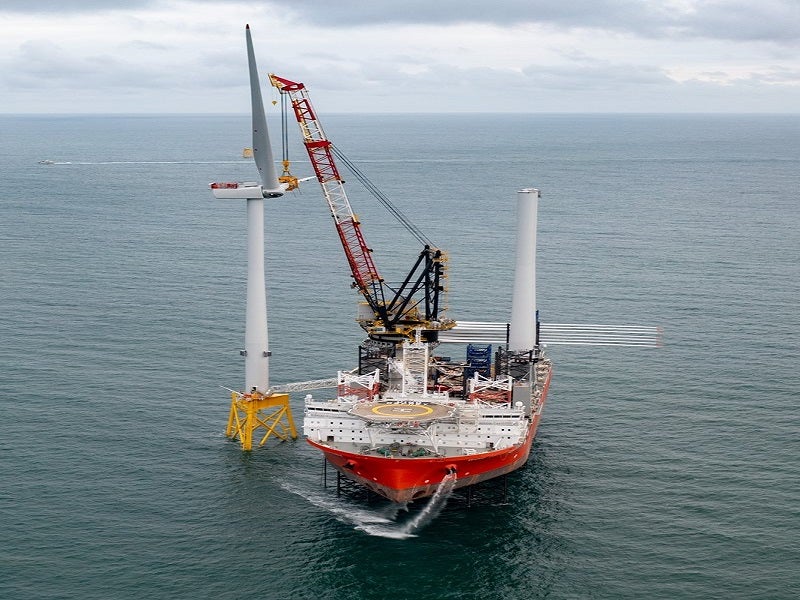 Installation and transportation of 64 wind turbines will be done using Cadeler's O-class vessel. Credit: Cadeler A/S.
The BorWin5 offshore grid connection will connect the wind project to the transmission grid. Credit: TenneT Holding BV.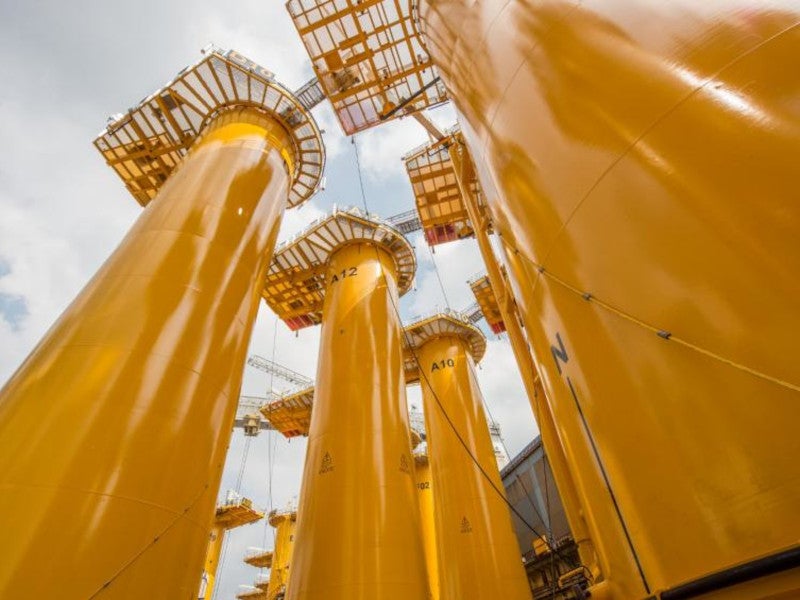 Manufacturing of the 64 transition pieces is expected to be completed in 2023. Credit: Eiffage.
The He Dreiht offshore wind project is proposed for development by EnBW within Cluster 7 in the German Exclusive Economic Zone in the North Sea.
The company secured the rights for the development of the project in a wind energy auction in 2017.
Financial closure for the project is expected in 2023, while construction is expected to begin in the first half (H1) of 2024. Installation of wind turbines is anticipated to start in the second quarter (Q2) of 2025, and first power is expected in the second half (H2) of the same year.
Location
The wind project will be developed at water depths between 37.7m and 40.6m, about 90km north of Borkum island and 110km west of Helgoland Island.
It will be in close proximity to other EnBW wind farms, such as Hohe See and Albatros.
He Dreiht wind project details
The He Dreiht wind farm project will be spread over 62.5km². It is planned to be equipped with 64 Vestas V235-15.0MW offshore wind turbines.
Monopiles with a length of 70m and diameter of 9.2m each will be installed to support the wind turbines.
Transition pieces will bind the monopiles and turbines together. Each transition piece will have a height of 30m and diameter of 8.5m.
Grid connection
The power produced from the wind farm will be exported through the 230km-long BorWin5 high-voltage direct current (HVDC) offshore grid connection system, which is being developed by European electricity transmission system operator TenneT.
The wind turbines will be directly linked to the offshore HVDC converter platform, BorWin epsilon, through 66kV three-phase power cables.
The three-phase current produced from the project will be converted into direct current at the offshore converter platform and transported to the landfall site in Hilgenriedersiel, through a 110km-long submarine cable, as part of the grid connection.
The onshore section will comprise a 120km-long land cable, which will transmit the electricity to the future Garrel/East converter station near Cloppenburg, Germany.
Turbine details
Each V235-15.0MW offshore wind turbine will be able to generate 15MW of electricity. They will have a blade length of 115.5m, rotor diameter of 236m, swept area of 43,742m² (470,835ft²) and maximum hub height of 145m.
Power purchase agreement
EnBW will supply 85MW of power to Fraport, the operator of Frankfurt Airport, for 15 years, according to a power purchase agreement signed in December 2021. The power supply contract will start in 2026.
The agreement will enable Fraport to save 80,000t of carbon dioxide (CO₂) emissions a year.
Contractors involved
Denmark-based wind turbine manufacturer Vestas received an order from EnBW to supply 64 V236 wind turbines for the project in June 2022.
Vestas contracted Cadeler, an installation, operation and maintenance service provider for offshore wind turbines, to provide transportation and installation services for the project's wind turbines. The turbines will be installed using an O-class vessel equipped with a new crane.
A joint venture of Sif Group and Smulders Group was contracted to manufacture 64 transition pieces for the wind farm in June 2022. In the same month, Steelwind Nordenham was selected to build and deliver steel monopile foundations for the project.
Heerema Marine Contractors was contracted for the transportation and installation of 64 monopiles and transition pieces in April 2022.
EnBW placed an engineering, procurement, construction and installation (EPCI) contract with Norwegian company Seaway 7 for inner-array grid cables in March 2022.
Unexploded ordnance (UXO) consultancy NjordIC, which is based in the Netherlands, received a contract to conduct a comprehensive study, including historical research and a multidisciplinary technical UXO risk assessment, for the project.
Jörss Blunck Ordemann was chosen as the detailed structural and load engineering designer for the monopile foundation of the project in 2021.
TenneT is responsible for the grid connection of the project. It subcontracted a consortium of Siemens Energy and Dragados Offshore for the construction and installation of the offshore converter platform in the North Sea, as well as the onshore converter stations, in August 2020.
NKT was subcontracted by TenneT to provide and install an HVDC cross-linked polyethylene (XLPE) power cable system for the BorWin5 project in August 2020.
The company is required to manufacture 230km of 320kV HVDC onshore and offshore power cables and accessories. The cable-laying vessel NKT Victoria will be used to lay the offshore cables.
Bureau Veritas Industry Services, a subsidiary of testing, inspection and certification services provider Bureau Veritas, received a contract to provide project certification, including certification of wind turbines and foundations, in December 2020.