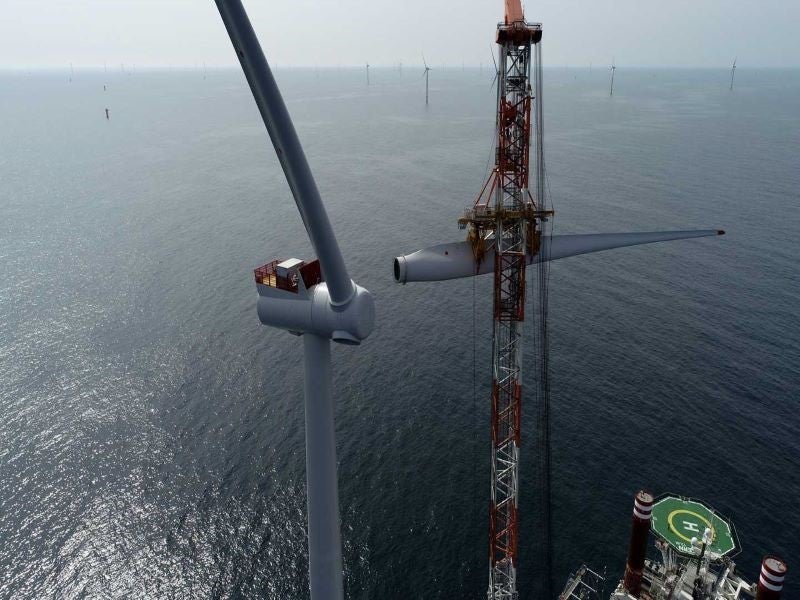 The Hornsea One wind farm includes174 wind turbines. Credit: Orsted.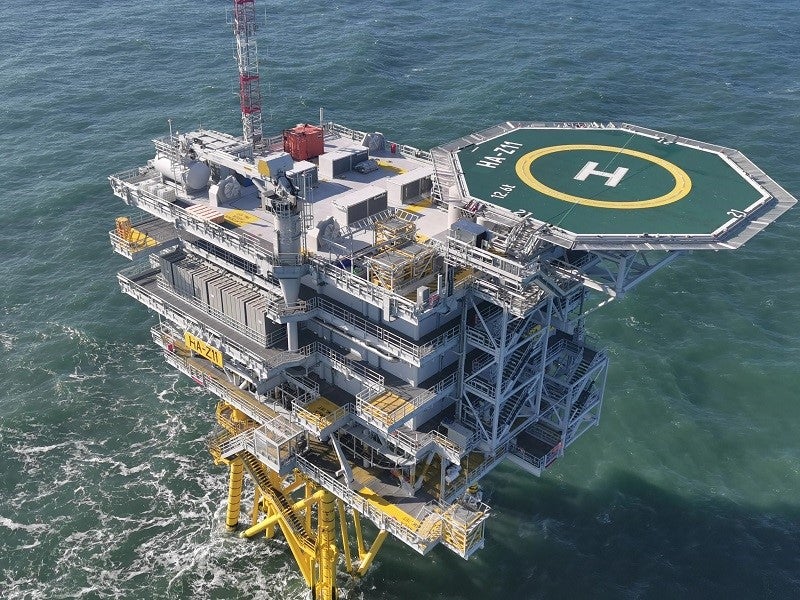 The project features the world's longest offshore wind export cable system, with more than 900km of cables. Credit: Orsted.
Hornsea Project One is an offshore wind farm located off the Yorkshire coast, UK, within the Hornsea Zone in the southern North Sea.
The project is a 50:50 joint venture (JV) between Orsted (formerly DONG Energy) and Global Infrastructure Partners. Orsted owns another two offshore developments in the area, Hornsea Project Two (under construction) and Hornsea Project Three (proposed), which have a potential capacity of an additional 3GW.
Located in the Humber region, the project is part of a £6bn ($8.7bn) investment to transform the region into a hub for the UK's renewable energy sector.
At 1.2GW, the project is the world's biggest offshore wind farm and the first to a capacity of more than 1GW.
A final investment decision on Hornsea Project One was made in February 2016, and the project generated first power in February 2019. The project started operations in June 2019, before the installation of the final turbine in October 2019. The wind farm will have a lifespan of approximately 25 years and power approximately one million homes in the UK. It is expected to generate up to 2,300 employment opportunities.
Hornsea Project One details
Hornsea Project One was constructed on an area of 407km² and is equipped with 174 Siemens wind turbines rated at 7MW each.
The turbines are 190m tall and have a rotor diameter of 178m with a maximum height of 200m to the blade tip. They have a clearance level of 22m above mean high water springs (MHWS).
The project features the world's longest high-voltage AC offshore wind export cable system, comprised of more than 900km of cables, which transfers the generated electricity to the shore and national grid.
The site chosen for the development has favourable water depths, between 20m and 40m, while also providing good wind and ground conditions.
The wind farm includes three offshore wind generating stations, two offshore accommodation platforms, up to two offshore HVDC converter stations, an offshore HVAC reactive compensation substation (RCS), and up to five HVAC collector substations, which are connected through inter-array cables of 30kV to 70kV.
Onshore infrastructure for Hornsea Project One
The onshore infrastructure consists of a substation, underground cables, core buildings and compounds, low-voltage electricity equipment and communication cables, and roads, paths, drainage and landscaping.
Based at North Killingholme in North Lincolnshire, the onshore substation transfers electricity from the offshore wind farm to the adjacent national grid substation. The onshore substation is made of Powercrete, which provides high thermal conductivity.
The wind farm is constructed on a 32,200m² area and includes transformers, reactors, high-voltage gas-insulted switchgear systems, static VAR compensator (SVC) or static synchronous compensator (STATCOM), and harmonic filters.
Offshore cables make landfall at the Horseshoe Point, south of Grimsby, and are connected to underground onshore cables by means of transition joint bays. The cable route spans approximately 40km underground from the landfall site to the onshore substation in North Killingholme.
An agreement for the sale of Hornsea's transmission assets to Diamond Transmission Partners Hornsea One (DTP) was signed in March 2021. DTP is a partnership between Mitsubishi's wholly-owned subsidiary Diamond Transmission Corporation and Chubu Electric Power.
The transaction includes the sale of the onshore substation, export cables, offshore RCS and three offshore substations. The operations and maintenance services will be provided by Orsted under a long-term agreement.
Hornsea Project One construction
The construction of the onshore facilities began in early 2016, while offshore construction began in January 2018.
The world's first offshore RCS was installed in June 2018.
Offshore installation of the foundations was planned to be completed within 24 months. Onshore cables were installed underground using open-cut trenching techniques, while cables at the landfall were installed using horizontal directional drilling under the saltmarsh and sea defence.
The jointing bays used to connect the cables have dimensions of 25m x 6m x 2m and are constructed at intervals of 750m to 2.5km.
The world's biggest ever seabed investigation campaign was completed in April 2015 in preparation for the project. It involved 2,800m of seabed cone penetration testing and approximately 5,000m of boreholes at all future wind turbine generator and operational support system positions.
The foundations for 100 of the wind farm turbines were laid by November 2018. The 467km-long AC offshore cable system was installed by December 2018.
Three landfall cable sections were installed using VBMS' Ndurance vessel, while the remaining cable sections were installed using Tideway's Livingstone vessel and Ocean Yield's Connector vessel.
Hornsea Project Two
With a total capacity of 1.4GW, Hornsea Two will be able to supply power to 1.3 million households. It is located 89km off the coast of Yorkshire. The onshore cable route of the wind farm will travel parallel to that of Hornsea Project One.
The onshore cable construction work began in 2019, while the offshore construction works commenced in 2020. Hornsea Two will become the world's biggest offshore wind farm when it starts operations in 2022.
Hornsea Project Three
The location for the onshore infrastructure of Hornsea Project Three was finalised in February 2018. The Development Consent Order (DCO) was submitted in May 2018 and was granted consent by the Secretary of State for the Department for Business, Energy and Industrial Strategy in December 2020. The 2,400MW Hornsea Project Three will generate sufficient power to meet the daily energy consumption demand of more than two million households.
Contractors involved
Siemens was selected to supply wind turbines for the project. A £25m ($36.2m) contract was awarded to Balfour Beatty for the construction of the onshore substation. Atkins was selected to provide engineering design services for three offshore substations.
Fugro Geoconsulting was awarded a £13m ($18.8m) contract for conducting a detailed site investigation using Greatship Manisha and Bucentaur, two of its biggest and best-equipped geotechnical vessels. RPS was chosen to lead the environmental impact assessment (EIA) for all three projects.
A2SEA is responsible for the installation of part of the 174 Siemens 7MW turbines, while CHC Group agreed to provide aviation services for the initial phase of the project. ABB was awarded a $250m contract by Orsted to supply a 220kV high-voltage cable system in March 2016.
Babcock International Group secured a contract to build a RCS for the project in May 2016, while Wartsila is responsible for the supply of switchboards and distribution boards for the station.
Orsted placed an order with Bladt Industries and Semco Maritime for three substation topsides in May 2016. Bladt is also responsible for supplying 124 transition pieces under a contract with EEW Special Pipes Constructions (EEW SPC).
EEW Offshore Structures, Britain (EEW OSB) is in charge of manufacturing 56 transition pieces supplied by Bladt and 30 by EEW SPC. An additional 20 transition pieces were supplied by Wilton Engineering.
Wilton Engineering awarded a contract to SPIE UK in February 2019 to install 20 transition pieces at the Hornsea Project One offshore wind farm.
Mech Tool Engineering was contracted by EEW OSB to manufacture suspended internal support structures (SIPS).
DEME subsidiary Tideway received a design and build cable installation contract from Orsted for Hornsea Project One in June 2016. JDR was contracted to supply 242km of subsea power cables for the project.
NKT was contracted to manufacture the cables that were built at their facilities in Cologne and Karlskrona, Germany.
Royal Boskalis Westminster won a contract to transport and install the foundations for the wind farm in October 2016. DeepOcean 1 UK secured a contract in November 2016 to perform installation and trenching of 93 array cables at the wind farm. Siem Offshore Contractors (SOC) received a contract in the same month to transport and install parts of the inner array grid cable system.
Dragados Offshore secured a contract from Orsted to provide four substation jackets for the project. The scope of the contract includes procurement and fabrication of the jackets, as well as piles, of three offshore substations and a RCS.
LOC Renewables was contracted to provide marine warranty surveying (MWS) services for the project. Seaproof Solutions is on contract to deliver a total of 372 inter-array cable protection systems (CPS).
Spectrum Offshore is responsible for performing survey work using the Rix Leopard crew transfer vessel. BD Systems was selected to design, engineer and deliver internal hydrocarbon blast walling and associated doors for the offshore wind facility in February 2017.
SeaRoc Group received a contract from Orsted to provide SeaHub unmanned containerised communications units for the project.
ALE was selected to provide specialist offshore engineering, marine transportation, sea-fastening, load-out and ballasting of approximately 100 transition pieces, while its subsidiary Conbit is responsible for providing specialist offshore engineering services.
Manor Renewable Energy was contracted by Orsted to supply the complete temporary power package, comprising generators, vessels and personnel, for the installation and commissioning of turbines, in November 2018.
Seaway Offshore Cables was contracted for the engineering, transport and installation (T&I) activities on the inner array grid cable systems.
RINA was selected to provide lightning protection and earthing design services for the onshore substation of the wind farm project.
Hanson UK was contracted for supplying Powercrete for the construction of the onshore substation of the wind farm.
ABP Mer was contracted by Cathie Associates, on behalf of Orsted, for the investigation of seabed mobility potential and probable seabed level changes across the wind farm development area, as well as the export cable corridor, in the future.
Technical heavy-lift transport supplier SAL was contracted to transport 174 monopiles and 68 transition pieces for the Hornsea Project One.
DNV GL completed the lenders' technical due diligence on the project in September 2018.
SMC was contracted by Siemens Gamesa Renewable Energy to provide marine coordination services for the Hornsea One project in February 2019.