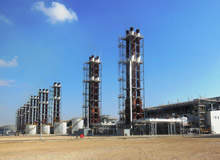 Jordan's IPP3, located on a green field site at Al Manakher, 30km from the Jordanian capital Amman, is the world's biggest tri-fuel power plant and has an installed capacity of 573MW. The plant is designed to use natural gas and heavy fuel oil (HFO) as its main fuels and light fuel oil (HFO) as the backup fuel.
The project broke ground in April 2013, the commissioning works were performed between January 2014 and October 2014, and the plant was officially inaugurated in March 2015.
The client for the project is National Electric Power Company (NEPCO). Amman Asia Electric Power Company (AAEPC), a consortium of Korea Electric Power Corporation (KEPCO, 60%), Mitsubishi Corporation (MC, 35%) and Wärtsilä Development & Financial Services (WDFS, 5%) are to build, own and operate the power plant.
The project will enable the country to meet its target of achieving energy self-sufficiency by 2020 and reduce the dependency on Egyptian gas. The country further aims to install 600MW of solar and 1,200MW of wind energy by 2020.
IPP3 power plant make-up
---
---
Tzafit power station is an 835MW combined-cycle, natural gas-fired plant under construction in Israel.
---
The power plant is equipped with 38 Wärtsilä 50DF internal combustion engines (ICE), which can produce 573MW of electricity at the country's harsh ambient conditions and 632MW at conditions set by the International Organisation for Standardisation (ISO).
The plant is capable of switching fuels during operation, without causing a fall in the generation capacity. It will be fuelled by HFO and LFO through 2015, and start using natural gas when gas supply facilities are in place.
The first 16 engines came online in January 2014 and the remaining were commissioned subsequently. The project also involved the construction of the Amman East 400kV substation at the site, which integrates 12 400kV transformer bays.
Jordan's IPP3 sustainability features
The plant operates with virtually no usage of water and generates approximately 35% less CO₂ emissions per kilowatt hour (kWh) compared to an oil-fired steam power plant. The plant is also equipped with control systems and facilities to check nitrogen oxide (NOx), sulphur oxides (SOx) and particular matter emissions.
Tri-fuel plant power purchase agreement
The output from the power plant is being sold to NEPCO under a 25-year power purchase agreement signed between NEPCO and AAEPC.
Financing the world's biggest tri-fuel power plant
The power plant was constructed with an estimated investment of $812m. Korea Eximbank provided $320m in loan and $107m in guarantee for the project. Other financiers included Nippon Export and Investment Insurance (NEXI), Bank of Tokyo-Mitsubishi UFJ, KfW IPEX-Bank, Mizuho Corporate Bank, Standard Chartered Bank and Sumitomo Mitsui Banking Corporation.
The lender's technical adviser (LTA) was Hatch, whereas the international legal counsel was Ashurst.
Contractors involved with IPP3
"The plant operates with virtually no usage of water and generates approximately 35% less CO₂ emissions per kilowatt hour (kWh) compared to an oil-fired steam power plant."
The $552m engineering, procurement and construction (EPC) contract for the project was awarded to a consortium of Wärtsilä and Lotte Engineering & Construction. The former has also entered into a service agreement for the plant, including a 15-year parts supply agreement and five-year technical service agreement.
Engicon conducted the environmental impact assessment study for the project in collaboration with Parsons Brinckerhoff (PB).
The entire mechanical, electrical and plumbing (MEP) works for the project were rendered by TechnoWatt Group, whereas the fabrication, supply and the power plant's structural steel installation works were performed by Steel Buildings.
Fatima Engineering supplied 20 sets of steam heating systems for the HFO unloading station, while A Joo Fitting supplied forged fittings.