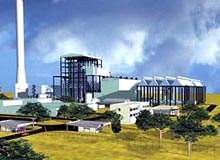 A 750MW supercritical-steam coal-fired power station is now online at Kogan Creek, near Chinchilla in Queensland, Australia. The A$1.1bn project started up in 2007, when it was the largest single-block power station in Australia.
The plant was built by an international consortium that included Babcock-Hitachi and was led by Siemens Power Generation (PG). The plant was constructed under an engineer, procure, construct contract. The customer was CS Energy Ltd., Brisbane (in May 2002 the company acquired full ownership of Kogan Creek from Mirant, a subsidiary of the Southern Company).
Kogan Creek delivers its electricity to the National Grid by joining into the Queensland to New South Wales Interconnector at Braemar Creek substation. The plant operates as a base load station, generating electricity continuously.
An air cooling system with air-cooled condenser uses up to 90% less water than conventional power plants. This removes the risk of reduced output during times of drought, as at power stations using fresh water for cooling.
COAL FROM NEARBY DEPOSITS
"An air cooling system with air-cooled condenser uses up to 90% less water than conventional power plants."
The plant uses 2.8 million t/yr of coal from the nearby 300 million t Kogan Creek coal deposit, which is also owned by CS Energy. The coal is delivered to the power station on a 4km conveyor belt. The ready supply of such local low cost, good quality coal makes Kogan Creek Power Station one of the lowest cost producers in the National Electricity Market.
During the construction phase, employment at the site peaked at more than 1,000 jobs. Now, there are about 70 full-time employees, with the coal mine employing a further 60 people.
SIEMENS-LED CONSORTIUM
Kogan Creek was regarded as a landmark project for Queensland.
Siemens PG was responsible for the planning, construction, installation and commissioning of the new plant. It also supplied the steam turbine and the generator equipment, the mechanical and electrical equipment, including the coal feed and ash removal systems, the entire instrumentation and control system, the transformers and switch gear units, and various auxiliary and supporting systems.
Babcock-Hitachi was responsible for the steam generator, which was manufactured under a Siemens licensing agreement. The plant was Siemens' first project based almost exclusively on its Varioplant 700 technology.
VARIOPLANT 700 OPTIMISES LIFE-CYCLE COSTS
The Varioplant 700 is a basic design with optimised life-cycle costs for a hard-coal fired, dual-unit plant capable of base-load and intermediate-load duties.
The heart of the plant is the 'turbine island', which customarily comprises the turbine building and its installed components, such as the turbine-generator, the feedwater heating line and the necessary electrical components. The turbine island is structurally independent of the other main buildings. Project-specific equipment modules can be individually selected based on actual on-site conditions and customer requirements. Examples include various component and redundancy concepts for pumps and
feedwater heaters.
The turbine building uses a flexible "heater bay" design. The turbine island can be expanded into a complete turnkey plant by adding boilers, fuel supply and ash handling systems, cooling water systems and water treatment and flue-gas cleaning systems.
"The plant was Siemens' first project based almost exclusively on its Varioplant 700 technology."
INCREASING STATE DEMAND
Demand for electricity in Queensland is growing faster than in any other state. The Kogan project was under consideration for some time but was deferred until it became clear that additional generation capacity was needed. The project was specifically recognised in the Queensland Government's Clean Energy Policy, released in mid 2000.
Importantly, in such a thirsty country as Australia, the station uses 90% less water than a conventional power station. Deep bores ensure that the reduced water requirements place no pressure on the fragile Condamine River system. Three groundwater bores and associated pipelines supply approximately 1,500ML/yr of water to the power station and coal mine.
At least 40% of the value of the project was carried out by Australian contractors. Return of power station ash to the coal mine is combined with open cut overburden as part of a comprehensive and ongoing site rehabilitation programme.
GOVERNMENT OWNED CORPORATION
CS Energy is a Queensland government owned corporation, which owns and operates Swanbank Power Station near Ipswich, southeast Queensland, Callide Power Station near Biloela, central Queensland, and Mica Creek Power Station in Mount Isa.
The organisation generates around 3,000MW of electricity using a mix of fuels, including coal seam methane and landfill gas. CS Energy supplies the National Electricity Market from its operations at Swanbank near Ipswich and Callide near Biloela. Its Mica Creek operation at Mount Isa is the major electricity supplier for the mining and minerals processing business in the north west, as well as the communities of Mount Isa and Cloncurry.