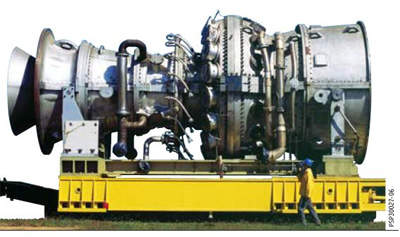 The two-unit 1074MW Kwangyang CCGT (Combined Cycle Gas Turbine) power station has become Korea's first merchant plant.
Construction of the LNG-fired plant in Kwangyang National Industrial Complex (South Jeolla Province) was completed by K-Power in September 2006, and the plant is owned and operated by SK Power of Seoul.
The plant cost KRW680bn (around $700m). It is importing LNG directly from Indonesia's Tangguh consortium and selling the electricity through the Korea Power Exchange.
GE F-SERIES TURBINE GENERATORS
The Kwangyang plant uses GE Power Systems' F Class turbines, with GE supplying four 170MW Frame 7FA gas turbine-generators, parts, technical services and training. Dry Low NOx combustor systems help to keep NOx emissions below 20 parts per million at 13% oxygen levels. The generators are hydrogen cooled, and rated at 229.7 MVA.
F Class gas turbines offer flexibility in cycle configuration, fuel selection and site adaptation. They include an 18-stage axial compressor and a three-stage turbine, with cold-end drive and axial exhaust (good for combined cycle arrangements) that can reach net efficiencies over 58%.
"The project is the first IPP project in Korea to be developed and project financed without fixed electricity off-take contracts."
The F Class includes the 6F (either 50Hz or 60Hz), the 7F (60Hz) and the 9F (50Hz). The 7FA gas turbines can be used in combined cycle, cogeneration, simple cycle peaking and IGCC in both cycle and base load operation. High reliability—consistently 98% or better — minimizes overall life cycle cost.
The turbines will be made at GE's factory in Greenville, South Carolina (USA), and the generators at GE's Schenectady plant in New York. GE now has around 30 Frame 7FA machines in operation or being installed in Korea.
JOINT VENTURE BY SK CORPORATION AND BP
K-Power is a joint venture by SK Corporation, Korea's leading energy company (65%) and UK-based BP, one of world's three largest oil and gas companies (35%).
Even without a long-term PPA (Power Purchase Agreement), K-Power financed 60% of the total project cost from 13 financial institutions including the Korea Development Bank. K-Power signed a turnkey contract with Daelim Industrial Company for construction, and an O&M deal with gas turbine provider GE for plant operation.
Project Finance International (a finance publication of the Thompson Financial Group) named Korea Development Bank's Kwangyang plant project financing as Deal of the Year for 2004 (along with KDB's Incheon Airport Railway Project).
FIRST KOREAN PLANT TO IMPORT LNG INDEPENDENTLY
Kwangyang is a merchant power plant, and will operate competitively in the electricity pool market. The Project is the first power plant in Korea to independently import Liquefied Natural Gas (LNG) for its own use. That creates an alternative channel for importing fuel into Korea outside the traditional Korea Gas Corporation (KOGAS) route. The project was also the first power plant in Korea to conduct a full-scale international commercial tender for LNG importation.
The project is the first IPP project in Korea to be developed and project financed without fixed electricity off-take contracts. KRW440bn non-recourse project financing was arranged with Korea Development Bank as Coordinating Lead Arranger for the transaction, with 12 domestic financial institutions joining as participating arrangers.
Baker & McKenzie's Major Projects Group in Hong Kong advised K-Power on the $2bn 20-year LNG Sale and Purchase Agreement from the Tangguh LNG Project in Indonesia.
"The project achieved 4 million safety hours during construction."
K-Power is buying 600,000t of LNG a year, with an option to buy an additional 200,000t a year of LNG from Indonesia until 2010. Baker & McKenzie continue to advise K-Power on the terminal regasification arrangement with POSCO, the operator of the Kwangyang LNG Terminal. International Energy Consultants has also provided financial advice on the project.
The Kwangyang LNG terminal will also supply regasified LNG to the Kwangyang IPP and industrial users. The Tangguh project, the LNG Terminal, and the Kwangyang IPP must all fit together seamlessly in the 'gas chain'.
The project achieved 4 million safety hours during construction.
LARGE GAS SECTOR
South Korea has built a large gas sector over the last 20 years. First LNG imports, for power generation, were in 1986. KOGAS now has a 2,400km national gas grid, with local distribution systems privately developed by city gas companies.
Reliable gas supply has been a challenge, with large winter city peaks requiring KOGAS to buy spot cargoes at relatively high prices. Gas demand is also likely to grow strongly. Russian pipeline gas is expected soon, but delay in gas contracts suggests a shortfall of nearly ten million tonnes by 2010.
Most gas goes to cities, with around 40% for generating power – mainly to meet peak loads. South Korea has a total installed electrical capacity of around 60,000MW which is mostly owned and operated by state-owned GENCOs, with only minor contributions from contracted IPPs. Over the last 20 years, power demand has grown at around 10% a year and is now well above 300TWh. The demand from industry is still around 50%, but is steadily being overtaken by commercial and residential consumption.