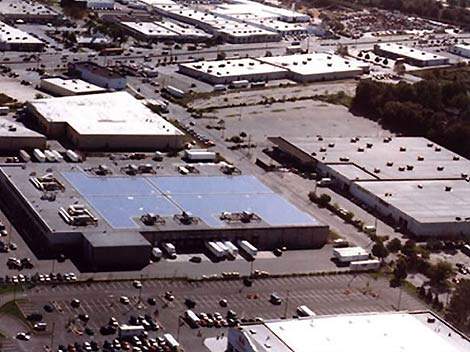 Arial view of Fala rooftop.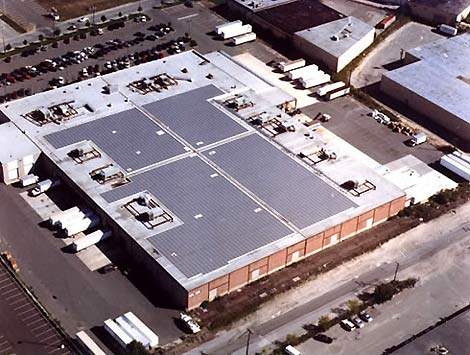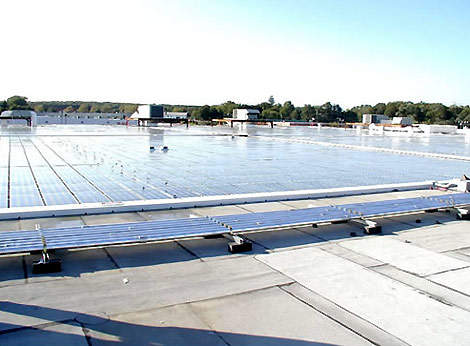 The roof consists of 13,464 PowerLight PV panels.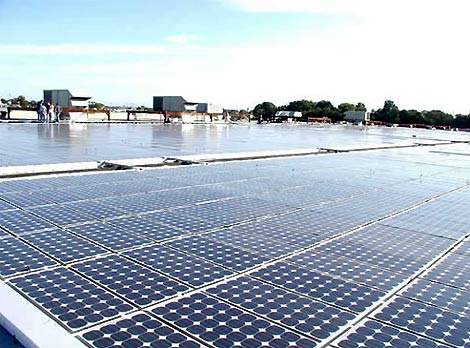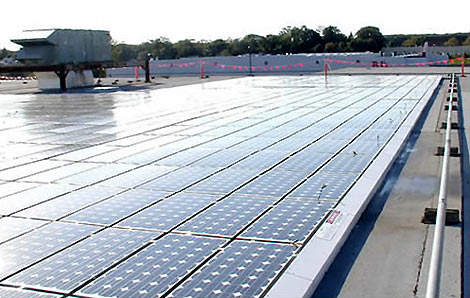 Peak output is 1.01MW of electricity.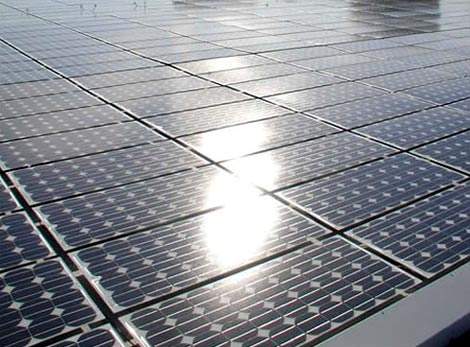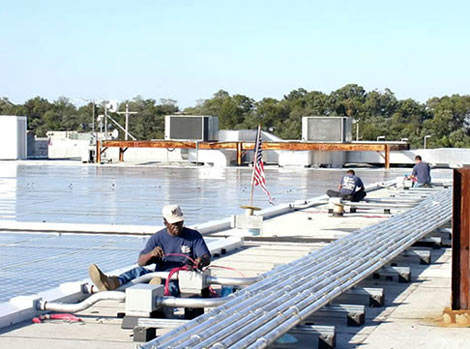 The roof generates around 1,065,000kWh of power annually.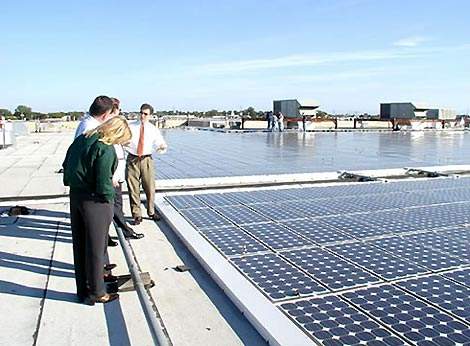 LIPA and the Fala Direct Mail group have completed a 1.01MW rooftop photovoltaic system in Farmingdale, USA. The $6.1 million system has 13,424 PowerLight PV roof panels with a total solar array size of 10,270m2 on three separate buildings. It generates around 1,065,000kWh of power annually, reducing Fala's consumption by 20% and its peak load electricity demand by an estimated 33%.
The first and largest phase of the system was installed at Fala's Daniel Street headquarters in Farmingdale and has over 8,000 panels covering 6,180m2. Phase II is located at two Fala facilities in Melville USA where over 5,000 panels will cover some 4,000m2 of rooftop.
TOTAL SAVINGS OF OVER $300,00 PER YEAR
Fala has over 700 employees at three facilities on Long Island comprising over 30,000m2 of space. Annually, the company consumes about 10,800MWh of electricity. The 1.01MW solar system will produce about 1,065MWh annually. Over the next 25 years Fala could save as much as $12 million dollars in energy costs, when adjusted by 2.5% per year for inflation.
In addition to generating electricity the PV system insulates the buildings thereby reducing the costs of heating and air conditioning, which should save an extra $20,000 per year. Fala will save an additional $160,000 per year through other
conservation measures such as lighting energy management systems, variable speed air compressor replacement and heating and air conditioner upgrades. These will cost Fala approximately $875,000 of which $140,000 will be rebated by LIPA as part of LIPA's
energy conservation rebates.
The combined savings from the electricity generated by the PV system, from Fala's conservation measures and from lower roof top maintenance costs and better insulation is around $305,000 per year.
POWERLIGHT SOLAR PANELS
The system was designed, manufactured and installed by PowerLight Corporation. The company completed the first phase of the system in October 2002. It uses the PowerGuard system, which attaches photovoltaic (PV) modules to lightweight, interlocking
roof tiles.
The lightweight building-integrated photovoltaic (BIPV) roofing system is installed over an existing waterproof roof membrane. The photovoltaic system uses silicon technology to convert sunlight directly into electricity. The DC output from the PV
modules is converted to AC electricity by inverters located at each building and then stepped up to 480V, three-phase AC electricity by isolation transformers for connection to the buildings' service panels.
The modular tiles interconnect easily with no roof penetrations, and come with a 20-year limited warranty on electricity output. The aerodynamic design is stable under wind speeds of up to 140mph. There are virtually no maintenance requirements and
hence near-zero operating costs. The tiles also protect the roof for 30 years from thermal cycling and UV degradation.
SOLAR PIONEER PROGRAM
LIPA gave a one-time $4.1 million research grant to help underwrite the capital cost of the system. It will allow LIPA, which serves some 1.1 million electric consumers, to evaluate the effectiveness of photovoltaics as a resource to meet Long Island's ever-growing demand for electricity.
LIPA also runs a Solar Pioneer program to encourage the use of residential solar units and has provided over $5.2 million in rebates for 203 units Islandwide. LIPA's Solar Pioneer Program offers direct incentives of $5 per watt, saving approximately
50% on system costs. In addition to LIPA's rebate, homeowners can take advantage of New York State's tax credit towards PV system costs and a 15-year real property tax exemption through New York State's Real Property Tax Law.
LIPA has provided for the installation of another 49 residential units through two lottery programs. It also co-funds a technical support and training programs at Farmingdale University to encourage wider use of solar power by building trade allies.
To date, 78 electricians have attended the training sessions to learn how to properly install and maintain residential solar systems.
US DOE LISRI PROGRAMME
The US Department of Energy (DOE) aims to have one million solar systems on America's roofs over the next decade. To support this program, the Long Island Solar Roofs Initiative (LISRI) is seeking to have more than 10,000 solar energy systems on Long
Island roofs by 2010.