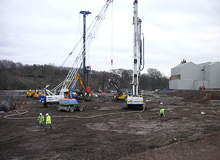 RWE Innogy's UK subsidiary RWE npower renewables has built a biomass-based combined heat and power (CHP) plant to supply power to a paper mill owned by Tullis Russel in Markinch, a small town in Fife, Scotland. With an installed capacity of 50MW, it is the largest power plant of its kind in the country.
The plant was officially inaugurated in March 2015 by Scottish Minister for Business, Energy and Tourism Fergus Ewing, although it has been generating power since February 2014. It replaces the existing coal-fired power plant at the paper mill site and required an investment of approximately £200m. As the owner and operator, RWE officially took over the site in November 2010.
The project created more than 600 jobs during construction and 40 permanent positions.
Project finance
With the backing of Scotland's then First Minister Alex Salmond, the project received support of £8.1m from the Scottish Government's Regional Selective Assistance (RSA) grant.
The RSA grant encourages investment and provides financial support to new as well as existing businesses of all sizes that can create or safeguard jobs in designated areas of Scotland.
"Markinch Biomass Power Plant uses CHP technology."
Markinch biomass power plant details
The existing power plant at Tullis Russell's paper mill used the coal- and gas-fired cogeneration method for the production of heat and electricity. It had to be closed down due to the Large Combustion Plant Directive (LCPD) regulations. An agreement to develop the CHP plant was signed between RWE and Tullis Russell in July 2008.
The new plant provides the paper mill with steam, needed for drying paper, and electricity to run the facilities. A 20-year agreement for this purpose was signed between RWE npower renewables and Tullis Russell in September 2009.
The Tullis Russell paper mill is supplied with 120t of steam per hour. In order to provide the paper mill with a secure supply of steam, three gas-fired boilers have been installed.
Out of the total electricity generated, approximately 17MW is supplied to Tullis Russell and 25MW is exported.
Construction of the Markinch biomass power plant
The full-fledged construction of the plant commenced in November 2010, after the completion of enabling works. Works undertaken between September 2009 and November 2010 included the diversion of one of the mill's main internal waterways, re-routing of utilities and construction of a 29,000ft² roll store.
Technology at the Scottish biomass plant
Markinch Biomass Power Plant uses CHP technology, which generates both electricity and useful heat simultaneously. It supplies useful heat by using the waste heat produced from electricity generation.
"Tullis Russell paper mill is supplied with 120t of steam per hour."
CHP plants use a heat engine or a power station to convert a fossil/renewable fuel into useful heat and power. When compared to power plants with separate units for the production of heat and electricity, CHP plants generate up to 20% energy savings.
CHP plants also consume less fuel, which leads to a reduction in costs and carbon emissions.
Around 400,000t of biomass per annum is consumed by the plant. Biomass from both virgin (10%) and recycled wood (90%) is produced by using a fluidised bed boiler and flue gas system, designed according to the rules and regulations of the Waste Incineration Directive.
Turnkey process
Metso Power was awarded a contract worth £75m for the delivery of a 155MWth circulating fluidised bed (CFB) boiler and flue gas treatment plant. The remaining sections of the plant were constructed by Jacobs Engineering.
Aker Solutions was awarded a £115m contract to provide engineering, procurement and construction (EPC), as well as project management. It was responsible for the design, supply, construction, installation and commissioning of the plant.
Local environmental impact of the Markinch plant
The CHP plant reduces the carbon footprint of the region by 72%, reducing fossil fuel carbon emissions by 250,000t per annum. It partially helps the Scottish Government to meet 6% of its renewable energy targets.