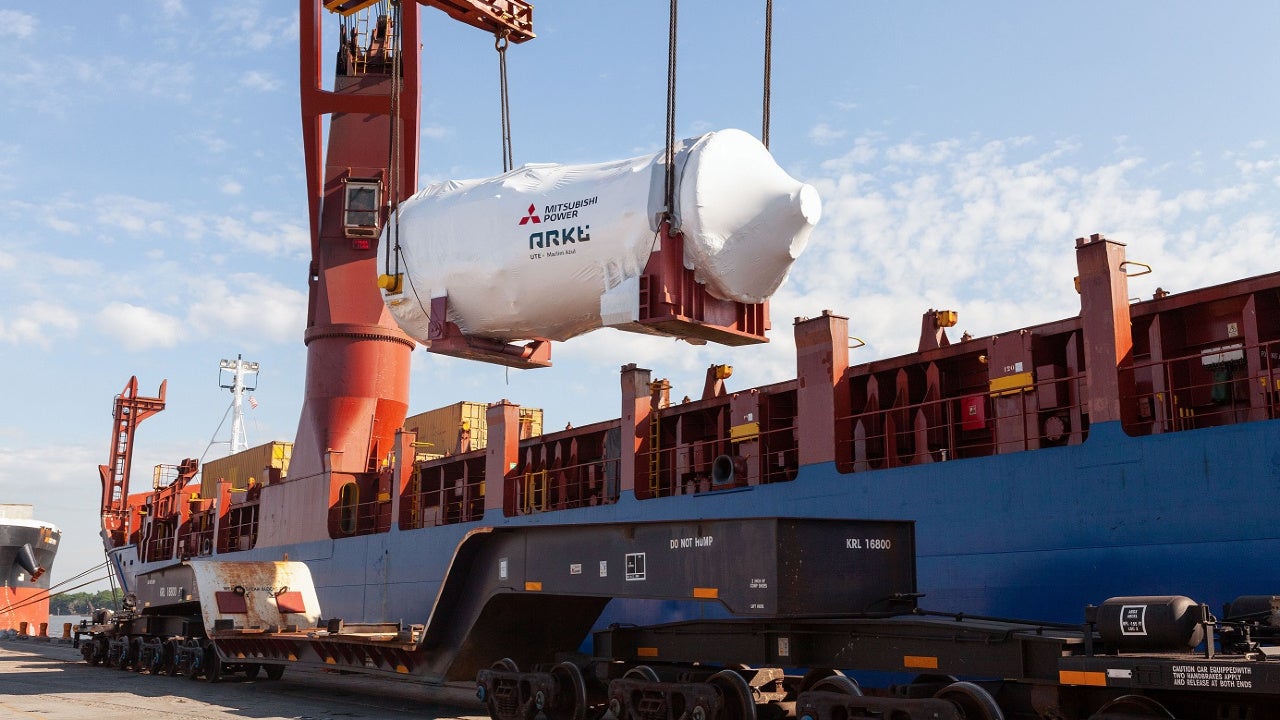 Marlim Azul is a 565MW gas-fired power plant under construction in Macaé, Rio de Janeiro, Brazil. It is being developed by Marlim Azul Energia, a joint venture (JV) between Mitsubishi Power, Shell and Patria Investments (Patria).
Patria holds 50.1% interest in the power plant, while Shell and Mitsubishi Power own 29.9% and 20%, respectively. The JV partners are investing R$2.5bn ($600m) in the construction of the plant.
The combined-cycle gas turbine (CCGT) power plant entered the equipment installation stage in August 2021 with the arrival of the generator at the project site. The plant is expected to begin operations in January 2023. It will be able to generate enough energy to meet the electricity needs of more than two million Brazilian households.
It is expected to feed 510MW to the national grid, while the remaining generated power will be sold in the open market.
Marlim Azul power plant location
The Marlim Azul power plant is being developed in the Macaé Logistics and Industrial Complex in the municipality of Macaé, located about 200km north of the city of Rio de Janeiro.
The location is close to the Cabiunas Terminal (Tecab), an onshore terminal that receives natural gas from the pre-salt through the Route 2 sub-sea natural gas pipeline. It is accessible from Macaé Airport, Imbetiba port and highways BR 101, RJ 106 and RJ 168.
Marlim Azul power plant make-up
The Marlim Azul facility will be powered by Mitsubishi's M501JAC gas turbine, which is claimed to have an efficiency of more than 64% and reliability rate of 99.6%.
Introduced in 2012, the M501JAC is an air-cooled gas turbine weighing 347t. It has a rotational speed of 3,600rpm and provides a maximum power generating capacity of 435MW in simple-cycle operation, while its combined-cycle output is 630MW. The turbine provides the lowest carbon emissions per unit of power in combined-cycle configuration.
Other components of the plant will include a steam turbine, generator, boiler, cooling towers, gas station and water treatment plant.
The plant will be installed with Mitsubishi's TOMONI™, a suite of intelligent solutions that uses analytics, adaptive control technology, artificial intelligence (AI) and machine learning to help reduce emissions and increase flexibility.
Mitsubishi also signed a 25-year service agreement that covers all parts, repairs and services. Furthermore, it will provide 24-hour support to optimise the plant's performance.
Gas supply
Shell Brasil Petroleo, a Brazilian subsidiary of Shell, agreed to supply natural gas from its deep-water pre-salt basin operations, located in offshore Brazil, to the power plant. The gas will be supplied through a 20km-long gas pipeline from the Tecab.
Financing
The JV secured financing for the project from Brazil's state-owned bank, Banco Nacional de Desenvolvimento Economico e Social (BNDES), in December 2019. The bank agreed to provide a loan of R$2bn ($492m) for 24 years.
Contractors involved in the Marlim Azul power project
Cobra Group was selected to provide engineering, procurement, construction, testing and commissioning services for the Marlim Azul power plant.
Macoga Group received a contract to supply dog bone expansion joints, which will serve as a flexible connection between the turbines and condensers.
Entrepose Intech was selected for the construction of the gas pipeline connecting the Marlim Azul power plant with the Tecab.
Project background
The project was originally proposed to be developed by Vale Azul Energia and Mitsubishi Hitachi Power Systems. Known at that time as Vale Azul II, it was one of the projects that Brazil's energy regulator, National Electrical Energy Agency (ANEEL), selected in an auction for power purchase in December 2017.
Vale Azul Energia, however, sold its stake in the project, as well as the environmental licence, to Marlim Azul Energia.