The Middelgrunden wind farm is composed of 20 turbines, each providing 400kW.
PERI's GRV circular formwork had an arched formwork 13.50m wide and 8.40m high.
Funnel-shaped formwork with GRV articulated waler for a stormwater settlement tank.
Constructing the foundations of the wind turbines at Middelgrunden, Denmark.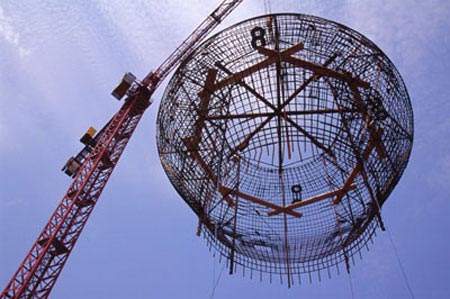 Middelgrunden, the world's largest offshore wind farm is now producing 85,000MWh yearly. <br />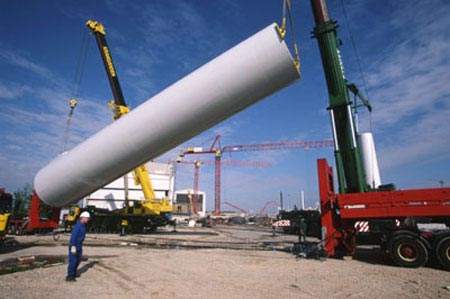 Photo: Earth-vision.biz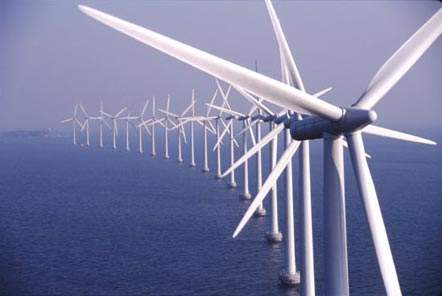 The Middelgrunden turbines have corrosion protection, and built-in service cranes.<br />
In March 2001, Middlegrunden in Denmark became the world's largest offshore windfarm. Estimated annual production is 85,000MWh, equal to 3% of Copenhagen's total consumption. 20 Bonus 2MW turbines are located 180m apart in a curve, with a total windfarm length of 3.4km.
The wind farm was developed near the Danish coast by a consortium of Københavns Energi and Middelgrundens Vindmøllelaug. The two partners own ten 2MW turbines each in Middelgrunden.
The turbines are equipped with modified corrosion protection, internal climate control, high-grade external paint and built-in service cranes. Middelgrunden was previously used as a filling up area with a water depth of 2m-6m.
Technical challenges
Offshore wind turbines have major technical requirements due to the more demanding climatic environmental exposure offshore, with risks of structural corrosion. In addition, there is a problem of access during bad weather, and higher expenses when replacing larger main components. Therefore, wind turbines for offshore sites require increased corrosion protection, with reduced maintenance and service requirements and an improved supervision and control system.
The exterior corrosion protection of the various steel components (nacelle cowlings, tower, etc) features a paint system fulfilling the standards required for North Sea offshore installations, drilling rigs and platforms. The surface of the fibreglass blades is similar to fibreglass boat hulls and therefore requires no additional corrosion protection for offshore use.
Preventing interior corrosion
Interior corrosion protection comes from improved painting systems and maintaining a dry environment inside the machine. A pre-requisite for a dry interior environment is a sealed machine. The gear and generator are cooled by heat exchangers recycling the air used in the air-cooling system, instead of conventional air-cooled components on earlier turbines.
"The main electric components (generator, control systems, etc) have standby heating systems, preventing condensation, even during sudden variations in temperature."
To maintain low interior air humidity, de-humidifying devices were placed in the tower and nacelle room. The de-humidifying system maintains the interior relative humidity below the limit of any steel corrosion risk limit (60%). For additional protection, the main electric components (generator, control systems, etc) have standby heating systems, preventing condensation, even during sudden variations in temperature.
Gravitation foundations
Gravitation foundations were constructed for the towers, which are up to 64m in height. 76m-diameter rotors operate on the towers. With hybrid (steel and concrete) construction, the egg-cup shaped sockets on cylindrical bases have a ballast effect.
PERI supplied two formwork sets with 11 segments for the uniform dimensions of the ice reinforcement caps (foundation caps) and different shaft units. These could be adjusted to the different shaft heights through simply extending or reducing the units. The whole shell, exactly reproducing the required concrete shape, was retained in a closed formwork ring with GRV articulated walings. The highest concreting speeds are therefore possible without any ties.
Turbine lubrication and maintenance
The turbine's lubrication system was adapted to increase service intervals. Many bearings, including the blade bearings, are lubricated with an automatic greasing system. A special gearbox oil filter, separate from the normal oil cooling system, ensures high oil cleanliness. A pre-heating and cooling system maintains gear oil temperature within a narrow temperature range.
To reduce workload during service and maintenance operations, the turbine is equipped with two nacelle-mounted hydraulic cranes. The cranes allow tools and spares to be lifted from sea level and placed anywhere on the wind turbine. If these built-in cranes lack the necessary lifting capacity, they can be used to install a large transportable crane, capable of lifting the heaviest main components (blades, gearbox, and generator).
Communication via email
The installation of a computer in every wind turbine, each with its own email address, allows communication to and from the turbine using a conventional Internet browser. The network-based monitoring system has advantages over other more traditional supervisory systems. During service and maintenance, fitters can download special drawings, diagrams or manuals. As the wind turbine has its own email address, rapid discussion of any problem is possible between the service and maintenance department and the suppliers of individual components. The new system also offers rapid and precise regulation of the total supply of electrical power to the grid from the Middlegrunden project, based on feedback from the electrical transmission company.
The computer for the network-based monitoring system is connected to the wind turbine control system. However, the control system continues to function in the event of a monitoring system fault.