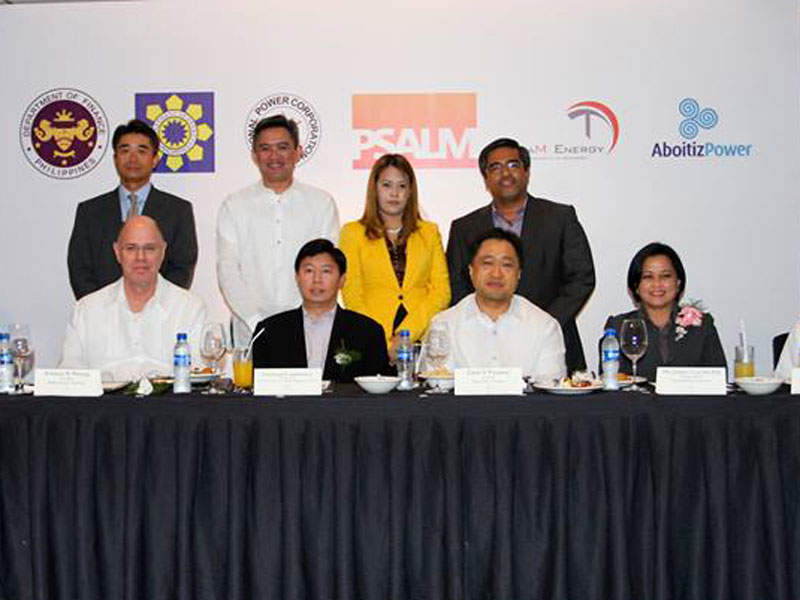 Pagbilao unit three expansion will add a new coal-fired unit to the existing Pagbilao power plant located in Quezon, Philippines.
The project is being undertaken by Pagbilao Energy Corporation (PEC), a joint venture between TeaM Energy Corporation, a tie-up between Marubeni Corporation and Tokyo Electric Power Company, and Therma Luzon Inc (TLI), a unit of Aboitiz Power Corporation.
Development of the expansion project commenced following the signing of a memorandum of agreement between the Department of Energy, Department of Finance, National Power Corporation, and Power Sector Assets and Liabilities Management Corporation (PSALM) in April 2014.
Construction of the 420MW coal-fired power plant unit began in December 2014 and the test run was successfully completed in August 2017. Commercial operations of the unit are expected to commence in December 2017.
Pagbilao unit three location
Pagbilao power plant is located at Ibabang Polo near Isla Grande in the province of Quezon, Philippines.
Unit three is being built next to two existing coal-fired units designated one and two.
Pagbilao power plant make-up
The plant uses circulating fluidised bed (CFB) combustion technology. It is designed to lessen environmental pollution and uses sub-bituminous, low-ash and low-sulphur coal as fuel.
The new unit includes steam turbines, generators and boilers, as well as flue gas desulphurisation systems. Advanced water spray system, air monitoring station, dust collectors, electrostatic precipitators, sedimentation basin, ash lagoons, and wastewater treatment plants are also part of the plant.
In addition, blow-out prevention, other peripheral equipment, and coal handling systems are installed at the plant.
Financing
PEC signed an agreement with a group of local banks in May 2014 to secure financing for the project.
The banks, which include Banco De Oro (BDO), Bank of the Philippine Islands (BPI), China Bank, First Metro Investment Corporation (FIC), PNB Capital, Philippine Savings Bank (PSB), and SB Capital Investment Corporation (SBC), are providing a loan of $750m.
"It is designed to lessen environmental pollution and uses sub-bituminous, low-ash and low-sulphur coal as fuel."
The remaining funding is in the form of equity contributed by the joint venture partners.
Contractors involved
Daelim Industrial and Mitsubishi Hitachi Power Systems were awarded the $543m engineering, procurement and construction contract for the project. MHI is responsible for the supply of major components, while Daelim is responsible for supplying the balance of plant equipment, installation works and civil engineering works.
EEI Corporation was responsible for the piping and steel erection works, mechanical works and erection of the boiler package.
SB Construction and Water Treatment Corporation carried out building, civil works, HVAC, and temporary facility construction, while Sta Clara International Corporation was contracted for site excavation and landfilling.
Subcontractors include Apercu, Alsina, Oceanfront Engineering, and Shin Sung Tech.
Benefits of Pagbilao expansion
The Pagbilao unit three expansion project is being developed to build additional capacity to fulfil the Philippines' growing economic and development needs.
The coal-fired power plant will serve the needs of large-scale industrial and residential users and distribution utilities. It is expected to provide reliable and affordable energy, as well as create opportunities for innovation, employment and reinvention.
Pagbilao power plant units one and two details
The existing Pagbilao power plant includes two units of 367.5MW each, which together produce approximately six billion kWh of electricity a year.
Situated in a 200ha site, the two units use a light oil for start-up and bituminous, low-ash and low-sulphur coal as fuel. Construction of the power plant was started in 1993 and operations commenced in 1996.
The two units are equipped with Mitsubishi reheat forced circulation-type boilers, Mitsubishi two-cylinder, double-flow, exhaust-type turbines, and Westinghouse rotating field-type generators.
The electricity generated by the two units is fed to the Luzon grid through a 230kV transmission line.