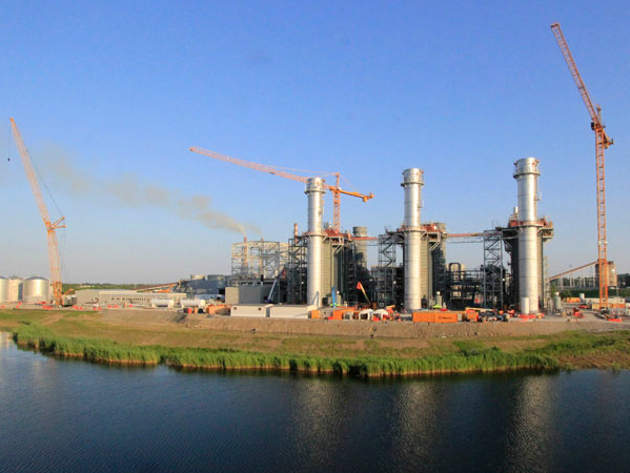 Tennessee Valley Authority (TVA) is replacing two coal-fired units at its Paradise fossil plant with a combined-cycle power plant at a cost of approximately $1bn.
Built in 1963, the plant is located near Drakesboro, Kentucky, US, and includes three coal-fired units. The third coal-fired unit, which came online in 1970, will continue to be operational.
The new combined-cycle power plant will have a capacity of 1,100MW, which will be sufficient to power 640,000 homes and businesses. The plant is expected to become fully operational early in 2017.
Investment in the new plant is part of TVA's strategy to have a balanced portfolio. The plant will provide TVA with the flexibility to quickly meet demand and also reduce carbon emissions by roughly 50%.
Paradise combined-cycle power plant make-up
The new combined-cycle power plant will include three GE 7FA.05 gas turbines and one Toshiba steam turbine. The 7FA.05 gas turbines provide start up within 11 minutes as well as efficiency of 60% and reliability of 98.8%.
The facility will additionally feature heat recovery steam generators with supplemental firing, a steam surface condenser, ABB XFORMER transformer and a mechanical draft cooling tower.
Construction of the combined-cycle power plant
Construction on the project commenced in March 2015 and the upper segments of the exhaust stacks were put in place by early 2016. In addition, 1.326 million ft of linear cable, 71,000ft of linear underground pipe and 60,000ft of above-ground pipe were installed by June 2016.
Since the start of construction, 1.7 million man-hours have been spent on various works on the site, including the erection of 4,400t of structural steel, excavation of 286,000yd² of earth and pouring of 35,000yd² of concrete.
Power generation
The new plant will generate power through the normal combined-cycle process, wherein natural gas or diesel gas is burned to drive the gas turbine generators to produce electricity. The hot exhaust generated during the process is captured to convert water into steam in the heat recovery steam generators.
The high-pressure steam drives the steam turbine generator to produce additional electricity. The steam from the steam turbine generator is condensed into water and recycled.
Combustion testing at the Kentucky power plant
"The plant will provide TVA with the flexibility to quickly meet demand and also reduce carbon emissions by roughly 50%."
Combustion testing for the first unit of the plant commenced in October 2016. The testing process included the introduction and ignition of natural gas fuel into the combustion turbine and bringing the turbine up to operating speed to ensure the system works.
Upon completion of combustion tests, the steam systems of the plant will be tested to ensure they are free of debris. Initial testing and steam system restoration of the turbines is expected to be achieved by February 2017. Full load testing will then be carried out on all three combustion turbines along with the steam turbine generator.
Contractors involved with the new combined-cycle power plant
Kiewit Corporation was awarded the engineering, procurement and construction contract for the project.
The site development contract was awarded to Phillips & Jordan. The scope of the contract, which required the use of more than 40 pieces of heavy equipment, included clearing and grubbing, excavation, grading of the site, storm drainage and outlet control structures installation, and permanent seeding.
Vogt Power International was contracted to supply the heat recovery steam generators.
Marketing commentary
TVA has been increasingly focused on its natural gas-fired power generation portfolio and moving away from coal-fired generation to ensure reliability and grid stability.
Natural gas accounted for 19% of TVA's generation portfolio in 2015, as compared to 10% in 2007, while coal generation accounted for 58%. TVA expects natural gas to account for 23% of its generation portfolio and coal-fired generation to decrease to 22% by 2020.
With very low levels of emissions, natural gas will enable TVA to provide clean and reliable energy to residents and businesses of Tennessee Valley. Despite the higher operational costs of natural gas-fired power plants, their fast start times and flexibility are expected to help TVA meet demand during peak periods.
TVA currently runs 106 natural gas and fuel oil-fired generators at 14 locations, including seven in Tennessee, five in Mississippi and one each in Alabama and Kentucky. Together, the plants have a generation capacity of approximately 7,000MW, which is enough to power four million homes.